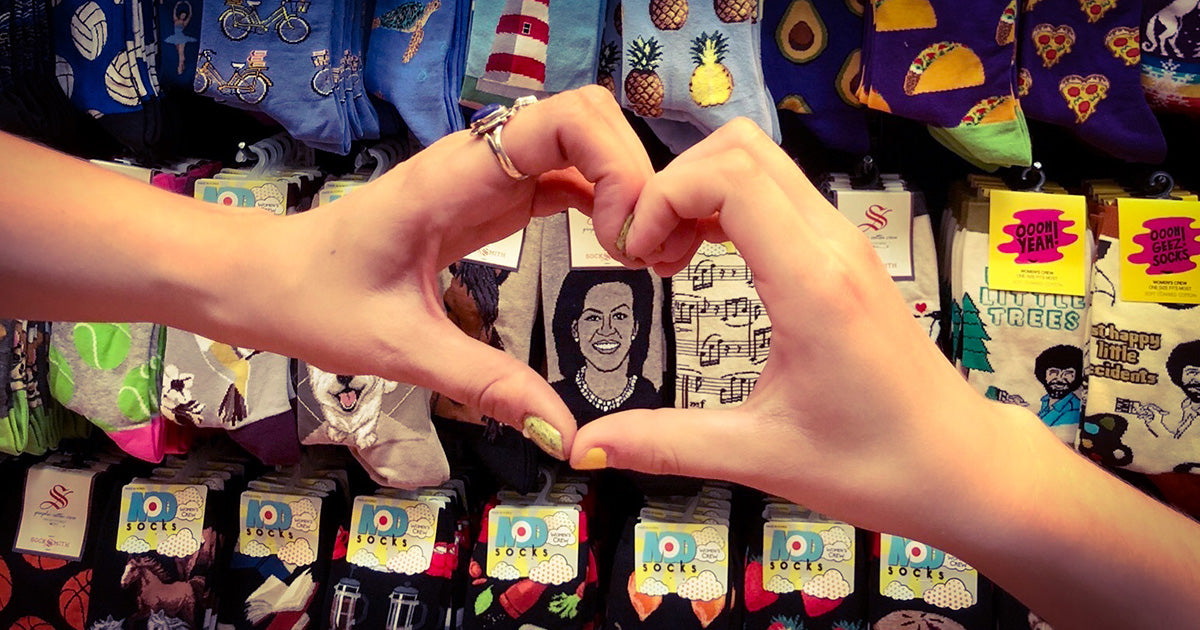 This February, celebrate your best friends with some Galentine's Day sock gifts. Valentine's Day usually emphasizes romantic love, but who is really there for you when your chips are down? Your best pals, of course! Show them how much they mean to you with a gift from our selection of amazing socks for amazing women.
Drinking Socks 
Toast to friendship with your best buds by giving them a pair of these drink socks! Socks are a great gift choice if you're on a budget — instead of going out, plan a night in with good friends, cozy socks and homemade drinks. Our cocktail socks for women feature classic drinks on an Art Deco background for the sophisticated gal in your group. On the sweet side, wine and chocolate socks for women feature this delicious and Valentine's-appropriate pairing. Cozy up in these for a night with the girls; for best results, wear while drinking wine and eating chocolate.
Empowerment Socks
Remind your girls that they're all badass ladies by giving them socks with empowering words on them! For your bestie who is a little over the top, consider these red retro gym socks from Gumball Poodle that say "100% That Bitch" and feature glittery white stripes. Or try Nasty Rosie socks that show Rosie the Riveters reworked for the 21st century with "NASTY" tattoos and raised middle fingers. Gift a pair to your favorite feminist and let her know that 100% of ModSocks' profits from this pair go to Planned Parenthood. 
Feminist Socks With Women Role Models
Representation is important; seeing other women succeed in their fields is inspiring! Fearless Frida socks for women feature the iconic Mexican artist, Frida Kahlo, rocking her signature unibrow and flower crown. Michelle Obama socks for women show Michelle, the first Black First Lady and a brilliant lawyer who graduated from Princeton and Harvard. Encourage your friends to pursue their greatest dreams with socks featuring powerful women.
Bestie Socks
Uplift your female friend with socks that show her you know just how special she is! Sparkly socks for women feature pastel rainbow stripes, white stars, and the words, "Stay Golden," when you cuff them. Or show your partner in crime that she's "One in a Melon" with cute picnic socks that feature black and white gingham and watermelon seeds. 
Cynical Socks
If one of your pals is having a glass-half-empty moment, she might prefer socks that reflect her own disenchantment more than something trying to pep her up. Maybe she just went through a break-up or is having a tough time at work. Show her you can commiserate and that you're there for her by giving her funny socks with pessimistic sayings that might even make her crack a smile. "I Hate Everyone" socks show a girl and her horse with the words, "I hate everyone too." Another funny option are retro gym socks that say "EVERYTHING HURTS AND I'M DYING."
For even more fun sock ideas for your Galentine's Day, visit collections like funny socks for women, girl power socks and new socks for women. Or read one of our other great blogs like this women's gift guide or this list of our top feminist socks.