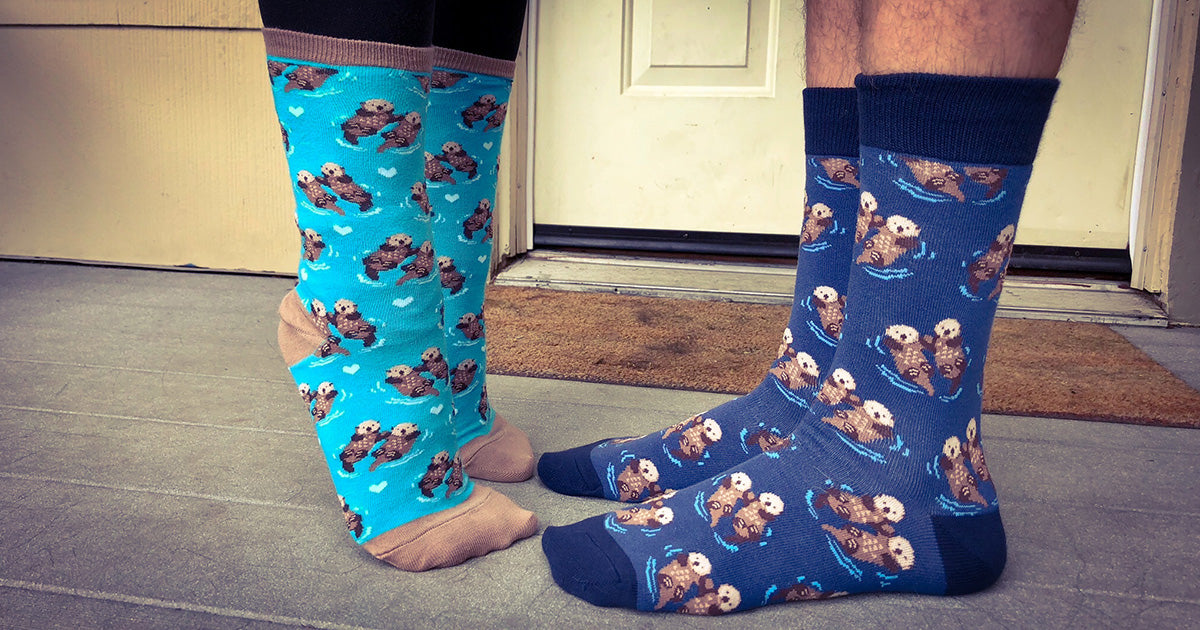 With Valentine's Day coming up we thought we'd make things easy and give you some sock ideas for your boyfriend. Pick from our list or take in our entire selection of men's socks. You'll be sure to find the perfect pair for him at our sock shop.
Significant Otter Socks for "The One"
He's your significant otter, so it's important to tell your boyfriend how important he is. Why not tell him with socks? We know these Socksmith Otter Socks will let him know that he is not like the otter fish in the sea.
Space Socks for a Long-Distance Lover
Are you in a long-distance relationship with a guy who is out of this world? If you are, then Rocket From the Red Planet Socks are the best gift for your long-distance boyfriend!
Funny Socks for Gamers
Is your Valentine a gamer? This creative gift for a boyfriend who loves video games will surely knock his socks off. If you have trouble getting your gamer guy out of the house on Valentine's Day, put these gamer socks on his feet and pick up a controller.
Date Night Socks for Cocktail Connoisseurs
If you have a funny first-date story about going out for a drink or five, then you should order classic cocktail socks as a special gift for your boyfriend. These socktails will have you speaking easy by the end of your date, with new memories to share and fun socks to show off on the walk home.
Beard Socks for Hairy Guys
Does your boyfriend own beard tonics? Beard waxes? Beard shampoos? Or maybe he's just proud of his au naturel facial hair. For the man who loves his mustache or beard, these socks that say "Get a Load of These Whiskers" are the ultimate gift this Valentine's Day. Funny socks with beards and mustaches will surely give him whiskers from his chin to his toes.
Pretty Decent Boyfriend Socks for Adequate Partners
Does your boyfriend knock your socks off? Well if he doesn't, we have a unique gift just for him! Give your okayest boyfriend a small hint that his mediocre sock game is about to change for the better with these Pretty Decent Boyfriend Socks.

Single Guy Socks for Your Exes
Are you a strong independent person who don't need no partner? Wear our socks that say "This is Why I'm Single" if you are recently single or just don't want to be in a relationship, or give a pair to your ex-boyfriend to let him know where things went wrong. These perfectly mismatched socks highlight that maybe you aren't as put together as you want — or maybe you match on a whole 'nother level!
Whatever your reason for snagging these funny socks, we support YOU! Have a happy Valentine's Day full of love and socks.