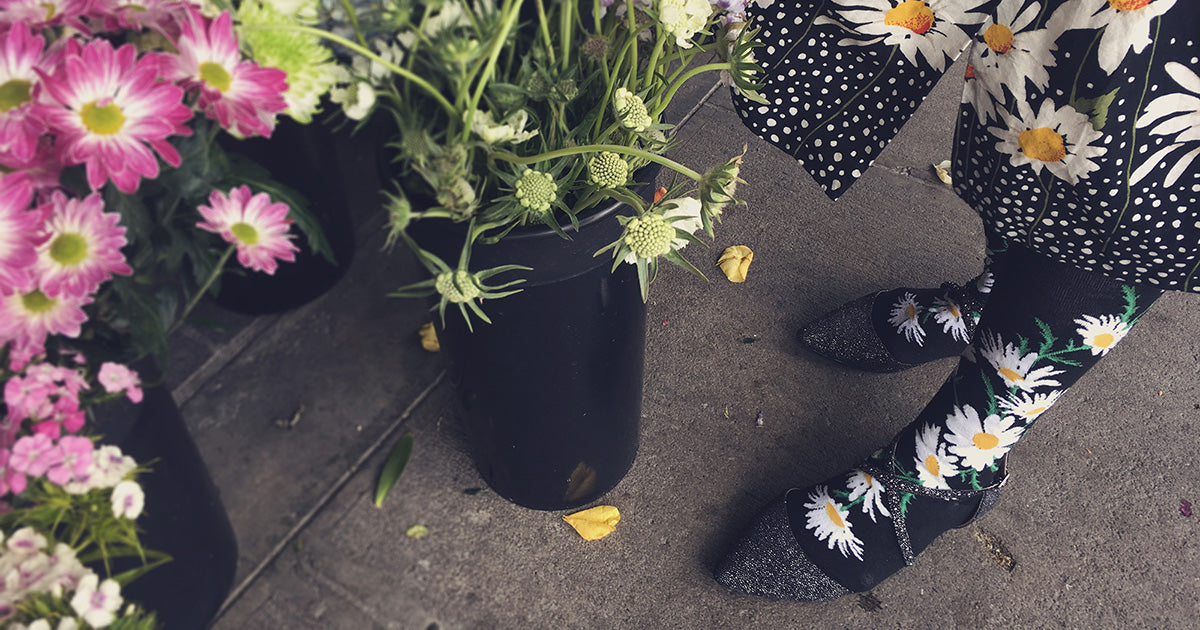 In Victorian times, proper social etiquette limited open spoken communication so lovers and friends would often convey their sentiments toward another by sending symbolic flowers. Our selection of enchanting floral socks will allow you to continue this tradition.
Spoil your beloved this year with wearable flowers that will last long after Valentine's Day is over! Reference our flower symbolism guide to pick the pair that perfectly matches your intentions. 
Rose Socks: Love
These socks for women feature the bloom perhaps most ubiquitous with giving flowers on Valentine's Day: the rose. In the Greco-Roman age, roses were always associated with the goddesses of love, Aphrodite and Venus.
Our romantic rose socks and rose knee socks are covered in soft pink roses and rosebuds, perfect for conveying your love for your partner. All roses symbolize love, but there are more specific meanings depending on the color of the flower. Pink roses are often given to express appreciation or admiration. The color value of pink roses can also indicate the nature of the couple's love, with paler varieties indicating innocent or newer love and darker ones symbolizing a deeper love. 
Tulip Socks:  Perfect Love & Passion 
In the language of flowers, tulips mean perfect love and passion. This symbology comes from Turkey, where the Persian word for turban, "dulband," gave tulips their name as it was thought that tulips resembled turbans. A Turkish legend told the story of two lovers, Farhad and Shirin, who could not be together. In the story one lover dies or is thought to be dead, and then the other takes their own life to be with them, Romeo-and-Juliet-style. It is said that a red tulip grew from each drop of their blood, representing perfect love. Our tulip knee-high socks for women feature red, yellow and white tulip blossoms, and make a wonderful Valentine's Day gift for your special someone. 
Lily Socks: Devotion & Everlasting Love 
Our lily socks for women feature beautiful pink stargazer lily blooms. In plant symbolism, lilies are a flower that means devotion and everlasting love, and as such they are the 30th anniversary flower for couples. Their scent was considered the "fragrance of love" and used in pillows and quilts by the Romans. Give your long-term partner a pair of these lily socks to symbolize your lasting bond.
Daisy Socks: Innocence, Childhood & Motherhood
Crazy for Daisies socks for women come in a crew length and a longer knee-high style. The word daisy comes from the Old English words for "day's eye" because of the flower's resemblance to an eye as it closes every night and opens again in the morning. Daisies have an association with innocence, childhood, and motherhood in Celtic and Norse traditions. Many of us have memories of making daisy chains or plucking the petals off of a daisy, saying someone "loves me" or "loves me not" with the removal of each one. Daisy flower socks are the natural choice for a sweet and carefree love this Valentine's Day. 
We also offer daisy socks with bees for men and women. Our "Give Bees A Chance" socks show bees pollinating daisies and making a peace sign out of the beautiful white flowers. ModSocks gives 100% of their profits from these pairs to Bee Girl, a nonprofit dedicated to bee conservation. 
Hibiscus Socks: Delicate Beauty, a Perfect Wife or Fame & Glory
In Hawaii and North America hibiscus flowers are strongly associated with youth and femininity, and their meanings are delicate beauty, a perfect woman or perfect wife. However, in China the hibiscus can mean fame and glory, and can be given as a gift to any gender. These aloha floral socks for men or for women have beautiful orange and red hibiscus flowers on a tranquil blue or black background. Give a pair to your sweetheart to show them how special they are to you this February. 
Poppy Socks: Dreams & Imagination
Poppies represent dreams and sleep, because of the plant's sedative effects. Just think of the poppy fields in the Wizard of Oz that put Dorothy and her friends to sleep! From this sleep comes a wellspring of imagination and creativity which are also associated with the poppy. Our poppy knee highs for women feature beautiful bright red poppy flowers, perfect for your paramour.
For even more flower socks, take a tiptoe through our floral socks collection. If you are feeling flowery this Valentine's Day you could give someone a bouquet of flowers with matching socks, or use our fun guide to make a sock bouquet.