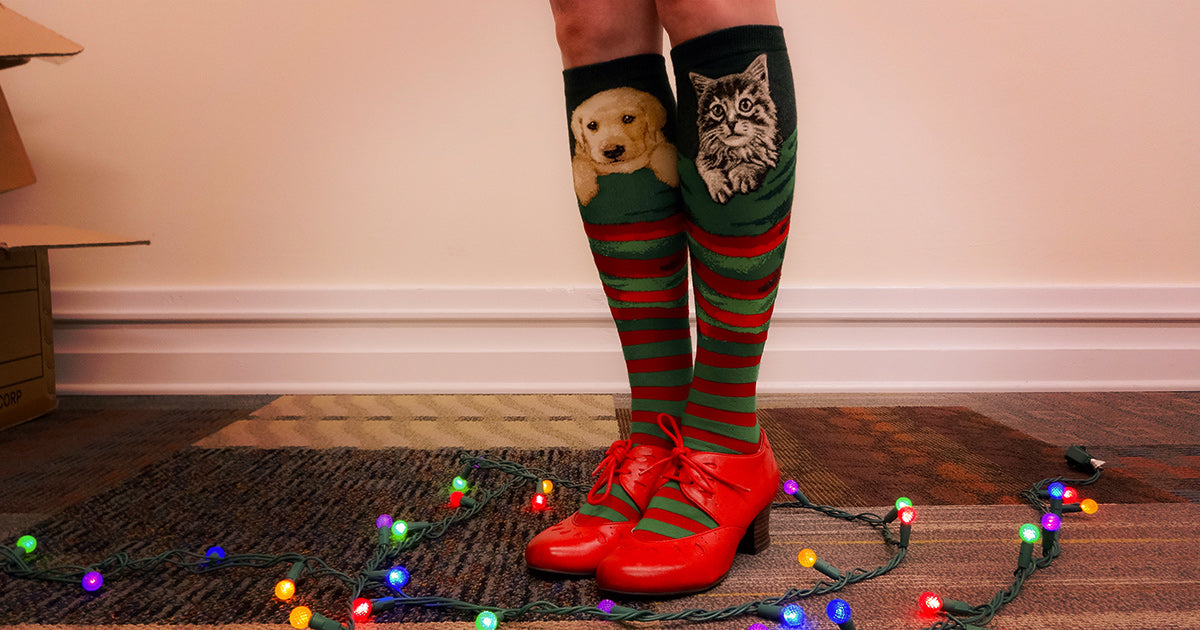 Need a great gift for a pet lover? We love to give Christmas socks for gifts, and Christmas socks with cats and dogs are purrfect presents for the pet owners on your list. Wish them a meow-y Christmas or happy howl-idays with a pair of funny Christmas socks with dogs or cats on them from our shop!
The Perfect Stocking Stuffer for Dog Lovers
Wondering what are the best stocking stuffers this Christmas? For some extreme cuteness, try ModSocks Stocking Pupper socks. These Christmas socks yellow lab puppies on striped socks that make it look like the animals are stuffed into Christmas stockings. We have Stocking Pupper socks in both men's crew socks and women's knee socks. 
Christmas Cat Socks for Men
When you need cool cat lover gifts for guys this Christmas, look no further than these men's Christmas socks with kittens in stockings! They are made to match the fun Christmas stocking yellow lab socks above, and they show tabby kittens peeking out of green and red striped socks. 
Christmas Kitten socks are available in crew socks for men and knee-high socks for women.
Corgi Christmas Socks
For corgis, every day is Christmas. They are always happy and ready to give your the gift of their love! These cute corgi socks might just be the cutest Christmas socks of all time and are perfect dog lover gifts for the holidays. We have Christmas corgi socks available for both men and women, so you can put the whole family in a matching set.
Reindeer Pug Socks
Pugs might not be able to join in any reindeer games (they aren't the swiftest). But that didn't stop Saint Nick from strapping some red noses and reindeer antlers onto the dogs on these crazy Christmas pug socks! Use a pair to wish someone a Merry Pugmas. They make great dog lover gifts and are the perfect Christmas dog socks to wear in a family photo with your pet.
Also for the dog and cat lovers in your life, don't miss our huge selection of cat socks and dog socks!