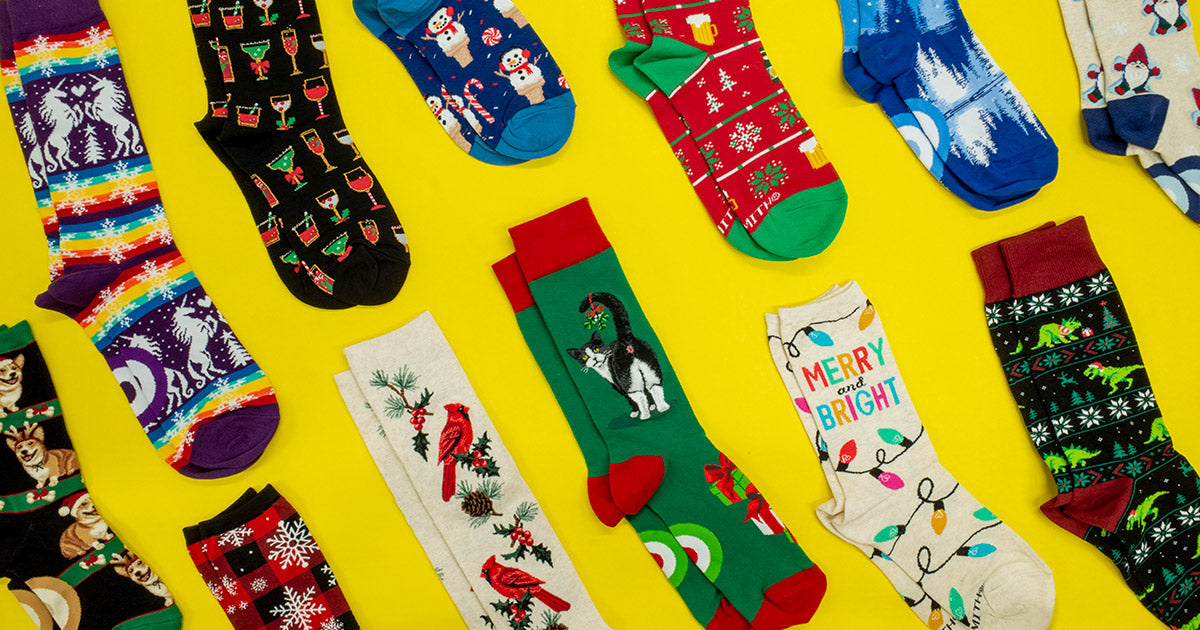 Christmas parties with a special twist are so much fun. I remember going to a party where we all exchanged Christmas mix CDs and another where we wrote our own funny lyrics to popular carols. And of course, there are parties where everyone dresses up in their best Christmas sweater! Most of us have been to an ugly Christmas sweater party or two, but now that everyone and their uncle has caught on to the ugly sweater game, it can be slim pickings shopping for a sweater at the thrift store. Some secondhand shops are even marking up their best ugly sweaters to $50 or more!
So what should the theme of your next holiday party be? Socks, of course! Plan a festive ugly Christmas sock party this year with the help of our handy guide and start a new tradition that combines the excitement of a white elephant party with one of the most popular and budget-friendly Christmas gifts of all: fun socks.
What is a Christmas sock party?
A Christmas sock party can be whatever you want it to be. Here are a few sock party ideas: Ask your guests to wear fun Christmas socks and show them off on the dance floor, serve cute Christmas stocking cookies and cozy cocktails, host a sock gift swap or have a white elephant gift exchange. You can even just hang out, talking and socking around the Christmas tree with cups of hot cocoa.
What are ugly Christmas socks?
An ugly Christmas sock is just an ugly Christmas sweater for your feet! Garish patterns, over-the-top holiday themes, funny socks with inappropriate sayings and literal sweater designs could all fit a party theme of "ugly Christmas socks." These funny socks are perfect for wearing during the month of December to work, school or a Christmas party — and they make great Christmas gifts, stocking stuffers or secret Santa surprises.
Why do people give socks at Christmas?
The tradition of giving socks at Christmas goes way back to the days when every pair of cozy socks had to be knitted by hand, making them a gift full of love and care. These days socks are a lot easier to come by, but they can still be a special Christmas gift that shows the recipient you thought about their comfort and joy. The great thing about crazy socks is that they can feature a pattern with your favorite food, your hobby or a cute saying that makes you smile.
Even kids who might normally complain about receiving plain socks in their stockings will not be able to resist our fun kids' socks! See more tips on how to stuff a stocking.
Another big reason to give socks for Christmas is that they are a budget-friendly gift that everyone will love. See our other top reasons to give socks as gifts.
How does a Christmas sock exchange work?
A sock exchange party could be as simple as having each person bring a new pair of socks and then trade them with another person at the party. If you wanted to, you could draw names out of a hat in advance and assign each attendee a specific person to buy socks for. Sometimes the party host might even want to treat all the guests to a pair of socks as a party favor.
The socks could be wrapped in wrapping paper or just have a bow or a ribbon around them. At some sock exchanges, each pair of socks will also have a small gift hidden inside. As long as there are socks involved, no guest will go home disappointed!
What do you stuff Christmas socks with?
You can stuff socks with any present small enough to fit! You can roll up one of the socks and then put it inside the second sock along with a small gift, then tie a ribbon around the top, or you could go big and fill both socks with gifts, then use a ribbon to tie them together!
Here are some ideas for what to stuff in a pair of socks for your sock exchange:
snacks like cheese or a nice beverage, as shown above
a mini flashlight
a coffee gift card
a candle
a Christmas tree ornament
a chocolate Santa
a bottle opener
There are many ways to creatively give socks and even use them as wrapping paper — in fact we once
used socks to wrap a bottle of wine
!
Christmas Sock Exchange Rules
If you want to host a sock exchange with rules that are fun, easy to follow and with plenty of excitement and drama, here is a set of rules you can follow during your sock exchange! They are based on the rules for a white elephant gift exchange.
Put all the socks into a central pile and have guests form a circle around them. The socks can be wrapped, unwrapped or even contain other small gifts inside them.

Write everyone's name on a piece of paper and put it into a hat (or a sock!)

Draw the first name. That person chooses any pair of socks.

Draw the rest of the names one at a time. When a person's name is drawn, they get the choice to either pick a new pair of socks out of the pile in the middle, or steal a pair of socks someone has already picked out.

If someone has their socks stolen, they then get a chance to pick a new pair out of the pile.

At the end, everyone will end up with a pair of socks. Invite them all to put them on and wear them for the rest of the party!
More Ideas for a Christmas Sock Exchange
Sometimes instead of using white elephant rules, guests at a sock exchange form a circle and each person starts out holding the gift they brought. Then the host reads a Christmas sock exchange story that prominently features the words left and right. Whenever the host says either left or right, that is the direction in which guests pass their gifts.
Depending on the length of the story, the gifts could make several trips around the room before finally landing at the person who will take them home.
Here is an example of a way to start a left-right game story, also known as a pass-the-present story:
"When Andrea woke up yesterday she suddenly remembered there was only one day left until her Christmas party! She had done it again — left everything to the last minute. Right away she knew she had to go grocery shopping, so she jumped in the car and left in search of eggnog and Christmas cookies."
Try writing your own story to tell your guests with funny personal details about you and your friends that they can laugh about as they pass their socks around the room.
Making Invitations to a Christmas Sock Exchange
When you are ready to invite guests to your ugly Christmas sock party and gift exchange, make sure your invitations have all the details — date, time, location, dress code and anything your guests need to bring. If you are planning to have guests exchange socks, make sure you specify that the socks be new and in their packaging! You might think that is obvious, but better safe than sorry.
Sometimes invitations to sock exchange parties have a little poem on them. We wrote this special Christmas sock exchange poem for all our Cute But Crazy customers to use and enjoy!
Christmas time is such a treat
Especially with festive feet!
With cute but crazy Christmas socks
Christmas morning really rocks.
So choose the ones that catch your eye
Or snatch another's on the sly.
Whichever socks you end up winning,
Your Christmas fun is just beginning!
Merry Christmas and happy New Sock Day!