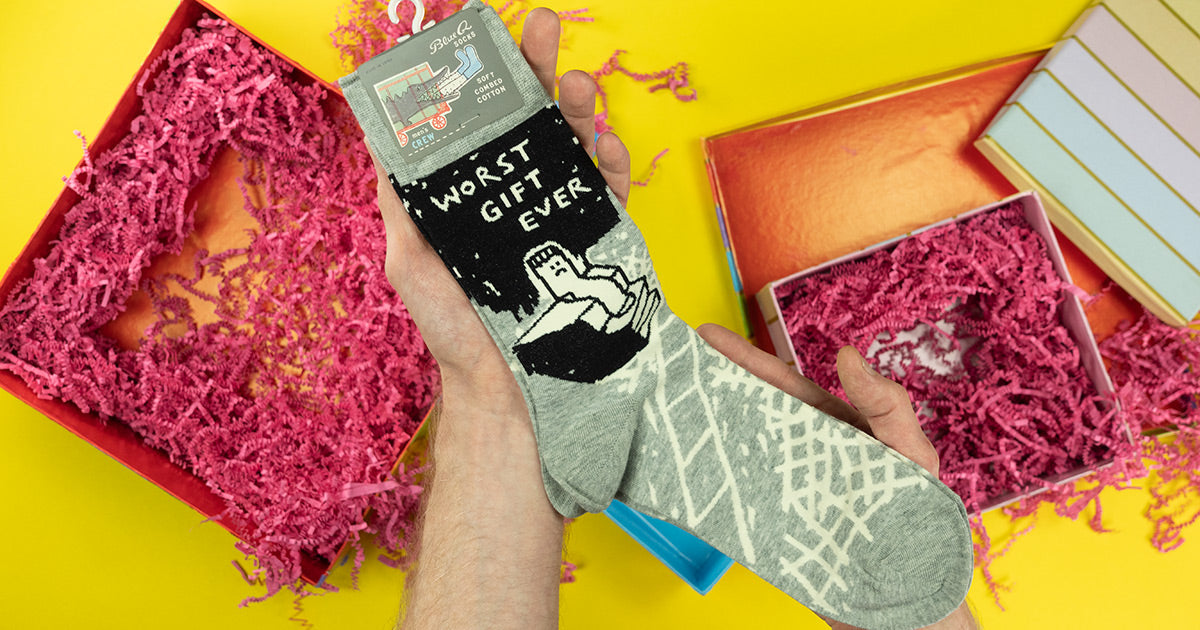 Here at Cute But Crazy Socks, we believe socks are always an appropriate gift. Read on for ten reasons why socks make the best gift ever, regardless of the occasion.
1. They are inexpensive.
Socks are an affordable gift option, especially if you have a long list of people to buy for. They are a great way to give everyone something small that is just for them, instead of opting for one big group gift that all the recipients may or may not enjoy.
2. They are practical.
Many "novelty gifts" are good for a quick laugh but are soon forgotten about and never actually put to good use. Socks, no matter how funny in theme, are extremely practical. Most of us wear socks almost every day of the year so a new pair is always welcome!
3. They can suit any occasion.
Socks can work for any holiday or celebration! A cozy pair of socks makes the perfect stocking stuffer for Christmas or the perfect present for one of the eight days of Hanukkah. They can easily fit into an Easter basket and are a wonderful addition to a birthday parcel. Whether it's Valentine's Day or Halloween, holiday-themed socks are the perfect way to show you care and give your recipient something fun to wear on the special day.
4. They are thoughtful.
A pair of extra-comfy socks shows your loved one your consideration for their needs. Fuzzy socks with non-slip grips on the bottom or warm wool socks with a cushioned footbed are just the thing for someone with sore feet. Performance socks designed to be breathable and moisture-wicking are perfect for the athlete in your life.
5. They can represent your recipient's interest.
There are now socks to complement every hobby or interest imaginable and the pair you pick can show your recipient just how well you know and love them. Get your dog-obsessed friend a pair covered in pups that look just like hers or socks with funny sayings for your goofy dad. There is a pair (or two!) out there for everyone!
6. They are an easy gift for someone you don't know very well.
On the other hand, socks make a great gift even for people whose specific interests you don't know, like casual work acquaintances or extended family. A well-made and comfy pair of socks is a no-brainer present that anyone would love to receive.
7. They allow your recipient to express themselves.
A lot of folks are required to wear certain attire at work, whether it's a specific uniform or a business suit. Socks are a fun and subtle way for your recipient to show off their unique style while still adhering to dress code. Wearing secret socks with a funny message or image will keep their spirits up during all those boring meetings.
8. They are easy to ship/send in the mail.
Part of what makes socks such a great gift is how easy they are to send in the mail! Because they are small, they are relatively cheap to ship and because they're made of fabric and not fragile (like, say, a ceramic vase), you don't have to worry about them getting damaged while they're on their way to their new home! 
9. They are something people may not think to buy for themselves.
Many people are used to buying plain socks for everyday life and haven't yet been made aware of the amazing world of novelty socks! Surprise them with a quirky pair of socks that will bring some color to their day.
10. They could be the start of a fun sock collection!
Your gift to someone could prompt a passion for funky novelty socks and inspire someone to start their very own crazy sock collection!
As this list shows, socks really are the best gift ever! What's more, socks purchased from Cute But Crazy are even more special: when you shop with us, you're helping to raise funds for NAMI, the National Alliance on Mental Illness, a mental health organization dedicated to building better lives for those affected by mental illness. We give 1% of all product sales to NAMI. 
Socks bought at CrazySocks.com arrive wrapped like a gift in one of our special eco-friendly mailers that are both recycled, reusable and recyclable, so you can feel good about that. Make us your one-stop gift shop!