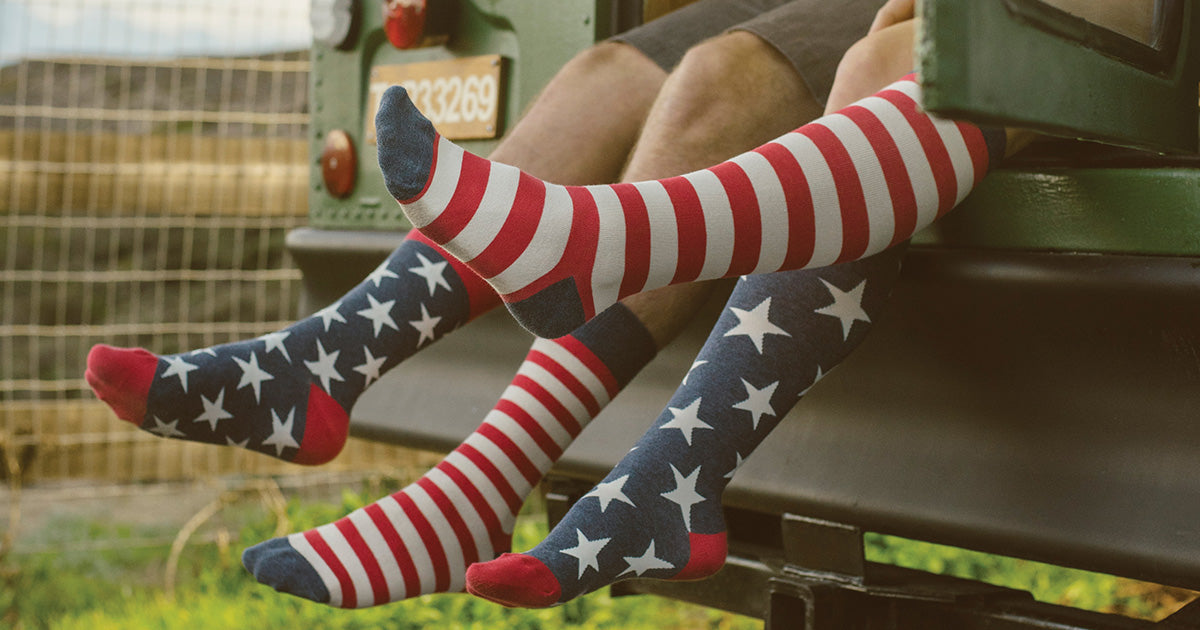 This Fourth of July, skip the American flag bikini and pick up a pair of these funky patriotic socks instead. We have red, white and blue socks with sayings perfect for your next summer cookout, and American flag socks that anyone would be proud to salute. Find our full lineup of patriotic socks here, or read on for some of our favorite socks that represent the good ol' US of A.
American Flag Socks for Groomsmen
If you're looking for patriotic men's dress socks to give to your groomsmen for your upcoming nuptials, first of all: congratulations. If you want those socks to not only look great on the big day but also get worn and enjoyed afterward, give them a pair of Vintage Flag Men's Crew Socks (top). The fun part is of these cool mismatched flag socks is that one sock is all stars while the other is all stripes, but the two come together to make a simple, classic American flag. And if your bridesmaids also want American flag socks for the wedding (or the bachelorette party) you can give them identical women's knee-high stars and stripe socks or crew-length flag socks for women.
All-American Athletic Socks
From their retro Americana vibe to their color scheme to the fact that they are made in the USA, these Men's Element Wool Socks from Darn Tough could hardly be more American. They may look like those old-school tube socks from gym class, but these cool socks have a modern twist: fine-gauge merino wool, a lightly cushioned sole and an undetectable toe seam. Wear a pair during your run or workout and you'll instantly feel like you made varsity. Or if you're looking for some all-star workout socks for women, we also carry these moisture-wicking American Flag Ankle Socks. They are manufactured in the USA by the SockGuy company.
Fourth of July Socks for Kids
When you're a kid, Independence Day is a huge highlight of the summer. What could be better than a day of fun and food followed by a fireworks display? Put your little one in a pair of these American flag socks for kids this Fourth of July and help them have a safe and happy holiday.
Funny Red, White & Blue Socks
Gumball Poodle's funky socks for men and women will let you show your true colors with a side of attitude. Some of their slogans are simple, like their socks with the word "VOTE." But then you get into some of their other red, white and blue socks like these funny crews that say "BEER" or the ever-popular "I MISS OBAMA" and things start to get a little sassy! They even make a pair of novelty socks that says "I VOTE FOR SNACKS," in case you prefer pretzels to politics. By the way, all Gumball Poodle socks are made in America!
With all those great socks to choose from, we hope you are feeling your freedom right about now! For even more U.S. manufactured socks, check out our collection of Made in America socks. Or if you're looking for something a little more electoral, visit our election blog with all our best political candidate socks and other funny socks to get you through this election cycle.