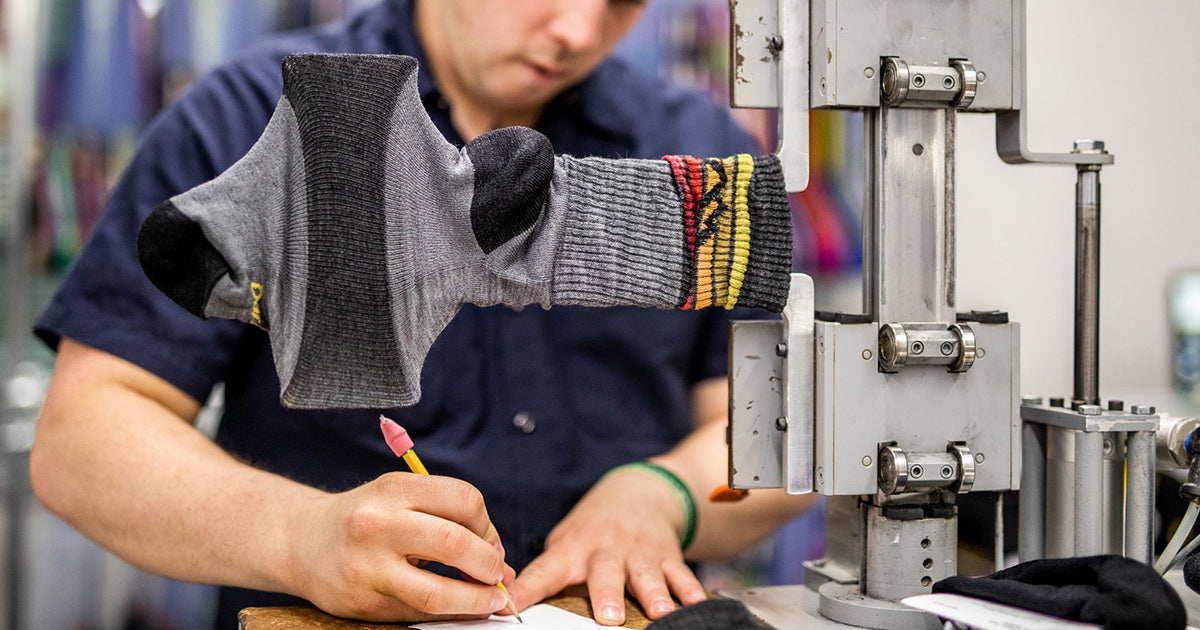 As we gear up to celebrate the Fourth of July, we look to our strong, bold and beautiful American-made socks for inspiration. From novelty designs including flashy American flag and patriotic socks, to the more subtle but durable wool hiking socks, you'll find that socks made in the USA are as diverse and hardy as this great country. Check out these popular American sock brands that we carry and discover what makes then great.
Darn Tough Socks
You won't find a sock so masterfully manufactured as a Darn Tough wool sock. Where are Darn Tough socks made? These strong USA-made socks are produced at a knitting factory in Vermont and designed to endure everything from the seasonal elements to long periods on your feet. The photos above are courtesy of Darn Tough. Both are scenes of actual employees. The socks they make are the ultimate in function and available in various sizes and lengths for men, women and kids.
As if that weren't enough, the company also offers a lifetime guarantee and will reimburse you with credit to their online store if you manage to wear a hole through your Darn Tough socks. Check out Darn Tough's guarantee for details.
If you're looking to get active this Independence Day, SockGuy's USA-made athletic novelty socks have both a sense of humor and quality athletic stitching to keep you going in good spirits for as long as your workout demands. They are constantly wicking away moisture to keep your feet dry, not sweaty. Every pair has a neat design or silly motif, making them perfect for gym socks, fun cycling socks or just funny socks to entertain at a BBQ. Knit in Alabama, USA!
For more American comedy, Gumball Poodle has produced quality retro athletic socks with funny words and sayings for even the most sarcastic citizen. Crack open a beer this Fourth of July and celebrate with socks made in America with patriotic beer socks, boozy socks and many more hilarious wordy styles. Gumball Poodle uses one-size-fits-most unisex sizing that is designed to fit a wide range of men's and women's shoe sizes.
If you're looking for colorful patterns and funky sock styles, you can't go wrong with Solmates' crazy mismatched socks. These USA socks made in North Carolina are manufactured from super soft recycled cotton. With plenty of stunning color combinations to choose from, you'll have a hard time picking just one pair!