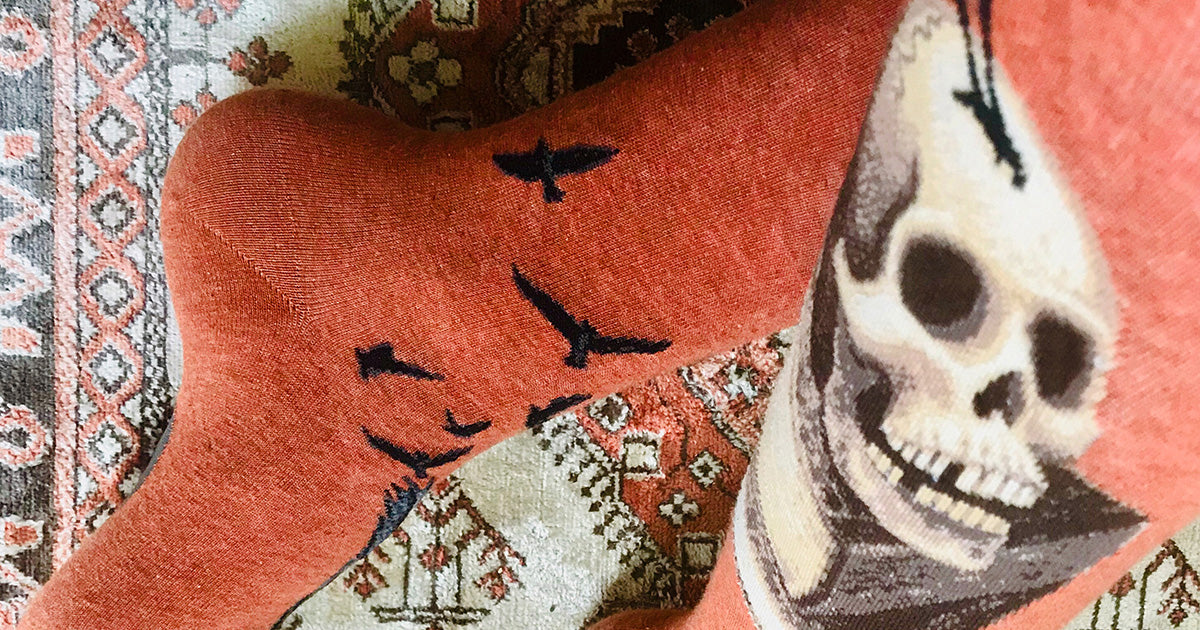 The year 2020 has been scary enough on its own — we're not even sure Halloween is really necessary! Could we even handle Dracula, Frankenstein, ghosts and goblins right now?
On the other hand, since we're already wearing masks every day and navigating horrors all around us, it's kind of like Halloween has been going on every day since March this year. So let's celebrate all year with these novelty Halloween socks for supernatural times!
Socks for Halloween Lovers
If you have a hard time choosing between Valentine's Day and Halloween, look no further than these adorable crew socks. With heart-shaped jack-o'-lanterns accented with lovely autumn flowers, we think you'll really 'fall' in love with this pair of seasonal socks by Socksmith.
Halloween Knee Socks
Did some creep leave you broken hearted? Are you in the spirit for kicking their butt halfway to the "other side?" Cast a spell on them with "Hexes for Exes" talking board socks by ModSocks! A winking sun and starry-eyed moon gaze out of these macabre and mystical knee high socks with planchettes to reveal the words "Hexes for Exes" and "Boy Bye."
Men's Halloween Socks
It's a real Halloween party on Socksmith's Spooky Sweet socks for men! A scary ghost, an eyeball, black bats, spiders, candy corn and other Halloween creepies and goodies are all invited to make this one of the best Halloween socks yet!
Skeleton Socks
Downward Dog, Cobra Pose, Plank Pose, Boat Pose. If a skeleton does yoga, is that not the epitome of "inner peace"? Get your bones into alignment with ModSocks' Skeleton Yoga socks for men and women of all yoga levels!
Ghost Socks
If you're looking for a kitty to adopt this fall, why not pick Catspurr the Feline Ghost from ModSocks! He likes dressing in a ghost costume to go trick-or-treating for candy. And while he's really too cute to be scary, we still jump when he says "boo" so he feels like a real ghost!
Witch Socks
When a sock can make a good joke without any words, it gets an extra nod in our book. These funny socks from Sock It To Me feature a "Sand Witch," a cute little sandwich with a witch hat waving hello as she zooms by on her broom. Too cute to eat for sure, but perfect for a pair of socks!
Poe Socks
You shall nevermore have lame socks at Halloween! Whether you're just answering the door for trick-or-treaters or stepping out to a Halloween party, Edgar Allen Poe is happy to be your date on these skull, book and raven socks inspired by his written arts. These ModSocks originals are available in men's crew and women's knee-high socks.
Want to see every spooky pair we offer? Creep over to our collection of Halloween socks!