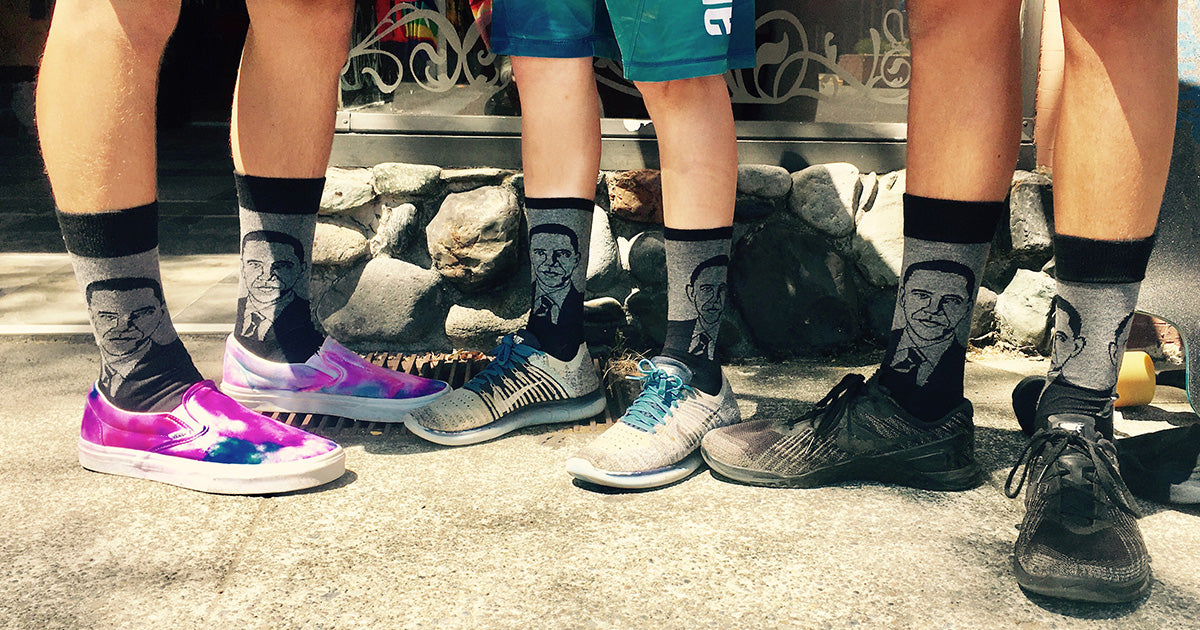 Forget magazines and Instagram — all of your favorite famous faces are now popping up on fancy socks! Now with every step you can rep all manner of well-known men and women: from presidents and scientists to Supreme Court Justices and artists. Whatever your interest or hobby, there are celebrity face socks and historical figure socks to match. Fashion tip: these socks look great with low shoes that fully reveal their glory, or tuck them under trousers if you want to keep your muse a secret!
It's fun and now easier than ever to turn your feet into a walking gallery of celebrity portraits with crazy face socks. Check out some of our favorites below!
Barack Obama Socks
Sitting handsome and kind-eyed as ever on these crew socks (pictured above) is our 44th United States President, Barack Obama. His administrations' accomplishments include passing monumental health care and Wall Street reform, commitment to conserving the environment, and giving some of the greatest speeches of the 21st century. Obama and his team managed to achieve a great deal despite raging opposition and he is already remembered fondly as one of the United States' most beloved Presidents. Take on the world with a level mind and a full heart when you wear these presidential socks from Socksmith. You can find Barack socks for women as well as matching men's Obama socks in a larger size.
Michelle Obama Socks
Michelle Obama, First Lady to Barack Obama, is not one to sit on the sidelines. In addition to bolstering her husband to be the best man he can be, she was also a staunch advocate for women and girls, people of color and a healthier America. If you're looking for an inspiring role model to get you through your day, put on these awesome socks with Michelle Obama's portrait and know that she's got your back and believes you can accomplish your dreams! Folks with larger feet can also get moving in a pair of Michelle Obama men's socks.
Frida Kahlo Socks
Frida Kahlo was a Mexican painter known for self-portraits, her fascination with birth and death and her untamed unibrow. She is a beacon for people on the fringe of convention — the odd, the queer and the eccentric. In her diary she wrote: "I used to think I was the strangest person in the world. But then I thought there are so many people in the world, there must be someone just like me who feels bizarre and flawed in the same ways I do. I would imagine her, and imagine that she must be out there thinking of me too. Well, I hope that if you are out there and read this and know that, yes, it's true I'm here, and I'm just as strange as you." So when you want wild socks to match your wild heart, don these feminist Frida socks featuring Frida Kahlo with flowers in her hair, and when in doubt ask yourself, "What would Frida do?"
Ruth Bader Ginsburg Socks
Supreme Court Justice Ruth Bader Ginsburg once said, "When I'm sometimes asked when will there be enough [women on the Supreme Court] and I say, 'When there are nine,' people are shocked. But there'd been nine men, and nobody's ever raised a question about that." Ginsburg has dedicated her life tirelessly, even fighting through serious medical incidents, to eliminate gender-based stereotyping. She has long been a role model for women of all ages and now you can carry her wisdom everywhere you walk with "When there are nine" RBG novelty socks.
Einstein Socks
Science doesn't have to be all serious. In fact, one of the most popular scientists, physicist Albert Einstein, shows us that science can be silly! An equations man AND a ladies' man, Einstein once said "When you are courting a nice girl an hour seems like a second. When you sit on a red-hot cinder a second seems like an hour. That's relativity." Get silly yourself with these fun socks featuring the famous picture of Albert Einstein sticking out his tongue. These blue Einstein socks fit most men, while these gray Einstein tongue socks are a smaller size suitable for most women and kids 10 and up.
Bob Ross Socks
"We don't make mistakes, just happy little accidents." Bob Ross, famous TV art tutor and all-around good guy, makes us feel as fuzzy in our hearts as the fuzzy hair on his head. He taught us to embrace our errors and celebrate our shortcomings as bricks in the road towards our success and happiness through art. Immortalize the man and the hair on these funky socks with a fuzzy afro. Buy large Bob Ross socks with fuzzy hair in a larger size to fit most guys, or smaller Bob Ross hair socks for women.
Want more? We have heaps of art socks, funny socks, and more at our shop. You can easily buy socks online as well here at Cute But Crazy.