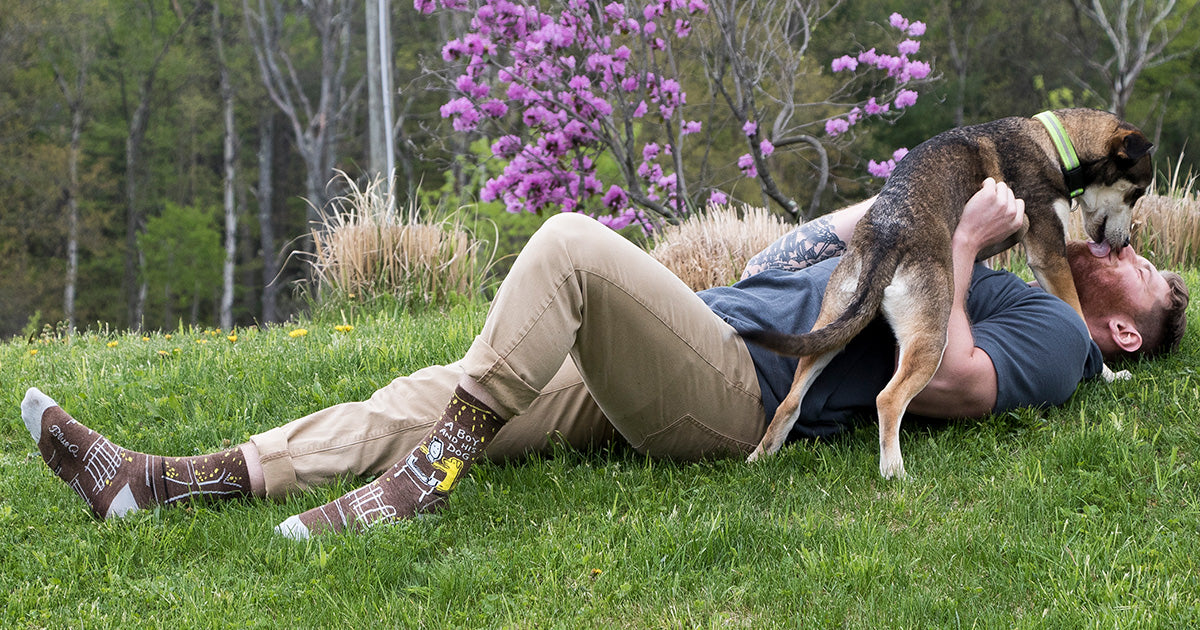 If you're looking for socks with dogs on them or cheap dog gifts to fill a birthday basket or holiday stocking, come on over Rover! ModSock has oodles of funky socks with dog designs featuring different breeds, funny sayings, and unique pictures and patterns that will have you rolling in the grass with joy!
To make things a little easier for you, we've put together a list of the 10 most popular dog socks we carry. But you can find all of our dog socks here including boxer dog socks, corgi socks, black Lab socks and more! We ship all across the U.S.A. and internationally — so if you need your pair of golden retriever socks in Canada, order online and we'll send them right to you!
1. Funny Dog Socks
There's nothing like the bond between a dog and their human, which is why you can trust your four-legged friend with any hot gossip. Take a walk and gab with Fido in comfortable dog socks in cotton that say "MY DOG AND I TALK SHIT ABOUT YOU."
2. Dog Mom Socks
When baby dog makes mama human proud, show off in these sassy ladies' dog socks that boldly declare "My dog is cool as fuck." A girl and her furry best friend sit back-to-back on a piano on these funny swear word socks by Blue Q.
3. Dog Dad Socks
There's something special about the relationship between a pup and his human dad that brings out the ultimate love and loyalty between the two. Run out in the sunshine with man's best friend in "A Boy and His Dog" novelty dog socks for men.
4. Knee-High Dog Socks
We love dogs so much, we even have our own custom dog socks designed right here in Bellingham, Washington. Fill stockings with the perfect gift for your dog-obsessed friend: festive furbaby socks designed by ModSocks! These popular Christmas socks are made to look like an adorable yellow Labrador puppy is peeking out of the top! Paw'dorable! The red and green striped knee-high puppy socks are also available in men's crew.
5. Cute Dog Socks
What breed of dog studies chemistry? Why, a science "Lab" of course! These yellow Labrador socks for men features a handsome doggy scientist in safety gear surrounded by test tubes, scientific formulas and equations. That's one smart puppy! Socksmith's science dog socks are also available in women's sizes.
6. Dog Ankle Socks
We're not sure where they're hiding the battery pack, but bow wow! Puppies sure do have a lot of power! Somehow their energy gives us energy, and while it may be tough to keep up, we'll do anything for that cute little face! "Mother Fucking Puppy Power" novelty ankle socks will keep you fueled for playtime.
7. Christmas Dog Socks
If you're looking for personalized gifts for dog lovers, a jolly Welsh corgi makes a very merry companion on this holiday dog print sock designed by ModSocks. They couldn't decide if the corgi looked cuter in a Santa hat or reindeer antlers so they naturally had to include both on these Christmas party socks!
8. Dog Dress Socks
You've been invited to enjoy these stylish dog breed socks featuring the most impeccably dressed and handsome hounds you've ever seen. Charmed, I'm sure! Men's dress socks have never been more doggone dapper.
9. Dog Socks for Kids
Look up in the sky! It's a bird, it's a plane — it's an adorable corgi puppy! Have you ever seen anything cuter? These crazy socks for kids show a corgi flying through the air with a red balloon. He is pictured from the front and the back, meaning you get a little peek at his fluffy corgi butt. We say it's little things like dog butt socks that make life grand!
10. 3D Dog Socks
3D animal socks are all the rage, and they're some of our most popular and best socks! With their fun animal designs that jump out at you, it's easy to see why. Available in both women's and kids' sizes, these 3D Dachshund socks make great birthday gifts for dog lovers of all ages.
Browse Socks by Dog Breed
Want more great dog socks? To see them all in one place, visit our dog socks
collection
. Or if you are looking for specific dog breed socks, check out the list below!