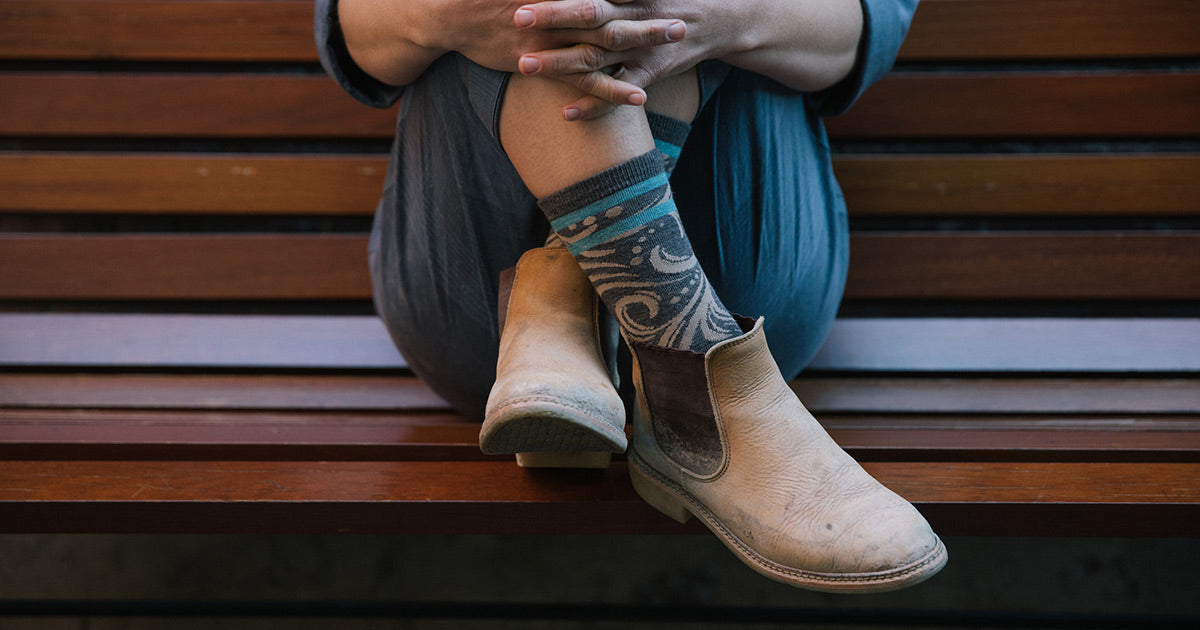 Whether you're strolling country roads or stomping city sidewalks, boots make a statement on the pavement that nobody can deny. Boots are functional and fashionable, and people of all ages can express themselves through the vast array of styles and colors. But finding the right boot socks to go with all the boots available might feel a little overwhelming at times. When that happens, we are happy to help you improve your boot fashion and function. Here is a list of socks to suit every boot from ankle booties to work boots to over-the-knee boots!
Socks to Wear With Boots & Skirts
For fashion's sake, wearing dresses with boots and socks is a great way to let the world know you can look cute, work hard and get wild! For taller boots, knee-high socks and over-the-knee socks give optimal coverage and allow room to play with fabrics, colors, and patterns. For shorter boots like wedge boots, you can wear crew socks for a peep of layering, or you can wear knee highs or over-the-knee socks to add length to the leg.
Socks to Wear with Rain Boots
In our home of the Pacific Northwest, rain puddles are just a daily life hazard. Naturally, we conquer them with style and a splash! Rubber boots and duck boots are a staple here and we prefer to wear them with wool socks to help keep our feet warm and dry in rainy weather. Of course, sometimes we can't help but go with loud, bright novelty knee-highs or crew socks to lend some light and color on a rainy day!
Best Socks for Chelsea Boots
Hailing from the 18th century, the Chelsea boot is a timeless shoe with a polished-yet-versatile look that's suitable for both formal occasions and kicking it downtown. Don't let the feminine-sounding name throw you off — these boots are actually named after a neighborhood in London. People of all genders can rock Chelsea ankle boots, and wearing ankle boots with dresses is just as fashionable as ankle boots and trousers.
Because these short boots typically don't have laces, it's important to size them perfectly. When you're buying a new pair, you'll want to wear the kind of socks you plan to wear with your Chelsea boots to make sure they fit.
Knee socks with ankle boots create a long silhouette, especially if you match the color of the sock to the boot. Trouser socks paired with a Chelsea gives a trim and professional look. If you want to assert a more playful style, try pairing them with thicker textured socks, which can tastefully shake up the sleek lines of the Chelsea boot.
Socks to Wear with Cowboy Boots
It doesn't matter if you're wearing cowboy boots for function or for fashion — you can't just go with any ol' socks! Generally, you want sturdy over-the-calf or knee-high cowboy boot socks, so the leather rim of the boot doesn't rub against your skin all day. The same goes for riding boots, which are typically taller than cowboy boots. To protect your legs from chafing on the boot, a knee high or trouser sock is ideal.
Ribbed tops on socks can help keep them from sliding down into your boots. On top of that, wearing socks with moisture-wicking fabric like wool will help keep your feet dry and stink-free. Cushioned socks can cradle and support your soles when you're trekking all day in your boots. Whether you're hauling hay or doing the Texas two-step, all-day comfort is essential.
Combat Boots with Socks
If you're wearing combat boots for official military duties, it is recommended that you wear nylon trouser socks under cotton compression socks or moisture-wicking wool socks. This helps keep the foot from moving around in the boot and causing blisters and sores. If you are training, marching or standing for long hours, be sure to change your socks regularly.
If you're wearing combat boots for fashion or everyday low-impact use, it's still important to wear a thick enough cushioned sock to keep your feet dry and free of blisters. A single layer of socks made from wool or your favorite cotton blend should work just fine.
Colorful Socks with Cutout Booties
It is popular to wear cutout ankle boots and wedge boots without socks, or with low "invisible" socks, which is a shame because they are perfect for showcasing socks! If you are used to wearing cutouts without socks, take this opportunity to try something new and stylish with an eye-catching pop of color or fun novelty print peeping through. Contrast the colors enough with the boot that the sock stands out, but pair the color with another piece of clothing or an accessory to create cohesion.
Best Socks for Hiking Boots
When you are trekking for miles across rough terrain, you want your feet to be supported. You also want them to stay as dry and odor-free as possible, which sounds like a tall order for just a sock. Luckily there are socks specifically designed with these features! Wool socks are tried and true companions on the trail, no matter the weather or environment. Be sure you select the right length of sock for the hiking boot your using — you don't want the cuff of the boot to rub against your bare skin. You also want to be sure your foot doesn't wiggle around in the boot, so choose the appropriate thickness for your boot size.
Wool Socks for Work Boots
When you are on your feet for long periods in Doc Martens work boots, or pushing pedal to the metal on the long open road in moto boots, nothing beats cushioned wool socks. They prevent sweat from pooling in your shoe and that cushioning keeps feet comfortable through long hours of use. Plus, wool is naturally anti-microbial, which helps deter foot fungus and odor. These days, wool socks come in all sort of lengths, thicknesses, styles and patterns so it's easy to be as fashionable as you like without sacrificing the function you need to get the job done.
Warm Socks for Snow Boots
Much like rainy weather, for chilly winter weather and snow boots, you are going to want socks that keep your feet warm, dry and cozy against the cold. If you're just lounging around in casual Uggs, you can opt for a comfortable cotton sock or a thinner wool sock. But if you're out in the elements, thick wool socks are your best friend as they will keep snow from melting through your sock and freezing your feet.
Socks to Wear with Tall Boots
If you are styling socks to peek above tall boots like campus boots or knee-length high-heeled boots, knee-high socks and over-the-knee socks work best. They come in so many different textures, colors and prints that it's easy to go as a bold or subdued as you like. Remember to pick a sock length that spans the whole shaft of the boot so that the top doesn't rub against your skin.
Socks to Wear with Thigh-High Boots
While some people will wear thigh-high boots without socks, it can be a true disservice to your feet to do so. Thigh-high boots typically fit tighter and have a longer shaft than your average boot, so sweat and constriction are a concern. A thin cotton over-the-knee sock, tights or even leggings not only add layer and complexity to a high boot look, but they protect your feet and legs from chafing and prevent sweaty odor.