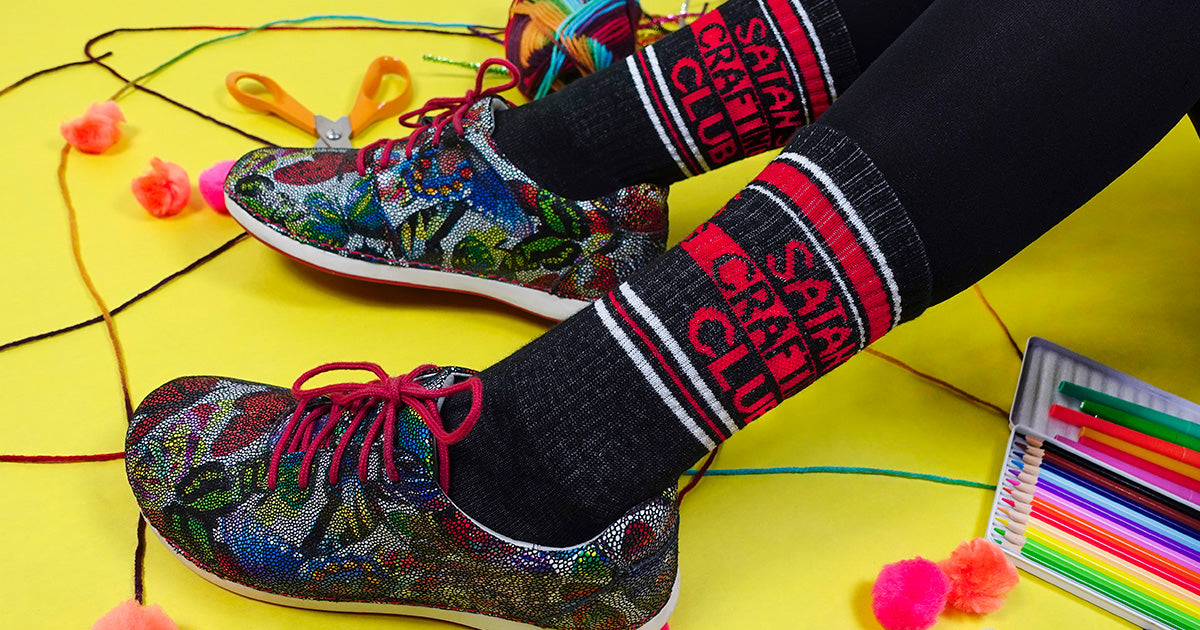 We love crafting and being creative. Just give us a hot glue gun, some yarn and a whole lot of glitter and get out of the way! In fact, sometimes we even use socks in our craft projects. If you know a dedicated crafter, use this blog to find them a pair of fun crafting socks and celebrate all things cute, crazy and crafty.
Socks for Glitter Lovers
Everyone who has done any arts and crafts knows that glitter can be both a blessing and a never-ending curse. On one hand, it makes things sparkle like nothing else. On the other hand, it gets everywhere, and we mean EVERYWHERE. Do one glittery project and you'll be finding the stuff around your house for years to come. If you happen to ingest a little, these funny socks that say "I SHIT GLITTER" might even come true.
Cat Socks for Knitters
For the crocheters and knitters of the world, there is nothing better than starting out a project with a neat ball of quality yarn. Unfortunately, kittens are also attracted to yarn balls, as shown on these cute cat socks. Cats think yarn is a toy just for them, and nothing you do can convince them otherwise. Better just get some extra decoy yarn, so they will leave the good stuff alone!
Knitting Sheep Knee Socks
Speaking of knitting, wouldn't it be nice to have a never-ending supply of wool for all your projects? These cute sheep socks show little blue lambs with curly coats that spin off into yarn balls stuck through with pairs of knitting needles. Knit fast, die warm.
Alien Knee Socks for Crafters
These funny space crafting socks make unique gifts for crafters who keep their eyes on the skies. They have lots of fun details that combine craft supplies with space stuff like tomato pincushion UFOs, rocketships made from bottles of white glue with yarn for flames, and cute confetti stars. On the sides they say "I Believe in Craft."
Crafty Bitch Sewing Socks
These cute sewing socks are a little irreverent, but that's perfect for all the young, hip crafters we know and love. They feature the phrase "You Crafty Bitch" above a person hard at work behind a sewing machine as they stitch up a stack of colorful triangles. These socks make a super fun gift for a quilter or crafter of any kind!
We hope you have enjoyed this roundup of great socks for crafters, crocheters, knitters, quilters, sewers and glitter fanatics! To see even more craft socks from Cute But Crazy Socks, click here.