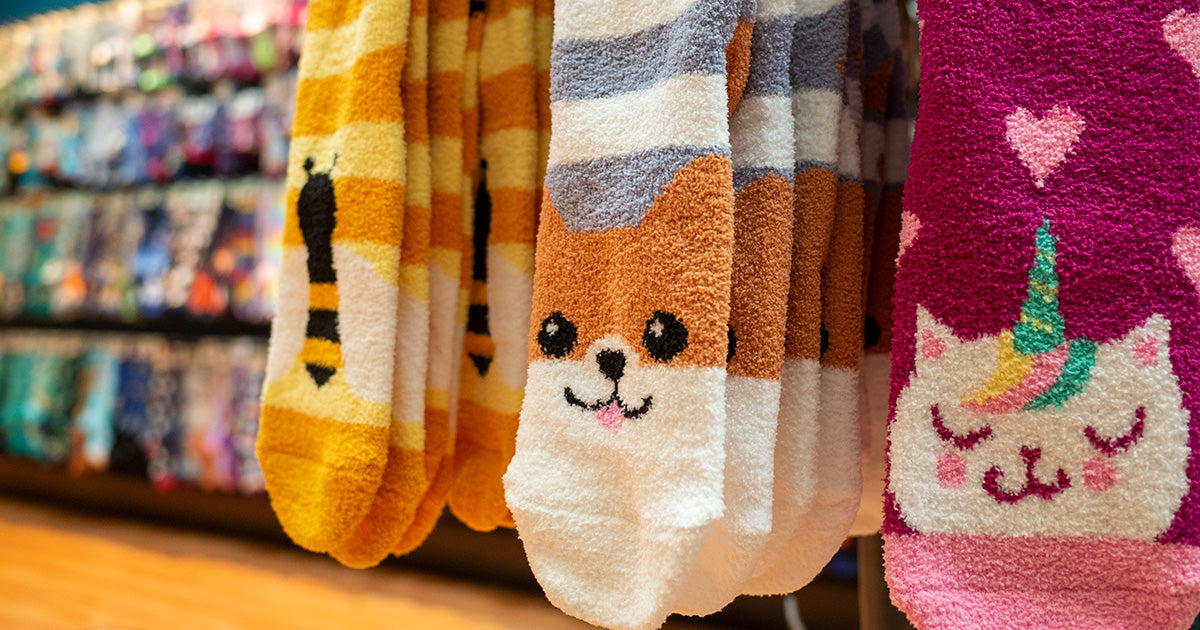 When the leaves start to change, we know it's time to change our socks, too!
This fall, 2021 fashion trends are translating into bold new looks on our socks here at Cute But Crazy Socks. Our hottest designs this year have been fun, meaningful, colorful and comforting.
Find yourself some new socks with chic patterns, trending colors and hip novelty prints. Here we'll share our fall 2021 trends forecast and all the socks that will help you move from summer into fall with confidence.
Cute But Crafty
In 2021, craftcore fashion has taken center stage with patchwork clothing and traditional techniques like crochet, quilting, tie-dye and embroidery appearing on the runway and in tutorials on DIY TikTok.
This movement is a throwback to simpler times and also a path toward greater sustainability in fashion, because it invites people to upcycle thrift store finds to create new, one-of-a-kind pieces. Show the world you are a crafter to the core with funny socks like these "spacecraft" knee socks or Satan's Crafting Club Socks. Or you could always represent this trend by wearing a pair of Solmate Socks, which are knit with recycled yarn and come purposefully mismatched.
Soft, Cozy, Fuzzy & Warm
Fuzzy socks started having a moment last year, when we wore them as cozy slipper substitutes around the house while working from home.
Now, soft and warm socks are a statement-making accessory in their own right and a fall 2021 fashion trend that can be seen on the street, Instagram and runways everywhere. Everyone loves a fall sweater, especially in 2021 when sweaters and sweater vests reign supreme.
We offer a comfortable selection of fuzzy wool socks, fleecy polyester slipper socks with silicone grips underneath, as well as extra soft socks without grips. We have always believed wearing cozy socks is a simple-yet-gratifying form of self-care, which we could all use a little more of right now.
Occulture
Haunting and dark fashions can be seen as a response to craftcore & cottagecore's quaint, cheerful vibes. With the goth aesthetic on the rise in the fashion world, and witchcraft, astrology and the occult making waves in the culture and on #witchtok, it's no wonder mystical design trends are showing up in the sock world. 
It can also be comforting in uncertain times to embrace our spirituality through rituals, rites and the natural rhythms of the Earth. We love to make a little magic in fun socks with witchy themes like new Mystic Mountain Knee Socks and Frog Magic Women's Socks, or show off our celestial side in socks with suns and moons.
Put a Bird On It
Some of our hottest conversational prints this year have featured birds, and it's clear this trend is here to stay throughout the fall and winter seasons. Depending on the species, birds can symbolize freedom, luck, hope, wisdom and many other positive traits.
However, some birds like crows and ravens have a history of being viewed as dark omens or trickster spirits, making them just the thing to wear on your socks this Halloween. Looking further ahead, we foresee socks with cold-weather birds like cardinals and penguins being big hits for winter wear and Christmas gifting!
To keep up on all the latest trends in socks, visit our new socks collection and see our latest finds. We are adding more fun and fashionable socks all the time!