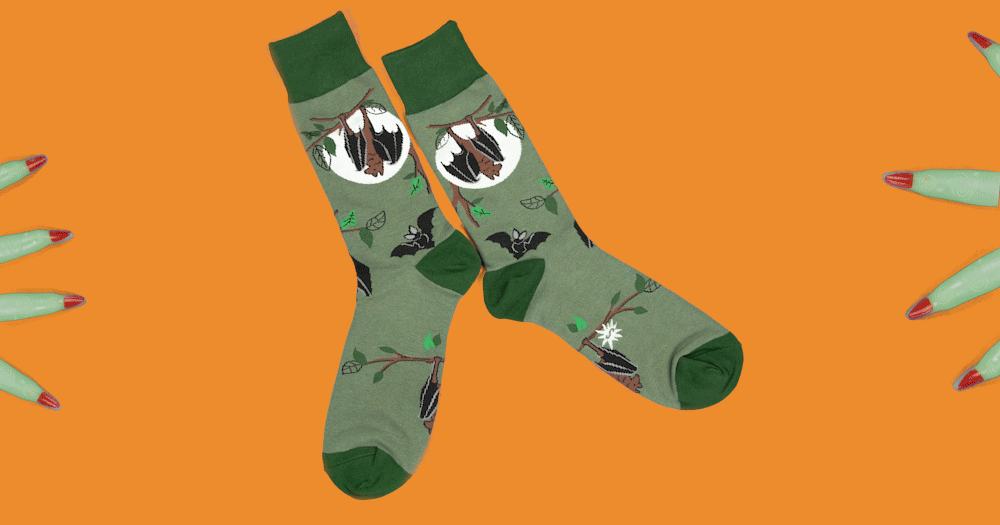 When new fall designs arrive at Cute But Crazy, we can't wait to pick out a brand-new pair of Halloween socks just in time for October festivities! If you are like us and can't get enough of Halloween fun, check out this list of cute and spooky new socks.
Vintage Halloween Socks
There's no Halloween like a retro Halloween because vintage decorations are the best! These cat and pumpkin socks are an homage to the Halloween decorations of yesteryear when everything was a little bit scarier. Mark the season with grinning black cats and scary jack-o-lanterns on your socks, also available in green for men.
Goth Witch Ballet Slipper Knee Socks
Dark and lovely faux ribbon socks with purple and black stripes are a delight to behold below a witch's cape or a wizard's robe. A little bit goth and a little bit punk rock, they are the Halloween version of ModSocks' popular Ballet Slippers Knee Socks.
Glow-in-the-Dark Bat Socks for Men
Feeling a bit batty this year? Us too! With fun bat socks in two styles for adults, we can all can show our love for these furry flying mammals. The men's bat socks show a full tableau of bats flying and hanging from tree branches by the light of a glow-in-the-dark moon. We also have a different style of bat socks in a smaller size that fits most women. It doesn't glow, but it does have adorable flying foxes!
Magician Frog Socks for Women
Witches, wizards and magicians are always accidentally turning themselves into frogs! At least, that is what these magical frog socks might have you believe. Wear a pair while you wait for your Frogwarts admission letter to arrive!
Halloween Icons Knee Socks
Ghosts, pumpkins, candy and witches' hats achieve iconic status on this cute striped knee sock with tiny Halloween icons in a repeating pattern. Take them trick-or-treating and let all the ghouls and ghosts in the neighborhood know you're ready for them!
We hope you have enjoyed this roundup of our latest Halloween socks! For even more spooky fun, check out our Halloween collection.