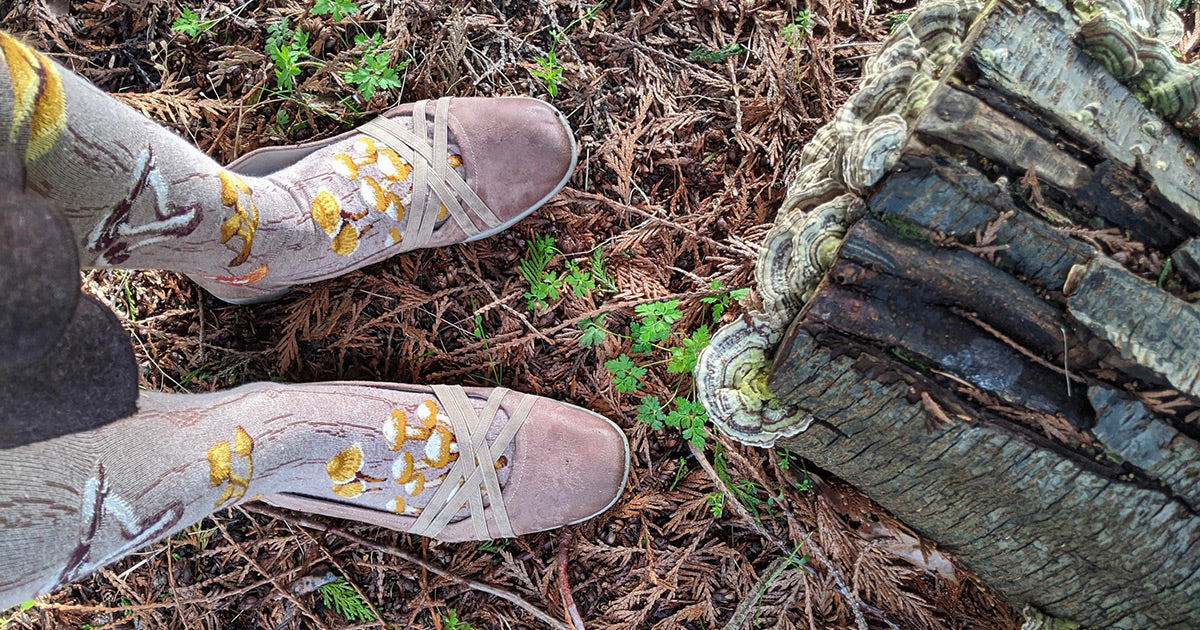 These botanical and and bug specimen socks make the beauty of nature wearable with realistic ferns, mushrooms, flowers and butterflies! Whether you're a natural history buff, an avid specimen collector or just a curious explorer of the world, these remarkable novelty socks will amaze and delight you.
Butterfly Socks
Majestic Butterflies socks for women show colorful Lepidoptera staged on a cream background in a way that is reminiscent of framed antique specimens. Wear a pair of Socksmith butterfly crew socks to show off your love of history and beautiful bugs! 
Fern Socks
Patterned knee-high socks for women show vibrant green ferns and curling fiddleheads that will make your feet look as lush and lovely as the forest floor! These plant socks by ModSocks resemble a page in an herbarium, a collection of preserved plant specimens with corresponding observations and information for scientific study.
Mushroom Socks
Mushroom socks for women are covered in delightful fungi including chanterelles, amanita muscaria, chicken of the woods, morels and oyster mushrooms, all growing out of a wood-grain background. Wear a pair of these beautiful socks while you go wandering or foraging in the mossy woods! 
Rose Socks
Romantic Rose socks for women are a pretty as an antique botanical print with peachy pink rose buds and blossoms. Wear a pair of these flower socks to make your feet look like a blooming rose garden no matter where you go! For more flower socks, check out our floral socks collection. 
Book Socks
Every great naturalist consults her books to positively identify new species of plant and animal life! Bibliophile crew socks for women are the perfect socks for book lovers. These book-themed socks feature antique hardcover books in a tall stack with the volumes at the top flying through the air, with a mug of coffee and a pair of reading glasses below. Let the world see your love for libraries, the written word and unique socks by rocking a pair of these to your next study date! Check out our book socks collection for more socks suited to bookworms.