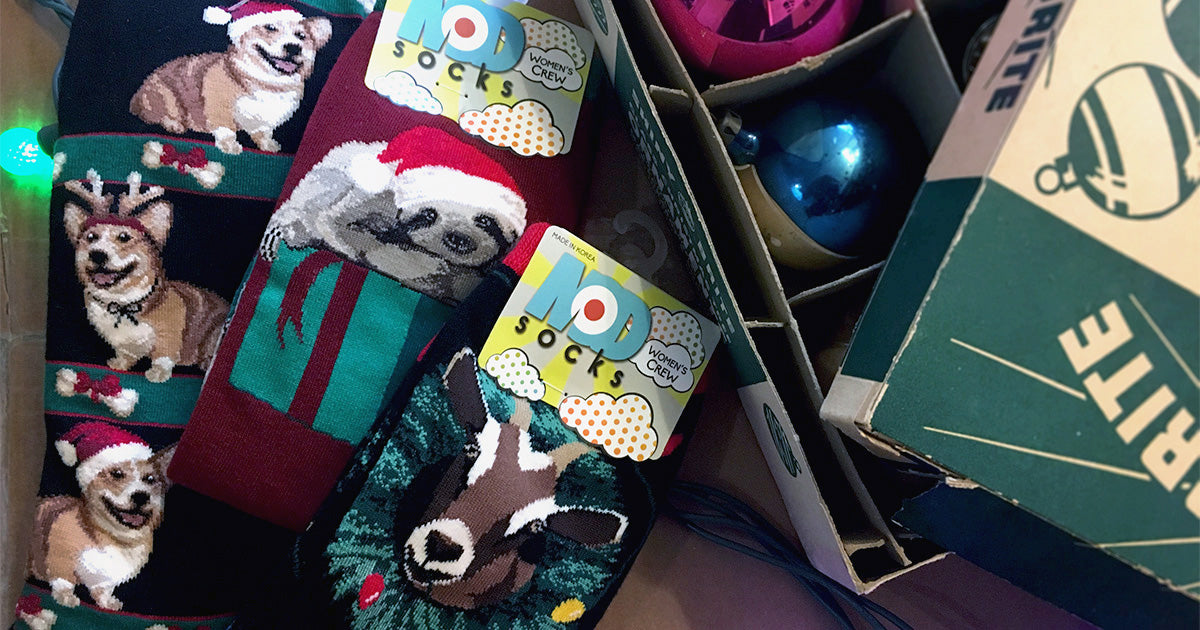 For the 12 days of Christmas, we decided to list 12 of our favorite Christmas socks. Each pair is available in two sizes to comfortably fit most adults, so you're sure to find a good fit for everyone on your Christmas list. For even more fun Christmas socks, shop our full Christmas collection.
Christmas Kittens in Stockings
For the first day of Christmas, step aside partridges — we are giving our true love these socks with a kitten in a Christmas stocking! They won't be able to resist these Christmas cat socks, available in a knee high for cat ladies or matching crew version for crazy cat guys.
Candy Pain
Find your way back to childhood with a pair of sweet socks with candy canes sharpened into pointy Christmas shanks. These funny candy cane socks are great for sweet teeth of all sizes, with a smaller sock to fit women's shoe sizes 6 to 10 or a larger version for men's shoe sizes sizes 8 to 13. They're the perfect gift for the folks who can seemingly turn anything into a weapon.
Corgi Christmas
Christmas is a corgi's favorite holiday, so who are you to deny them their Santa hats and reindeer antlers? Goofball dogs in Christmas costumes adorn these cute corgi Christmas socks, available in two sizes to fit everyone from the queen to Stephen King (both corgi owners, by the way).
Funny Santa Socks
A queer Christmas celebration wouldn't be complete without these hilarious "I Saw Daddy Kissing Santa Claus" socks. We certainly know a few daddies (and Santas) who would enjoy them! These come in just one unisex size so they are perfect for people who prefer buying socks without gendered labels.
Snowflakes
Let it snow! These pretty snowflake socks capture all the beauty of a night sky full of snow and stick it on your feet. We sell a wintry mix of snowflake crew socks for big feet and smaller-footed snowflake socks in short crew length and long knee-high versions.
The Goat Who Ate Christmas
Good goats do just what they are told and never eat Christmas lights, but the funny animals on these goat Christmas socks are definitely on the naughty list. Give some fun goat socks to a female farmer or barnyard bro.
Otter
There are plenty of otters in the sea, and these cool Christmas otter socks show the ones who celebrate the holidays with cute outfits and Christmas presents! Give an otterly festive pair to every ocean lover on your list, just select from the two sizes made to fit large land lubbers or small sea legs.
Weed for Christmas
High, how are you? Make some merriment in these funny Merry Juana socks for stoners with large feet or small feet. With pot leaves decorated like Christmas trees, they will add a little extra fun to any family gathering.
Gay Apparel
We have matching short Gay Apparel crew socks with Christmas unicorns to fit small and fabulous feet or big and beautiful ones, plus some matching knee-high Christmas socks for everyone who likes them long!
Merry Crustmas
Pizza is a great present no matter how you slice it! Give these funny pizza Christmas socks that say "Merry Crustmas" to your extra-large friend who likes to steal the last slice or a petite pizza person who always orders extra cheese!
Santa Sloth
If you have a sleepy friend (or you are the sleepy friend) these Christmas sloth socks are a great gift for hard-working holiday hosts and hostesses dreaming of a quiet and relaxing holiday break.
Dinosaur Sweater
Ugly sweater socks are the hottest thing this season, and these funny dinosaur Christmas socks have a snazzy sweater pattern filled with T. rex and Triceratops in scarves and Santa hats. Grab a pair of dinosaur sweater socks for a dynamite dino-man, or a matching pair for a lizard-loving lady.