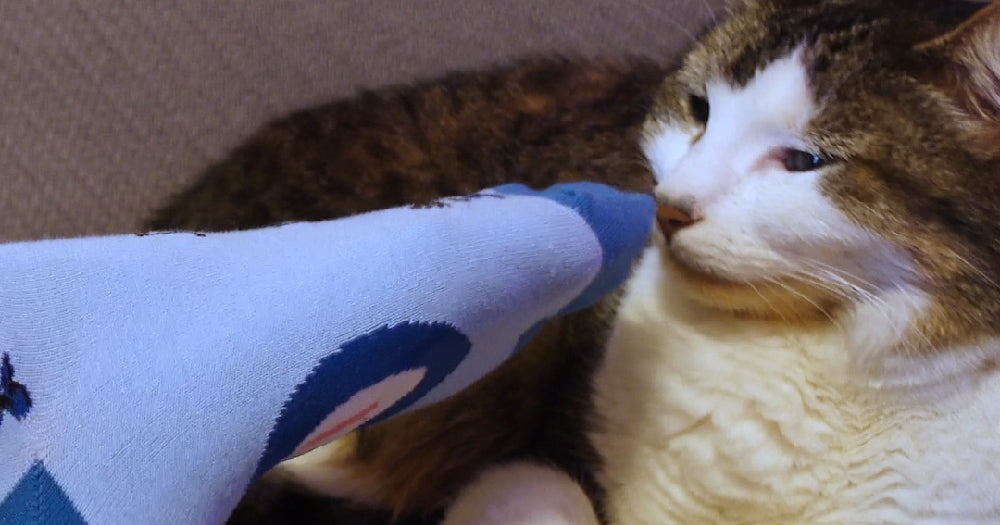 What's that smell?!
It's normal for feet to get sweaty and stinky after extensive activity or long periods of standing, but if you notice that your feet constantly smell when you take off your shoes, it's time to do something about it!
Don't neglect changing and washing your socks after each wear, and if this doesn't seem to be the issue, it's important to contact your doctor and rule out possible culprits. Certain medical conditions can cause stinky feet including fungi like athlete's foot and a condition known as hyperhidrosis, or excessive sweating. Smelly feet can also be caused by hormonal changes (puberty, pregnancy, menopause, stress, etc.) and tight shoes.
No matter what, smelly feet should not go unchecked! Foot care and sock care can help immensely with foot odor. You can also opt for socks with antimicrobial properties like the ones discussed below.
We understand it can be overwhelming to compare features like fabric content, breathability, moisture wicking and antimicrobial fibers when all you want is for your feet to feel fresh and your socks to feel good. Even if your feet don't stink, you may still be looking for a solution to sweat and dampness in your shoes. So we're here to break it down for you so you can pick the best socks for healthy feet that match your specific needs.
Merino Wool Socks
What is all the fuss around merino wool? Sometimes when people think "wool socks" they think "itchy scratchy," but that is not the case with merino wool socks from Darn Tough. Merino wool is finer and softer than standard wool, so it feels great. But it's also the strongest, most durable fabric you're likely to encounter in a sock.
On top of all that, merino wool has incredible moisture wicking which draws sweat and water away from the skin without creating a bacterial (and thus, smelly) environment in the sock or shoe. This natural fiber makes for some of the most breathable socks around, providing all-weather temperature regulation that keeps you cool in the summer but warm in the winter.
Darn Tough socks come in many different lengths, sizes and cushioning options so it's easy to find more than one pair to suit your specific lifestyle and needs. They are the best moisture-wicking socks for work books and the best women's moisture-wicking socks for sneakers, flats and even heels – basically the most durable and best antimicrobial socks around.
Bamboo Socks
If it's a contest, merino wool may be the best moisture-wicking socks around, but bamboo socks are not far behind. Bamboo socks also boast anti-odor and antibacterial properties — plus, they're SUPER DUPER soft! Softer than cotton, softer than wool — bamboo feels closer to more luxurious fabrics like silk, cashmere and Egyptian cotton. Bamboo is breathable and moisture absorbent, so it makes some of the best socks for maintaining dry feet. While bamboo is not as durable as merino wool, it is thin and sleek, making it a great dress sock material for formal occasions when you want to keep your feet fancy, fresh and odor-free.
Soothe Your Soles With a Foot Soak

If you want to regularly treat and maintain happy odor-free feet, consider a weekly foot soak. This is one of the best home remedies for foot fungus and odor. I like to use cold water in the summer and warm water in the winter, but whatever you choose will be relieving and refreshing.

There are all kinds of soaks you can buy like Epsom salts, tea tree oil foot soaks and lavender-scented bath salts. Pick out whatever you like because pretty much all soaks help to eliminate odor, relax sore muscles, reduce inflammation in the joints, reduce bunions and slough off dead skin cells to reveal soft and healthy feet. Plus, a foot bath just feels so dang good.

If you want to reduce callouses, you can buy a pumice stone and gently exfoliate the rough patches of skin. Pat dry when you're done and moisturize your feet with your favorite foot lotion. I recommend peppermint lotion for odor control or CBD lotion for pain management. At the very end, put on a pair of anti-odor socks to not only help prevent smelly feet, but to seal in the moisture of the lotion you just put on. If you go the extra mile and leave the socks on overnight, you're going to wake up to some SUPER SMOOTH FEET!
Wicking Synthetics
Cotton fibers can get weighed down by moisture from sweat and rain, but moisture-wicking synthetics, sometimes called "tech" fabrics, use a combination of nylon for strength and anti-sweat fibers like acrylic to make a sock that wicks moisture before your feet ever get the chance to feel damp. This makes performance styles from U.S.-manufactured brand SockGuy the best running socks for sweaty feet and going to the gym.
Technical Features
Performance socks are where it's at for keeping your feet fresh while also providing great features like cushioning, seamless toes, arch support and blister protection. We're talking socks designed for both comfort AND action! Socks from SockGuy and Darn Tough feature a mesh weave that allows for maximum foot ventilation, so you can stay dry and stink-free. Several SockGuy socks also feature a gentle compression cuff that helps increase blood flow. Who knew a sock could be so advanced?