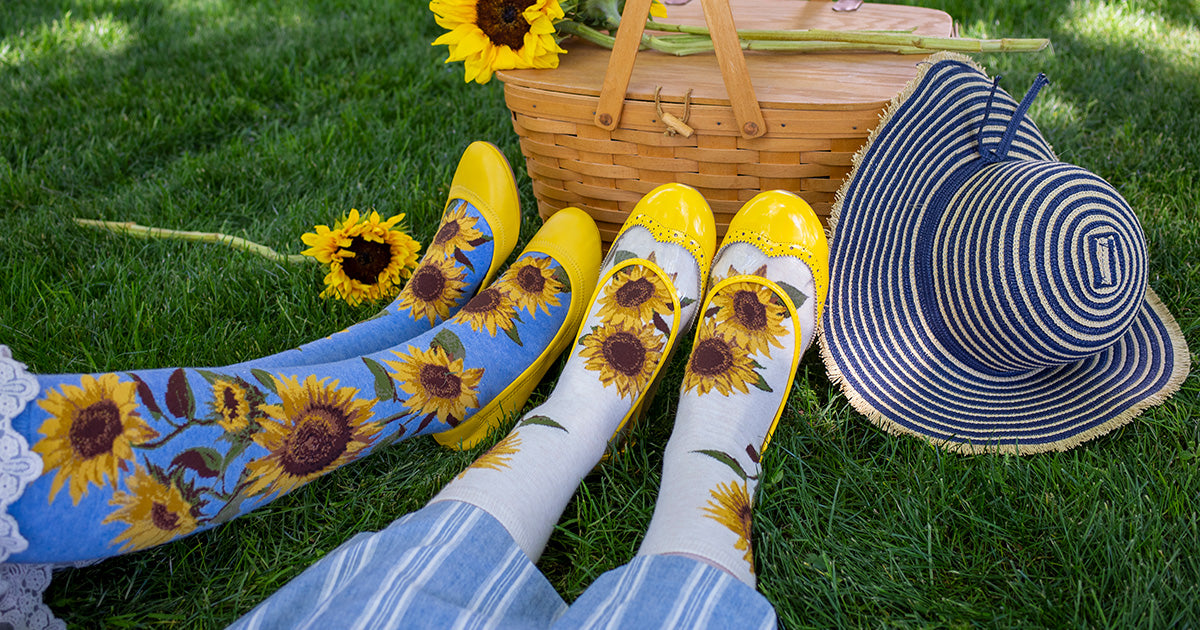 Show off your unique sock collection from CrazySocks.com to all your followers with these helpful tips! These post suggestions and creative captions are sure to engage your audience and elevate your visual content. Snap a picture of your awesome socks and share your sock selfie with one of these catchy photo captions. Be sure to tag #cutebutcrazysocks so we can see all your amazing looks!
1. Life's too short for boring socks.
Show off your unique style on your social media feed by featuring a pair of crazy socks in your #OOTD look! Every day is a new chance to express yourself with socks this fun and your followers will be inspired to join in with their own #socksoftheday.
2. Whatever is good for your sole, do that.
Comfort is important and who doesn't love a good sock pun? This cozy sock quote is perfect for posting with a picture of yourself rocking your comfiest pair while curling up with a good book and a hot drink.
3. So many socks, so little time.
If your closet is overflowing with so many pairs of cute socks that you find yourself struggling to pick just one, then this is the clever instagram caption for you! Attract the attention of followers on your #sockstagram with a picture of your ever-expanding sock collection.
4. Put your best foot forward.
Some days call for first-class footwear. Post a #sockselfie on Instagram of you wearing your fanciest pair and let your feet do the talking!
5. All you need is love and warm socks.
Here's a short Instagram caption full of wisdom; all you really need in life is love and warm socks! Post a wooly pair or some that are extra-fuzzy for maximum cozy-cute vibes.
6. Starting the week off on the right foot.
The best way to avoid a case of the dreaded Mondays is by wearing a pair of funny socks! Exhibit your most hilarious pair using the hashtag #instasocks and this cute socks caption to get those double-taps.
7. Stepping into the weekend like…
Some socks perfectly capture the weekend mentality; you're ready to forget about the work week and have some fun! Parade around in your most festive party socks - maybe even make a little dance video - to display your off-day #sockstyle!
8. I got 99 socks and a match ain't one.
Are you obsessed with funky socks but struggle to keep them all together? Sport a mismatched pair and show off your #sockswag with this cool caption for instagram.
9. These socks are made for walkin'.
Show off your favorite pair of technical socks that help you stay comfortable on-the-move with this catchy sock phrase!
10. Put some pep in your step.
Quirky #socks are a great way to show off your unique style and keep you feeling like yourself even if you're forced to wear a uniform to work. Just knowing you're sporting kooky socks underneath that business suit will keep you smiling all day long!
We hope these imaginative captions help inspire posts that your followers love. Keep rocking crazy socks and sharing that joy with the world. Don't forget to keep up with us on Instagram
@cutebutcrazysocks
; you might just find your next favorite pair!