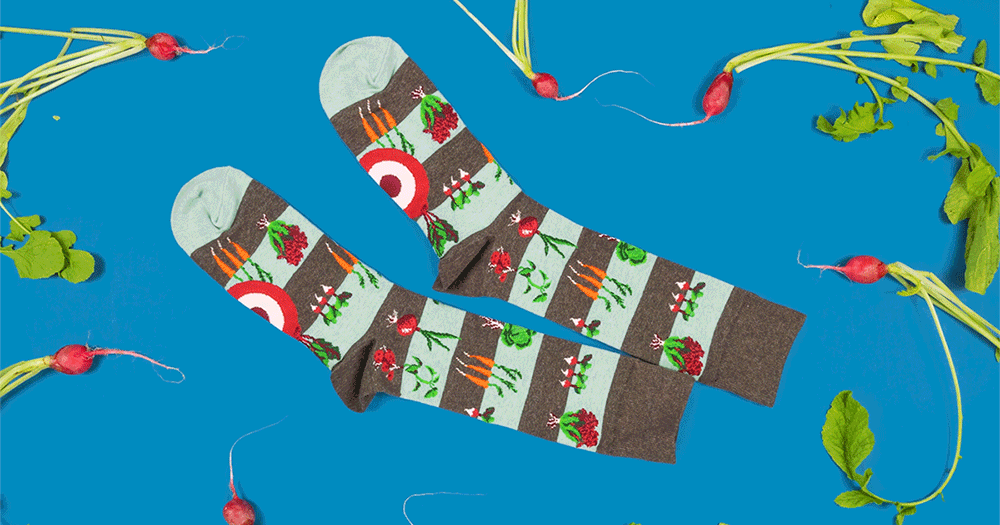 Summertime brings so many quaint delights like running through cool grass, swinging so high on the swings it feels like you could kick the sun and of course, shopping at your neighborhood farmers market for local goods and treats. Fresh fruits, flowers, veggies and sweets draw crowds of friendly folk taking their time to enjoy the season and a little good company. Step into the spirit of summer with these fun socks to wear to your local farmers market featuring all your favorite fresh foods, flowers and fun treats. All socks in this blog come from our in-house design brand, ModSocks, where they really know their way around a CSA box!
Beet Socks
Beets are a vibrant red vegetable packed with loads of nutrition including fiber, vitamin b, potassium, iron and vitamin C. In other words, when it comes to healthy foods, beets can't be beat! Get your daily dose of vegetable socks with red beet socks available in knee high and men's crew.
Vegetable Garden Socks
Whether it's your first little garden plot or you're sitting on acres of crops, these vegetable garden socks will have you feeling just like a farmer. Carrots, beets, potatoes and more grow in all their healthy glory on these cool socks for your little slice of green heaven. Available in men's and women's crew socks.
Cherry Socks
These super cute socks with cherries on them look good enough to eat, but as we have said time and time again: please don't eat socks! Instead, pop these cute socks on your feet and head to your local fruit vendor for real-life sweet cherries and other good eats!
Strawberry Socks
The local farmers market always has the most delicious fruit and we've got sweet and juicy fruit socks to match! It doesn't get much yummier than these high-detail strawberry crew socks that are as at home on the farm as they are in a pair of sexy heels.
Sunflower Socks
Nothing says "I just got back from the farmers market" like a beautiful fresh bouquet. In the summer, the star of the floral show is undoubtedly the sunflower. These big yellow beauties bring a little piece of summer right into your house when you bring them home with an armload of other groceries and goodies. Wear a pair of sunflower socks and it will always be summertime in your shoes.
Pepper Socks
Heat connoisseurs frequent the markets in search of the perfect picante pepper to spice up their life. Put some sizzle in your step with hot chili pepper novelty socks for men and women featuring habaneros, jalapeños and cayenne chilis. 
Pie Socks
Pie is so many things. It's the ratio of a circle's circumference to its diameter; it's an irrational, never-ending fraction; it's a pastry; it's an American staple; it's delicious. And now it's funny socks! Whether you're a foodie celebrating food or a mathematician eating pie on 3/14 (Pi Day), we'd like to invite you to a pie party with these delicious pie socks.