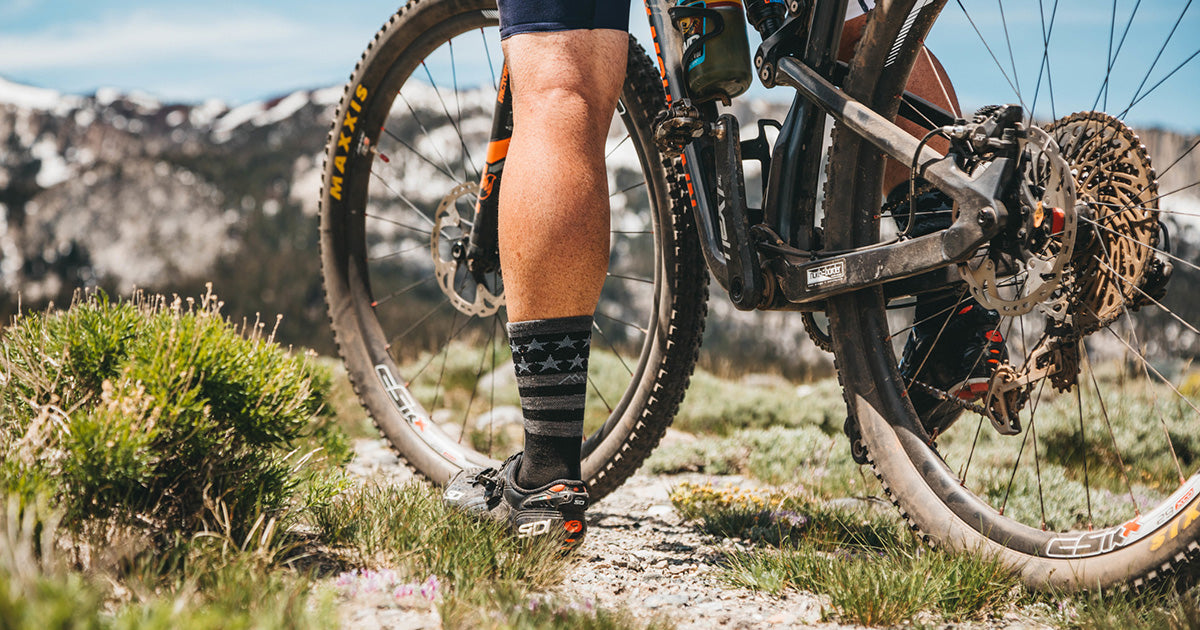 Choosing which socks to wear during your bike ride is a big decision. Our sock shop has a bunch of bike-loving employees, which is why we are proud to present some of our favorite crazy bicycling socks. You can get socks with bikes in their design or socks for cyclists that have fun designs AND performance construction for a comfier ride. We have subdued dress socks with bicycles that are perfect for work wear, and some sassy bike socks that are great for making a statement. Read on for our top bicycle socks for men and women.
Wool Cycling Socks
Gifts for road cyclists can be hard to find, but with the Darn Tough brand's lifetime guarantee you can make sure that your gift of socks will last through the rigorous demands of the open road. Darn Tough's wool socks do an incredible job of keeping your feet warm in the winter and cool in the summer, and their bolder styles can also add a hint of flair and visibility to keep you safe. Their specialized cycling socks and hiking socks come in a wide range of sizes so you can find the perfect fit.
Crazy Socks for Cycling Addicts
Imagine you're riding your bike along the bike path, wind in your hair, sun shining, when you look down and realize those plain black socks are really holding you back. In the sock business we call that a breakthrough! If you think that bikes make the best medicine, these novelty bike socks are here to knock your old socks right off and give you a dose of Cycle Therapy. Pick up a pair of Cycle Therapy socks for women or for men and let everyone know you're committed to chain-ging your life (and socks) for the better.
Funny Biking Socks for Men
We wheel-y think you are going to love these Bigfoot Biking socks. In our store's backyard of Bellingham, Washington, we have some of the best mountain biking in the country. Naturally, we carry these perfect Bigfoot socks that show a Sasquatch performing bike tricks while riding through the woods. Designed for that person who loves fun socks, these Bigfoot biking socks make a great gift for cyclist dads.
Women's Bike Socks
For all female cyclists out there who love to raise hell on your local group rides or bike paths, these Hellraiser socks from Blue Q socks are for YOU! Throwing a leg over your bike while wearing these feminist socks will surely improve both your comfort while biking and your style points. All women who ride bikes should add these to their sock drawer. Gift a sassy pair to a cyclist mom who could use a good laugh.
Bicycle Dress Socks
How many times have you been stuck in the office daydreaming about riding your bike? Wear these luxury dress socks with fixie bicycles on them to work, and never have to compromise. These bike-covered bamboo socks for men are all the rage right now because of their comfort and style, so why not show them off during your next meeting? Men's socks don't have to be boring, and we are here to fixie you sock drawer with fun bicycle socks.
SockGuy Bike Socks 
Don't let the name SockGuy fool you. Despite the masculine name, they have the best cycling socks for people of any gender looking for technical specs and comfort. With breathable, moisture-wicking styles of both men's and women's cycling socks you are sure to find what you are looking for regardless of your gender. SockGuy's athletic socks will help you jazz up your sock drawer and spice up your life, no ifs, ands or BUTTS about it. 
Socks for a Naked Bike Ride
Calling all attendees of the World Naked Bike Ride — these unisex "I'd Rather Be Naked" socks from Gumball Poodle are a must for public displays of bare butts on bike seats! Every year the World Naked Bike Ride passes by our headquarters with lots of fun and fanfare, and we sell plenty of fun socks to riders who take off every stitch of clothing above the knee. These comfortable socks are great for the Naked Bike Ride or anytime you need socks for lounging around the house. . . even if they're all you wear.
Now, enough reading, go ride your bike!