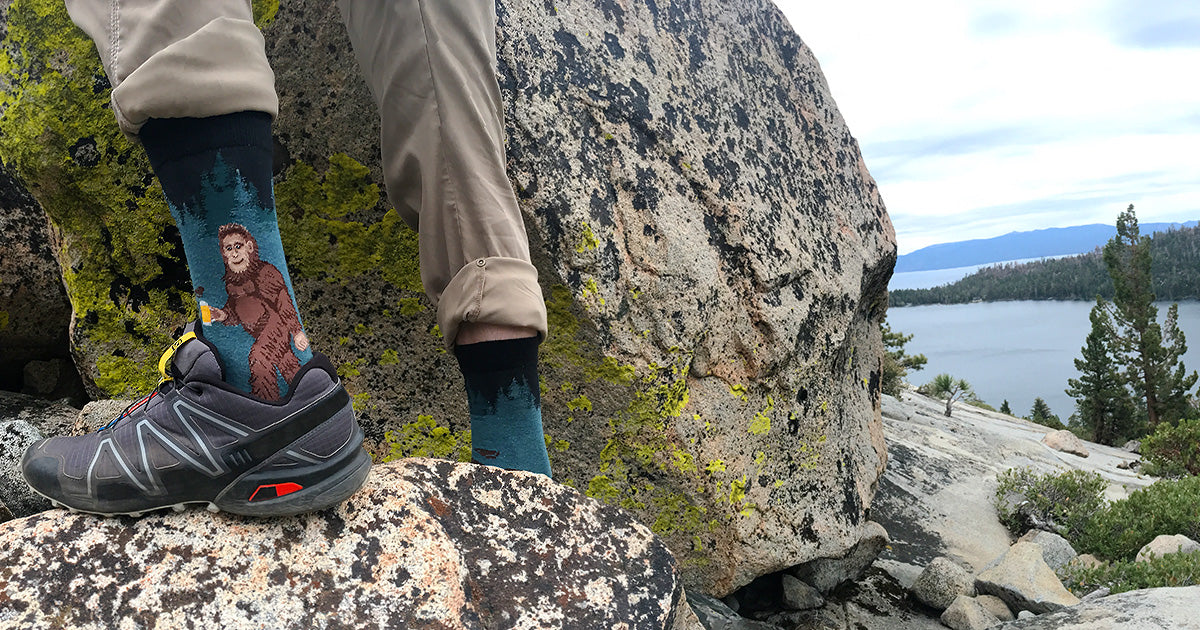 When you're feeling down about social distancing, sometimes it helps to remember the solitary creatures of the world. Bears love to go their own way, leopards hunt solo and the skunk is a loner for obvious reasons. But what about Bigfoot? We think that this big hairy creature keeps his distance from humans to help his species survive, which is something we all should be doing right now. Luckily, we are helping our customers stay safe by offering free shipping on all online orders! We hope you like these lessons we learned from Sasquatch about social distancing, and all the funny Sasquatch socks we chose to go with them.
Lesson #1: Social Distancing Equals Survival
Most people who have seen Sasquatch describe a solitary creature walking upright through the woods, just like the classic silhouette on these fun Sasquatch socks from SockGuy. It seems pretty clear that the Sasquatch is a shy creature, but what if his reclusive behavior has a deeper reason behind it? Maybe Sasquatches observe social distancing to stop the spread of germs between our species and theirs — after all, if they are our relatives, it is highly possible that they could catch our diseases (and we could catch theirs). Be like Bigfoot and give others a wide berth in order to keep everyone safe.
Lesson #2: Remember to Exercise
Even Bigfoot knows that it's not helpful to spend your days just sitting around your den. Fresh air, sunlight and exercise are your friends! Let these Bigfoot Bike socks for men show you the way — they are covered in Bigfoot doing bike tricks as he rides through the trees in a quiet forest. The next time you're talking yourself out of going outside, maybe these funny Bigfoot socks with bicycles will help give you some motivation.
Lesson #3: Humor Can Help
One thing that gets us humans through the tough times in our lives is humor, and we imagine Sasquatch feels the same way. His jokes might be a little different from ours, but we bet if we explained these men's Sasquatch Loves Beer socks to him, he would laugh about them as much as we do! After all, we know Sasquatch likes to drink a cold one now and then — how else do you explain all those campers who pack enough beer for the whole weekend, yet somehow run out before Saturday night?
Lesson #4: Don't Stop Believing
To get through a bad situation, we all need to believe things will get better. When your life in isolation needs a little extra magic and joy, it can be fun to read about Bigfoot, the Loch Ness Monster, space aliens and all the other mythical creatures on these funny cryptid socks for men and women. Whatever your beliefs, we hope they help you stay strong when times are tough.
Lesson #5: Get Your Dose of Nature
Did you know that getting out into nature for just 120 minutes a week can improve your mental health by reducing stress and anxiety? That's less than 20 minutes a day! Nature walks and nearby hikes, strolls through a quiet park or on a waterfront can all be good ways to get some time in the natural world. We'd love to pitch a tent like the happy campers on these Sasquatch Camping socks for men, but since most campgrounds are closed for now, we might have to settle for sleeping in the backyard.
Lesson #6 Love Where You Live
Bigfoot makes his home in the Pacific Northwest because he loves everything about this place — from the tall trees and the wet winters, to the lovely green summers. These sweet Sasquatch Loves Washington socks for women show an outline of the Evergreen State being hugged by a Bigfoot. He smiles happily in front of a forest with a big mountain in the background. Take a cue from this creature and set up your habitat in a way that helps you thrive, whether that means getting a few houseplants, setting up a cozy reading corner or just clearing away some clutter.
We hope these tips from Bigfoot have helped brighten your day and inspired you! You can see more fun socks for social distancing on our blog, or shop for even more funny Sasquatch socks here.