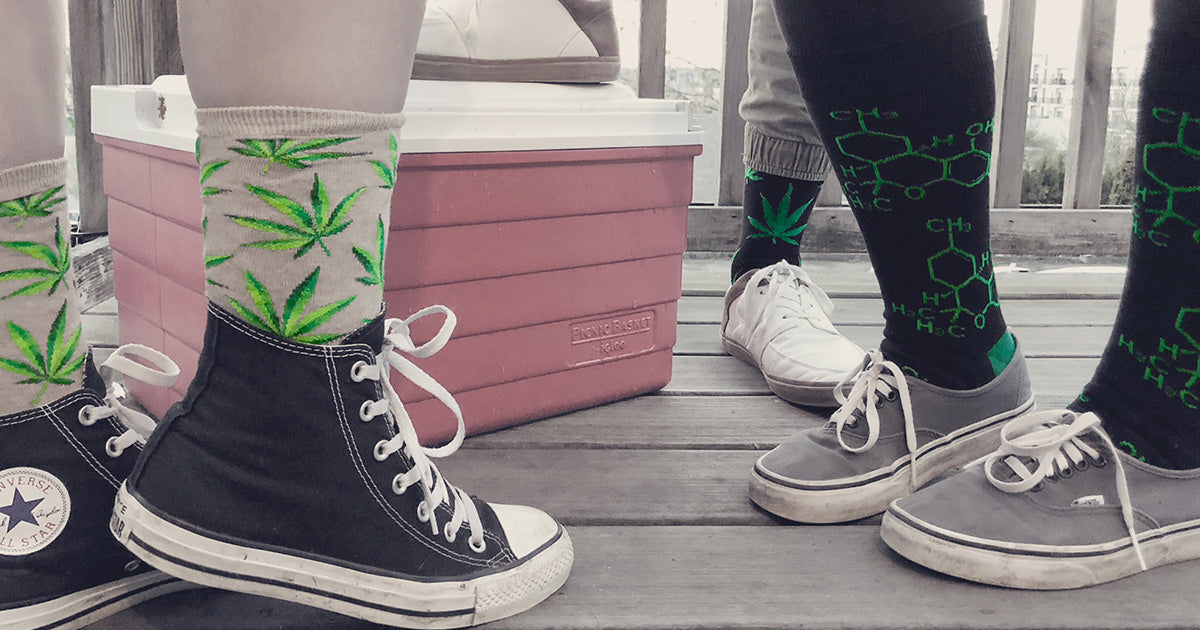 Washington State: we're land of the weed, home of the rave, and your source for top-shelf novelty socks! As we gear up for 4/20, we're packing shelves tight with fun and wacky strains of marijuana socks for stoners of every kind. And since weed socks are 100% legal, we can ship them to anyone who needs a little lift in their day. Click here to check out our entire selection of funny stoner socks, or light one up and scroll down for our staff favorites.
Classic Pot Leaf Socks
Nothing says "I love weed" quite like a beautiful bouquet of green hemp leaves bursting across a pair of socks! Show your respect for this happy plant with pot leaf socks in men's and women's sizes like the ones shown above.
Lazy Stoner Socks
Relax, kick back and light up with some cozy socks for your more sedentary stoner days. A pair of funny marijuana socks that say "Home is Where the Weed Is" will tell everyone where you'd rather be. And you always know what time it is with "It's Lazy Time" ankle socks for women. If you are regularly glued to the couch in front of the tube, "One More Episode" TV socks for men and women will stay fresh while you binge-watch! Or if you are feeling extra adventurous, toke that ganja in the garden while wearing these unisex "Chillin' with My Gnomies" garden gnome socks.
Productive Pothead Socks
Not all stoners are lazy, and we've got the socks to prove it! Are you into the science of weed? These THC molecule socks for men will keep your feet warm in the lab as you study the latest miracle cannabinoid. Or if you love hitting the pipe on your way to yoga class, "A Balanced Life" yoga socks for women support you. Just beware of those mid-class munchies. . .
Socks for Secret Stoners
Looking for some hidden meaning socks with a stoner vibe on the down-low? If you're a gal who has her own secret weed garden, "Plants Get Me" ankle socks for women subtly show your devotion to cultivation. Or maybe ModSocks' pineapple socks for men and women will let you pineapple express yourself without getting too explicit. And what's marijuana without a little dank magic? Get stoned in socks with stones in ModSocks' knee-high crystal socks. They also look like those sparkling crystals you love to see on your bud.
Sassy Marijuana Socks
You're not just blowing smoke, you've got something to say, dammit! These sassy stoner socks are the perfect outlet. Unisex "High On Life" pot socks are accented with two lovely pot leaves so peeps will know what's up. If you're stoned and feeling silly, ask the important questions with "Where's My Burrito?" munchies socks for men and women. Got some naysayers bumming you out? Deflect the haters with vibe-check socks for women that say "You're Killin' My Vibe" and be on your merry-juana way!
Hippie Pot Socks
All these youngins are calling bud "trees," using futuristic pot vapes and complicated dab rigs to get stoned, but the groovy potheads of the '60s and '70s would like to have a word and share a plain ol' joint as nature intended! Let's foster some intergenerational understanding with these whimsical weed socks that say "May the Forest By With You," complete with a peace-sign waving pine tree. Hippie stoners no doubt remember the dulcet tones of TV painter Bob Ross and all his happy trees! These far-out socks in both men's and women's styles will help you remember your favorite PBS artist without harshing your mellow.