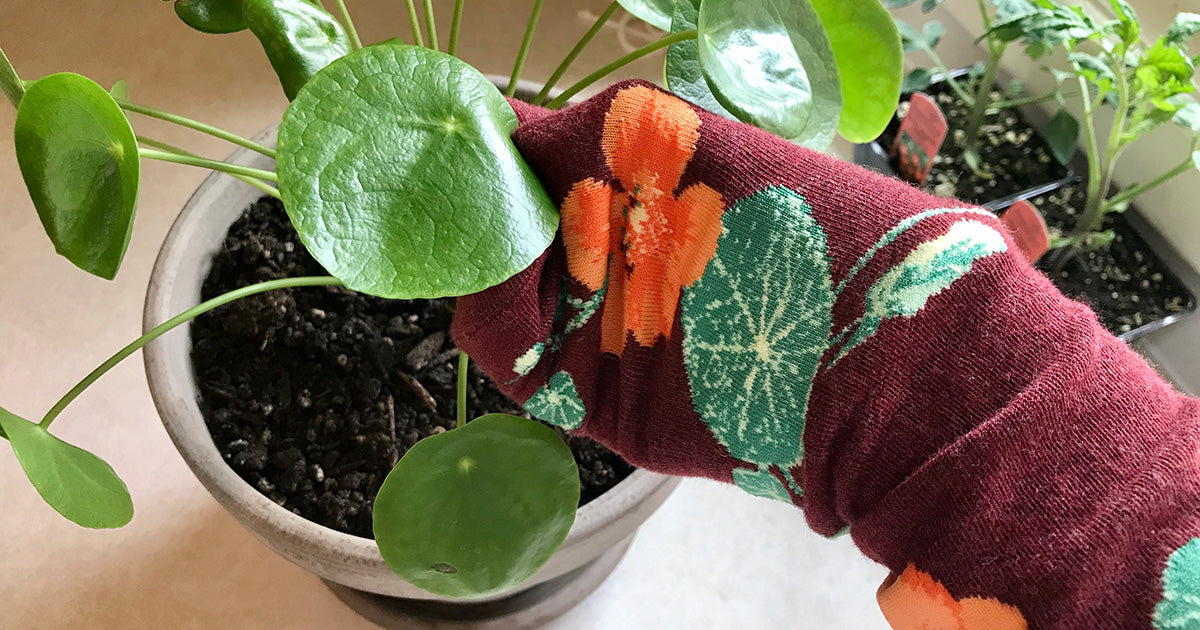 Got a few (or a lot) of missing socks in your life? Lost Sock Memorial Day is May 9, but don't be sad! It is not only a day to commemorate socks lost to the whirl of life and laundry, but an opportunity to repurpose those single socks left behind with useful DIY sock hacks. So hold off on tossing all your unmatched socks and check out this list of 84 helpful and creative old sock hacks you can use in your everyday life! For fun sock crafts you can do with single socks, come back for part two of our series on reusing socks.
To jump to a specific section, here is a table of contents that breaks down these creative uses for socks into categories:
SOCKS FOR CLEANING & HOME IMPROVEMENT

Create a Vacuum Cover for Finding Small Valuables
If you've dropped something small and precious, don't panic! Just take a single sock and pull it over the mouth of the vacuum cleaner hose or head to create a protective barrier that allows you to suck up small items without losing them to the vacuum.
Make Rags
If you're ever unsure of what to do with old socks, you can't go wrong with recycling them into rags. Everyone needs rags all the time for all kinds of jobs! So the next time your socks get too worn and holey to bless your feet, either keep them as-is and use them over your hand like a glove-rag or cut them apart so that they lay flat and wide. Throw them in the utility closet, garage, your car, at work -- and you're good to go! You can use them throughout the week for the grimiest jobs, not just because of the thicker weave, but because they are washable. Plus, cleaning with old socks is guilt-free. If they get too gnarly, you can toss them without having wasted a dime.
Clean a Whiteboard or Chalkboard
Solo socks work great for wiping down whiteboards and chalkboards since they can easily be washed and reused.
Sweep & Mop
Say bye-bye the back-tweaking, hunched-forward posture and pricey floor mops and say hello to SOCKS! No, this isn't an infomercial, single socks are just that useful. All you have to do to get your floors looking new is slip on a pair of old socks and shuffle, slide, and skate your floor clean! You get a nice little workout too. Pro Tip: Kick debris into a dust pan for broom mode. For mop mode, wear a couple pairs of single socks and dip your feet in a little warm sudsy water with a skin-safe cleaner like Dr. Bronner's liquid soap or dish soap for a deeper grease-cutting clean. It will be slippery, so be safe (and have fun)!
Clean & Dust the Furniture
Slip an old sock or two over your hand and use it to wipe down dusty furniture and ceiling fans. The best thing about cleaning with old socks is that you can easily shake them off toss them in the washing machine and use them again and again. You can also try flipping your old socks inside-out before dusting with them — many socks have extra fibers on the inside that make them perfect for grabbing grime!
Dust Hard-to-Reach Places
Most cleaning cloths just aren't made for those inconspicuous crannies that accumulate dust and grime over time, but an old sock over your hand, yardstick, or broom handle instantly gives you the reach and dexterity to clean almost every isolated corner around the house: from ceiling fans and high ledges to dirty floorboards and those extra-dimensional spaces around the fridge.
Easily Clean Dirty, Dusty Blinds
Cleaning blinds is one of the most obnoxious chores. Ask anyone! "Wait, you're supposed to clean your blinds?" Well yes, you should. It helps prevent allergies and mold, and a single sock can make the chore so much easier! Just wear it over your hand and dip it in a gentle cleaning solution. Be sure the solution is safe for the material of blind you're cleaning. Then pinch and "wring" out the slat to effortlessly clean each side. It helps to have a little dish or bowl you can squeeze water into as you clean.
Protect Shoes from Messy Projects
Protect your feet with shoes and protect your shoes with socks when you paint – you heard that right! You can prevent paint and other hazards from staining your kicks by pulling a large sock or two you don't care about snug over your shoes while doing messy interior design projects. We recommend large tube socks.
Protect Doorknobs and More While You Paint
Old socks can not only protect you from errant paint, they can protect the house from you as well. Cover doorknobs, wall fixtures, and cupboard handles with socks when you paint or stain the surrounding areas to protect them from little whoopsies!
Old socks, especially ones with a bit of texture like chenille socks, make perfect homemade Swiffer-style sweeper cloth refills that you can wash and reuse again and again.
Random Touch Up Jobs
Whether it's wiping away stray paint, applying a drop of glue around a tight corner, or any number of miscellaneous housework that calls for a flexible and easy-to-clean applicator — look no further than an old or pair-less sock.
HOUSEWORK SOCK HACKS
Protect Floors while Moving Furniture
Protect your floors from scuffs and scrapes when moving furniture by putting a couple layers of mismatched socks on each furniture leg.
Open Stubborn Jars
Next time you've got a stuck lid, put an old sock on your hand and give that sucker a twist! The sock lends enough grip while absorbing any moisture on your hand and the jar. Stubborn jars will open easily and your guests will constantly ask you why you have an old sock in your kitchen utility drawer.
Cover Sticky or Leaky Bottles
Use single socks as covers for leaky or slippery bottles like olive oil. Just slip it over the bottom of the bottle and wham! The sock absorbs the leak and helps prevent drips, spills, stains, and accidents in the kitchen, bathroom and craft room.
Apply Stains to Furniture
Soft single socks can be used to apply stains when refinishing furniture and other wood crafts. However, this is one of the rare situations when you are going to want to toss that sock when you're done. Important: NEVER toss wet stain rags (socks or otherwise) into the garbage, as they are very flammable!
Level an Uneven Table
Wobbly tables and chairs can be instantly rebalanced with a single baby sock or two layered over the shortest leg. You can even make the sock part of the interior design by dying the sock to match the color of the furniture. Or go bold and pick a fun color/pattern that compliments your décor.
Stop Squeaky Beds
Easily fix a squeaky bed by lifting the mattress off the bed frame and lining each slat with old socks. The additional fabric serves as a buffer between the mattress and the bed frame, eliminating any points of friction and insulating sound. You can also stuff balls of old socks into gaps that are causing creaks.
Bath Soap Holder
When your bar of soap becomes smaller than is convenient, extend its shelf life by dropping it into an old sock. When you wet the sock it will lather up, you can use it as a loofa, and you won't have to worry about holding onto the slippery sliver of soap (whoa, try saying that ten times fast!) or losing it down the drain. Be sure to wash and dry the sock when you're done to avoid mildew.
From just a sock, you can make your own door latch cover to cushion rattling doors, fix uneven doors, dampen loose doors that rattle, and prevent children and pets from locking themselves in a room. If you use funky socks with cool patterns, they make great baby shower gifts. Follow the linked guide, just use a cut-open sock as your fabric.
Organize Messy Cords
Create an attractive, yet functional, cord organizer out of a trouser sock (which tend to have more elastic and cinch) Simply cut off the toe and thread the cords through. The sock will keep them held together and your workspace is instantly more organized.
You can easily create an elegant potpourri pouch for the bathroom or other potentially stinky spaces with the toe ends of single socks and some potpourri or other fragrance boosters — no sewing required!
If gaps in the door frame have you both shivering and swearing at the electric bill, consider turning single socks into door draft stoppers. These simple sacks also helps keep dirt and bugs from blowing in. Just fill single socks with quilt batting/fluff, rice, or even other socks; sew them together, and place in front of the faulty door to insulate your space.
Pro tip: Adding some Velcro to both the door and the draft-blocker allows it to stick to the door so it can move with the door as it opens and closes.
Toilet Seat Warmer in the Winter
Chilly toilet seats got you approaching the John with caution in the wintertime? If you've got a u-shaped toilet seat, you can take your old long, warm socks and pull them on either side of the seat for an instant and easy-to-clean toilet seat warmer!
SINGLE SOCKS IN THE GARDEN
Clean Dusty or Buggy Houseplants
If your houseplants are collecting dust or aphid goo (aka: "honeydew" – sounds nice but it's harmful to plants and attracts ants!), look no further than an old single sock. Slip the sock over your hand and gently run your fingers on either side of dusty leaves. For honeydew, dip your handy-dandy sock mitten in just a bit of rubbing alcohol and run it similarly alone either side of the leaves. The honeydew will come right off without any harm to your plant.
You can cut old socks or nylon stockings into tiny strips that can easily be used as DIY plant guides in your garden to keep your tomatoes upright and your roses neat.
Arm Protectors
If you're digging through treacherous terrain, protect your arms with thick sleeves made from old socks. Simply cut off the toes and layer 2-3 long, thick socks on each of your arms and you're protected from stickers, thorns, bugs, and rocks.
Knee Pads
If you need a little extra cushion on your knees when you're working on the garden or kneeling on pavement, a pair of homemade kneepads made from old socks can do the trick in a jiffy. Use this no-sewing-required guide and create your own! Sock kneepads can also be used when doing inside housework on hardwood floors and they're easily washable.
Mud Prevention
You can safely let the kids splash in the mud or get a little down and dirty yourself by slipping a couple layers of large socks over your shoes to help protect them from mud and debris. Toss in the wash, dry, and reuse!
Spigot Insulator & Protector
Protect your garden spigot in bad weather with a cover made from an old sock. A thicker sock tends to work better. The sock will insulate the spigot even below freezing and protect it from high winds. A sock also helps if you have a stubborn or stuck spigot, providing you with extra grip to turn the valve.
Grit-Removing Soap Pouch
A bar of soap in an old sock serves as a great cleansing, grit-removing scrubber that's handy to have in the garden, garage, or wherever you find yourself needing stronger scrubbing action. Be sure to wash and dry the sock regularly so as to avoid mildew.
SOCKS AS COVERS, STORAGE, AND PROTECTION
Store Art Supplies
A spare sock makes a handy art supplies bag or organization pouch that can be stored anywhere from the playroom to the craft room. Crayons, markers, buttons, spools of thread, paperclips – so many things can be tied up in socks and stored for organization and easy access.
You can use scraps of mismatched single socks to piece together a fabulous pan or cast-iron skillet handle cover with just a little bit of batting/cushioning.
If you've got some single socks that are holding up but no longer looking great, consider cutting those socks into strips and then weaving the strips together to create pot holders and cloth trivets. This is a fun video guide that uses all basic materials to weave a cute sock pot holder.
DIY Umbrella Holder & Dryer
A large tube or knee-high sock comes in handy for so many things. If you've got a spare one lying around, slip if over your umbrella right now. Next time it rains you'll have an umbrella case that keeps it dry and ready to go!
DIY Water Bottle Insulator
Take a thick or wooly sock (or two) and either layer it over your water bottle, or warp it around your water bottle and fasten with rubber bands. The sock will help your drink hold it's temperature, plus it prevents it from CLANG-CLANGING when it falls over on a hard surface — everyone's favorite sound during a yoga class, am I right?
Store Tools to Prevent Rust
Use an old sock to cover and protect the heads of tools that can rust, like hammers. You can even spray the head of the tool with some WD-40 before putting a sock over it to help prevent wear and break down existing rust.
Protect and Store Fishing Reels
Long socks like tube socks or thigh-highs can be used to cover and protect your fishing reels between fishing trips.
Cover and Protect Golf Clubs
Cover the heads of golf clubs with old socks to protect them in storage and transit.
Store Golf or Tennis Balls
A knee high or tube sock can readily be used to store golf balls or tennis balls. Tie off the top if necessary and toss in your athletic bag.
Store Game Pieces & Dice in Custom Bags
Colorful socks with rad designs are perfect for storing game pieces, dice, and tabletop figurines. You can tie off the top with a loose knot or a rubber band to keep everything secure and together, and a flashy pattern will make them even harder to misplace!
Soft Safety Eyeglass Storage
Store safety goggles in a large tube sock to protect them from dust and residue. You can tie a knot in the top and hang it up to keep your workspace organized.
Jewelry Bag
A spare sock can easily be used as a jewelry bag. Simply store your valuables inside and tie off the top with a ribbon. It's soft and portable! You can also sew a drawstring into the top for added functionality and style.
Protect Your Shoes While Traveling
Slip your shoes into large socks when traveling or moving to protect them from getting scuffed up when they rub against each other.
Protect Breakables While Storing, Shipping, Traveling, or Moving
A simple sock can protect priceless valuables when they're in transit or storage. Ball up socks and use them as cushioning for breakables, or place fragile items directly inside of socks to protect them. If they do happen to break, the damage will be contained and you can unpack safely.
PET CARE USING OLD SOCKS
Brush Shedding Pets and Wipe Off Furniture
Socks have a soft but gripping weave that make them gentle yet strong enough to brush out shed hair from pets and furniture. Using an old sock is especially useful for those pets who hate brushes, because the sock over your hand feels just like you're petting them!
Slip an empty toilet paper roll into a single sock and fill the roll with catnip (you can add a toy ball or two for filling). Tie off the end of the sock securely and toss it kitty's way to watch them go loco! Always supervise your pet when they're playing, especially with a new toy.
Give your dog the chew toy of his dreams with your old socks! In fact there are no less than FOUR different dog toys you can make at home using socks that are just lying around. Always supervise your pet when they're playing, especially with a new toy.
Take your worn-out fluffy socks and turn them into a cozy bed for your pet!
DIY Outfits for Your Pets
There are closets-worth of cute DIY pet outfits out there, and would you believe some use just socks? For example, a large tube sock and a little bit of cutting and sewing can make a cozy sweater for small dogs. Here is a video for inspiration.
Or you can create a warm and stylish scarf from single socks for your dog.
CLOTHING CARE USING SOCKS
DIY Clothing Wrinkle Remover
Turns out you don't need to spend big bucks on a fancy wrinkle-removing dryer ball — you just need a lonely sock! Instead of worrying about ironing, toss a dampened single sock or two in the dryer with your dry clothes, run the load for just a few minutes, and say hello to soft, fluffy, wrinkle-free laundry.
Patch Up Old Clothes with Holes
Lone socks can be cut and used as patches for clothing with holes. Try to compliment your clothes with the right sock pattern or color, dye an old white sock to match, or go big with power clashing sock patches with wild patterns.
Buff, Polish & Shine Shoes
Use soft single socks to remove dust from shoes, apply polish, and then buff shoes to a beautiful shine.
DIY Moth Ball & Bug Repellent
Cedar, a natural moth repellent, can be placed in a lone clean sock and hung from the ceiling of your closet to deter moths from damaging your clothes. Cedar also repels other bugs like termites, cockroaches, carpet beetles, and some ants; so stick a cedar sock pouch wherever you need to tell bugs to "bug off!" You can also use mothballs or moth crystals, though you may want to add a separate sock filled with potpourri to help counter the smell. For spider repellent, use a cotton ball with several drops of peppermint essential oil.
DIY Drawer & Gym Bag Deodorizer
Fill a clean single sock with potpourri or cotton balls lightly sprinkled with your favorite essential oil (just a couple drops should do it). Secure the end with a ribbon or rubber band and toss it a closet, drawer, gym bag or cupboard to freshen up your belongings.
DIY Shoe Odor Neutralizer
If you've got pungent pairs of shoes, you can create your own quick and easy shoe deodorizer with a solo sock. Simply add a few tablespoons of baking soda to the toe of the sock and secure the top with a knot. Shove the sock into the toe of your shoe and leave it overnight to absorb smells. Pro Tip: Keep a couple baking soda balls in your gym bag so you can treat your shoes after a workout.
Boot Stands
Balled up socks can be inserted in boots to keep them standing straight. This not only looks nice and organized, but it keeps your kicks lasting longer by keeping the fabric from folding in on itself and wrinkling or wearing with time in storage.
SELF-CARE USING SOCKS

Artist Glove
Cut off the foot then add a thumb hole to the leg part of an old single sock as shown to make a simple and effective drawing glove. A men's crew sock, which usually has a wider cuff than women's styles, works best to hug the hand and stay in place. In traditional media, an artist glove prevents smudges from occurring as you work with graphite, charcoal or carbon. When used with a drawing tablet, an artist glove leaves your fingers free for scrolling while preventing friction for a more comfortable drawing experience, and also aids in keeping your work surface grease-free.
Don't let sock-stealing gnomes stress you out! Just take the sock they left behind, wrap it around some play-dough in a sandwich bag, and make your own de-stress ball! Easy-peasy, socky-squeezy!
Calm cramps and body aches with a natural fiber sock filled with rice and secured with a knot. You can then put this DIY compress in the microwave for 1-2 minutes for added therapeutic heat, apply gently to the affected area, and melt into relaxation.
Aromatherapy Pillow
You can build on the sock rice compress by creating a therapeutic aromatherapy pillow for the neck and shoulders using the same guide as above and adding your favorite essential oil (we recommend eucalyptus for sinus issues, lavender for relaxation, or citrus for energy).
Overnight Moisturizing Treatment for Dry Hands & Feet
Struggling with dry feet and hands? Before bed, moisturize them with your best lotion or a deep repair skin cream and then slip clean, single socks over whatever part of the body you're moisturizing. Leave on overnight as the socks help to seal moisture into the skin. When you wake up your hands and feet will be extra soft and feel refreshed! You can do this multiple nights in a row to help renew particularly dry or cracked skin.
Every room is a dark and cozy room with a sleeping mask! We never realized until now that the curve of the heel of a sock actually makes it perfect for quick sewing into a DIY sock sleeping mask. If you've got quite a pile of clean mismatched novelty socks, they also make useful and neat-looking gifts.
If you like waking up with curls but lament the time-consuming, hair-frying method of using heat curlers, have we got an overnight insta-curl trick for you! And would you believe that all you need are a couple old socks, a spray bottle with water, and a good night's rest to achieve dazzling and natural-looking curls?
Custom Neck Pillow
Traveling is fun, being in transit is not. You can make the experience a bit more comfortable with a homemade neck pillow made from a knee-high sock filled up with beans or lentils. Tie off the end of the sock, and if you want to you can layer a second sock on top to remove and wash later on. You can even use it at home to correct poor posture when lying down.
FIRST AID USING SOCKS
Ice Pack Cover
You can actually do damage to your skin if you apply ice directly to it for too long. In the case of injury or muscle pain, try using old, single socks as ice pack covers to protect the skin from the extreme cold while still administering the anti-inflammatory benefits of cryotherapy. Plus, a sock won't slip off like a towel, and is easily washed.
Protect yourself and others from spreading contagious illnesses with a DIY face mask. If you don't have regular elastic, a cut up lone sock is a great substitute. Check out this super easy new-sew pleated face mask tutorial using fabric and a single sock.
If you've used or use crutches, you know all about chafed underarms. Well, we got your back. . . er, armpits? Simply slip some old socks over the pads of crutches to protect the armpits from irritating friction. You can use socks for your fabric.
Heating Pack Made from Sock & Rice
In the case of an injury, heat can be both soothing and healing. Make your own heating pad by tying off rice in an old tube sock (or two) and then putting it in the microwave for a minute or so. Test the temperature and if it feels safe, apply to the inured area. The heat will relax sore muscles and improve circulation and flexibility. You can apply off and on throughout recovery to help yourself heal faster. Consider alternating with ice, which helps reduce inflammation.
In a pinch, a knee-high or men's sock could be used as a tourniquet to quickly stop bleeding. Tourniquets should ideally only be used by first responders and other medical professionals trained in emergency first aid, but if those people are not available you have to do what's necessary.
BABY CARE USING LONELY SOCKS
Gentle Washrag for Sensitive Skin
Socks are much gentler than washcloths, making them a perfect alternative for washing baby. You can easily place a soft sock directly over your hand and lather up with soap and water.
We love seeing our babies gain mobility and autonomy in this world, but we also worry. Hard surfaces can be rough on babies' knees and small things like crumbs or cat litter can be really uncomfortable for their sensitive skin and developing kneecaps. Make your little adventurer's trip much smoother with sock knee pads for children.
Another trick to help toddlers toddle on (and save you some extra bucks) is to take a pair of baby socks, mismatched or otherwise, and apply rows of dots using fabric glue to the bottom. Wait and let dry, and then you've got your own kids' slip-proof socks. This trick can also be useful for adults who struggle with mobility on hardwood surfaces, but still want to wear socks to keep their feet warm and fashionable.
Prevent Babies from Scratching Themselves
You can keep babies from scratching themselves by layering old baby socks on their hands. This is especially helpful if your kiddo catches the chicken pox.
Baby Blanket
Cut soft, clean socks into squares and stitch them together for a gentle upcycled baby blanket.
TAKE CARE OF YOUR VEHICLE WITH SOCKS

Polish the Car
Soft socks who have lost their mates are perfect for applying a coat of wax or polish to your car's finish.
Clean Your Bike/Scooter/Motorcycle
You can use lonely socks to wipe down your automobile, polish chrome, clean your bike chain, wipe out crummy interior crannies, and gently remove stubborn grit. Keep a spare clean pair-less sock or two in the car for quick clean-ups on the go.
Protect Windshield Wipers from Ice
You can protect your windshield wipers from ice by covering them with tube socks in cold weather. Remove them when you're ready to drive!
Defog Your Windshield
Prevent car windows from getting foggy with a sock filled with kitty litter nestled inside another sock – bonus points for using an eye-catching pattern or design! Tie both layers off securely and place your personalized defogger by the windshield. The litter will absorb the moisture!
Covers for Hot Seatbelts
Slip outgrown baby socks over seatbelts in the summer to protect passengers from getting burnt by the hot metal.
MISCELANEOUS SOCK HACKS
Hiding Place
Socks can be used as a flexible, discreet pouch to hide valuables and treasure, and they are easy to tuck anywhere. Just be sure you remember what you stored in where! You don't want your precious things taking a trip through the washing machine.
DIY Ergonomic Wrist Rest
If you're not keeping a neutral wrist position (no slumping or arching in the wrist), you risk muscular discomfort and more serious conditions like carpal tunnel syndrome and tendonitis. An ergonomic wrist rest can help, and you can make one immediately at home out of an old sock! Simply stuff a sock full of rice, securely tie it off, and place where your mousing wrist sits at the computer. You can adjust the height with how much rice you put into it. You can also make a longer one for your keyboard, and you can even pop these in the microwave for a minute to heat up and soothe sore wrists while you work.
Sexy Gag & Blindfold
As long as you are consenting adults, we won't ask what you do behind closed doors! We will just casually mention that discarded knee-highs and thigh-highs can readily be used as a gag or blindfold should your scenario call for it! Please use responsibly. 😊
Loin Cloth
Did you ever imagine that you could use a long tube sock for a. . . okay, we'll stop right there.
We hope it never has to come to this, but all we're saying is you COULD use a sock tied off and filled with nuts, bolts, pennies, or rocks for personal protection. We don't recommend brandishing your sock weapon unnecessarily, but in a tight spot — brandish away! You can even get really advanced and make a sling like the one from the Bible story "David and Goliath." Adult supervision required!