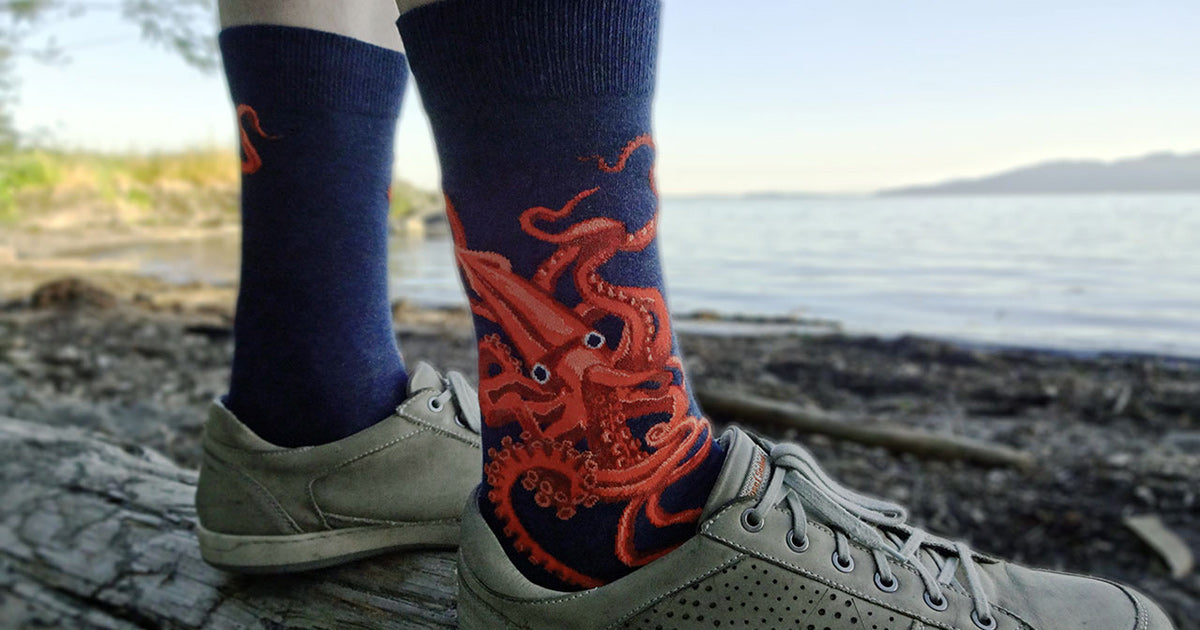 Did you think ModSocks was going to drop a bunch of amazing sock styles and then disappear on you? No way! We are coming up with the very best novelty sock ideas every single day and working to get them onto your feet as fast as possible. Here are more cute and crazy new socks from ModSocks.
Squid Socks
Deep beneath the sea, the giant squid is king. There's only one little problem: every once in a while, a whale likes to gobble a squid or two for dinner. These squid socks for men have a whale tale on the top of the foot trying to swim away into the depths of your shoes.
Shop for Squid & Whale Men's Crew Socks
Planet Socks
These new space socks have an almost gravitational pull on our customers. That's because when you wear a pair of these planet socks, the universe just seems to fall into place.
Shop for Solar System Knee Socks
Shop for Solar System Men's Crew Socks
Red Beets Knee Socks
Beets are deliciously sweet and stain your mouth red, just like candy! Beets are unbeatable, so wear a pair of these pretty beet socks for women and tap your feet to the beet.
Like A Fine Wine Socks
From the cheapest box to the most priceless bordeaux, wine is a drink we can all enjoy. These cheeky wine socks for men and women feature a wine bottle pouring a fresh glass of red.
Shop for Like A Fine Wine Knee Socks
Shop for Like A Fine Wine Men's Crew Socks
Honey Badger Knee Socks
The ornery critter on these honey badger socks would like to invite you to mind your own beeswax! She's doing what she was born to do — steal honey, fight hard and not give a fuck. If you're like the honey badger and just don't care, wear these socks with honey badgers flipping the bird.
Shop for Honey Badger Knee Socks
Shop for Honey Badger Men's Crew Socks
Pop Art Pitbull Socks
These unique pit bull socks are works of art, just like the powerful, loyal dogs they represent. Grab some of these colorful dog socks for men, or our equally cool women's socks with pit bulls on them.
Shop for Pop Art Pitbull Crew Socks
Shop for Pop Art Pitbull Men's Crew Socks
Corgi Butt Strut Socks
Every corgi is born with certain adorable features: big fuzzy ears, cute stubby legs, a smiling puppy face and a big old fluffy butt! These cute new corgi butt socks for women celebrate every bit of these funny dogs.
Shop for Corgi Butt Strut Crew Socks
Pie Socks
A perfect slice of pie is the best dessert, and we'll fight anyone who says otherwise. There's just something about that crisp, flakey crust, yummy fillings and perfect vehicle for whipped cream that we love so much, we put it on a sock! Pie socks for women are a treat for your feet.