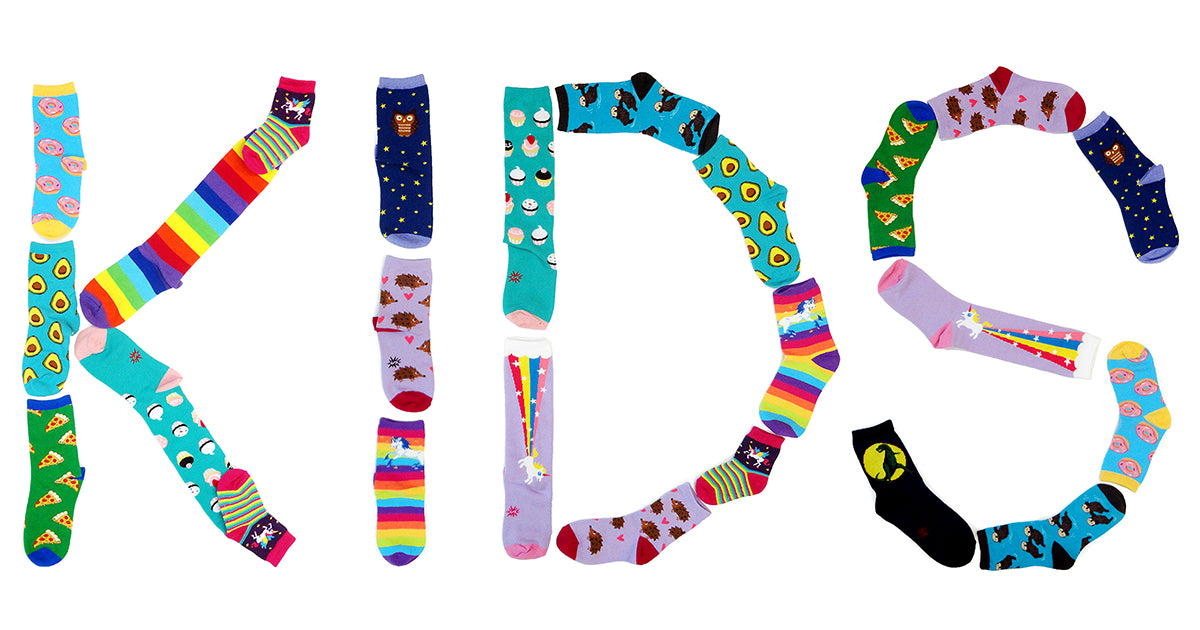 Hey! You are probably reading this because you need to buy some kid's socks. Maybe you have kids, grandkids, or a little cousin you love to spoil. Maybe you have super small feet. Or maybe you are a child who somehow stole an adult's credit card and decided to go on an online sock shopping spree! However you ended up here, welcome. Read on as we guide you through the best kids' socks we have to offer.
Mermaid Kids' Socks
People come in all colors, shapes and sizes — so why shouldn't mermaids? These multi-ethnic mermaid socks for kids are making waves for underwater equality.
Unicorn Kids' Socks
Don't just dance, prance your way into a pair of these prancing unicorn socks for kids.
Dinosaur Socks for Kids
Can't decide whether to stay or go? Why not stego?! These stegosaurus socks for kids are always the right decision.
Funny Pizza Kids' Socks
When you're a kid, pizza is a superfood. It might not have a bunch of fancy vitamins, minerals or antioxidants, but who cares when you're eating melted cheese?
T-Rex Kids' Socks
He's big, he's green, his teeth are sharp and his arms are hilariously tiny. These kids' dinosaur socks are a perfect stocking stuffer for any kid who knows their prehistoric predators.
Kids' Farting Unicorn Socks
Farts are pretty much the height of comedy when you're 5. Ok, they're still funny when you're 55. Everyone can agree that these socks featuring a unicorn farting a rainbow are awesome.
Kids' Hedgehog Socks
Sharp spines feel just fine when they're part of the design on these adorable hedgehog socks for kids.
Kids' Super Hero Socks
Sometimes superheros have to take off their capes, like when they go to kindergarten, fly in an airplane or go swimming. These kids' superhero sock go some of the places where a cape can't, so your kiddo can keep saving the day.
Kids' Rainbow Knee Socks
The colors of the rainbow are a classic that's hard to improve upon. They're cheerful, sweet and look great on little feet!
Kids' Ice Cream Cone Socks
Life could be a dream, if your kid could only have a big cone of ice cream and a pair of these super sweet knee socks.