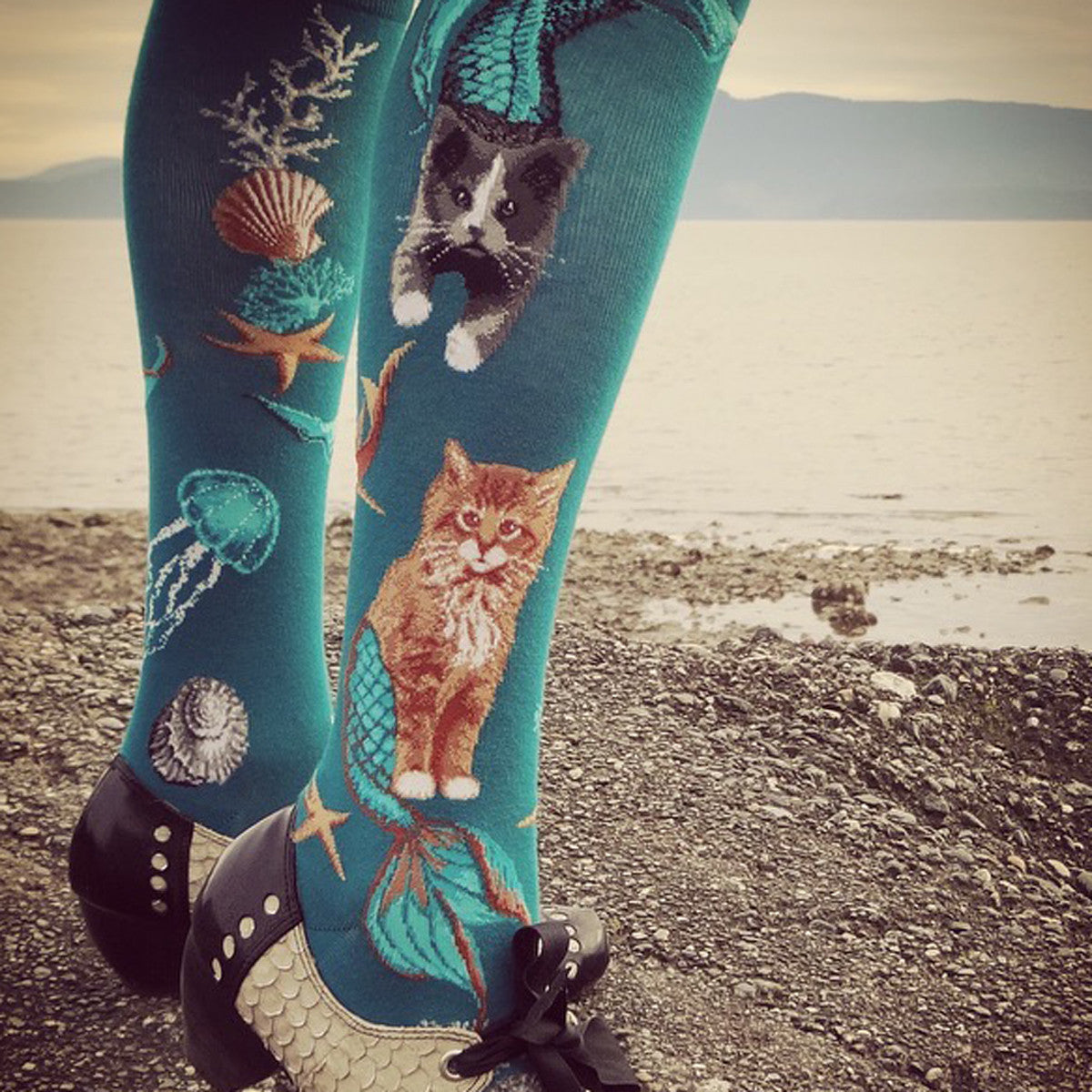 It's been a rough year. Here we were thinking it couldn't get much worse than 2016, when 2017 stepped in and said, "Hold my beer."
But there is one shining light in the darkness. In the sock business, spring can only mean one thing: brand new socks! We labored over these designs all winter just so that you'd have something beautiful to wear this spring and summer. You're welcome!
You are going to love these socks so much you might never take them off. We don't endorse that kind of behavior, but we understand it. This is the good stuff. Not to brag (ok, totally to brag) but these are honestly some of the best socks we've ever made, worn or even freaking SEEN.
Let's dive in.
Purrmaids Socks 
It's a mermaid! It's a cat! It's a purrmaid! (cue "Awww" noises here.) These are socks with mermaid cats on them, also known as purrmaids. They're adorable, feisty and always ready for some freshly caught tuna. These fishy felines combine fluff and fins to create a new and wonderful creature, perfect for cute ocean socks. Our artsy purrmaid socks for women come in both knee high and shorter crew versions, so you can wear them all year.
Shop for Purrmaids Knee Socks
Shop for Purrmaids Crew Socks
Sasquatch Loves Beer Socks
Sasquatch is the ultimate forest legend, but have you ever heard of a beer-drinking Sasquatch? He's always to blame when you and your bros bring enough beer camping to last the whole weekend, yet somehow it all disappears on the first night! These men's bigfoot beer socks are also the perfect socks for groomsmen, because they ensure your bachelor party night will be truly legendary.
Shop for Sasquatch Loves Beer Crew Socks
Daisies Crew Socks and Knee Socks
Daisies may be a common wildflower, but that doesn't make them any less lovely. Wear a pair of these daisy socks for women on your next summer stroll. The only thing that could make them better is a bicycle built for two.
Shop for Crazy for Daisies Knee Socks
Shop for Crazy for Daisies Crew Socks
Sloth Socks for Men and Women
Our bestselling sloth knee socks are now available in two new versions: short sloth socks for women in Teal and Navy, and crew socks with sloths on them for men in Frost and Heather Peat. Now you can wear the cutest sloth socks ever while still keeping cool. Score!
Shop for Women's Sloth Stripe Crew Socks
Shop for Men's Sloth Stripe Crew Socks
Lavender Socks
Lavender is a smell, a flower and now a sock. With sweet lavender bundles tied in a pretty purple bow, these socks are an instant classic. Give a gardener a pair of lavender socks for women and watch her smile bloom.
California Bear Socks for Men and Women
The Golden state has many charms, but the bear on these California socks only has two arms! That's why he is holding up his very favorite state, California. On the top of the foot, these socks have beautiful California poppies. Give a pair of California socks for men to the bros in your Hollywood entourage, or send a pair of women's California socks to your granny in Fresno. Or just wear a pair yourself while you cruise down the Pacific Coast Highway!
Shop for Women's California Bear Hug Crew Socks
Shop for Men's California Bear Hug Crew Socks
Fern Socks
We've stepped on a few ferns in our day while tromping down the trails. That's why we knew we had to do ferns a solid and design this gorgeous pair of socks with ferns and fiddleheads. When you wear our fern socks for women, it's like you have a little piece of the forest on your feet.
Shop for Ferns and Fiddleheads Knee Socks
Nasturtiums Knee Socks
We're on a roll with botanical socks this year! These nasturtium socks are a little sweet and a little spicy. They are very nice and not at all nasty, promise.
Shop for Nasturtiums Knee Socks
Hummingbird Garden Socks
Hummingbird is the word! If a picture is worth 1000 words, is a sock worth 10,000? Say it in birds, not words, with a pair of these cute hummingbird socks. These short bird socks for women are covered in ruby-throated hummingbirds sipping from pretty white flowers.
Shop for Hummingbird Garden Crew Socks
Nothing is better than a new pair of socks — except maybe a new pair of ModSocks!