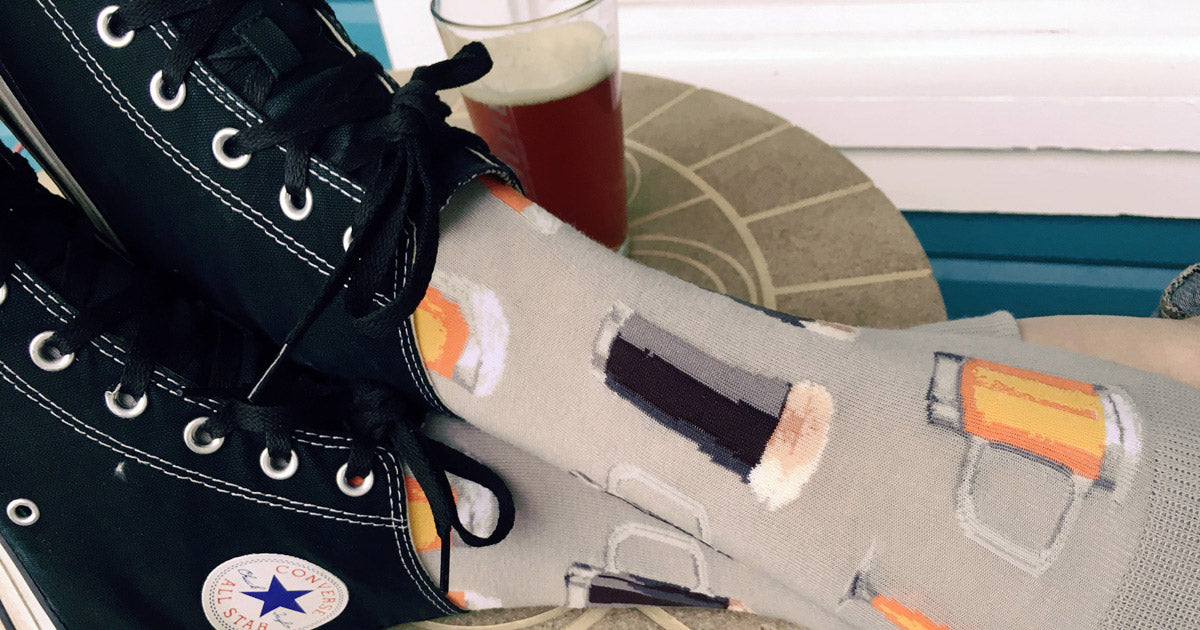 Coming up with men's gift ideas doesn't have to be a hassle, because there's one gift that every man loves to receive: a new pair of socks! They can be practical, warm, crazy, cool, weird or wonderful – just like him. If you want a stocking stuffer he'll actually use, pick up a pair of unique socks that perfectly fit his personality. Use this sock gift guide to choose from among our most-requested styles, or take a peek at all of our men's socks here.
Funny Fox Pun Socks
Does life ever get to the point where you have stopped giving a single, solitary fox? If so, no one can tell you not to wear a pair of these simple yet hilarious Zero Fox Given socks.
Shop for Zero Fox Given Crew Socks
Beer Socks for Men
Beer comes in all sizes, styles, and colors. If there's a beer lover on your list, give him a few premium bottles along with a pair of these craft beer socks, and remind him to enjoy responsibly.
Shop for Men's Craft Beer Crew Socks by ModSocks
Hungry Goats Socks for Men
Some guys will eat just about anything when they're hungry. If there's a fella in your family whom you all lovingly refer to as the family goat, these hungry goat socks for men are a gift he can wear while he's raiding the fridge the day after Christmas.
Shop for Men's Hungry Goats Socks by ModSocks
Dumpster Fire Socks
When things go wrong, sometimes they go REALLY wrong. These funny dumpster fire socks for men know your pain. Give a pair to cheer up a guy who has had a bad week (or a bad year) and hopefully soon his life will start looking a little less like hot garbage.
Shop for Men's Dumpster Fire Socks
Fuck this Shit Men's Socks
When all you have is a hatchet, facing your problems might just leave you stumped. Luckily, there is plenty of wisdom about how to deal with the shit in life you cannot change: fuck it. These men's "Fuck this shit" socks are a funny men's gift with some serious attitude.
Shop for Men's Fuck this Shit Socks
Funny Alien Socks for Men
Maybe the man on your list isn't a man at all, but an extraterrestrial who uses socks to hide his extra toes! Or maybe he just thinks aliens are cool. Either way, these cool UFO socks with flying saucers beaming up cows are made for beings who believe in intergalactic friendship.
Meeting is Bullshit Men's Socks
A gift for your coworker should probably be work-appropriate. Depending on where you work, we can't necessarily recommend that you buy anyone these men's socks with the message, "This meeting is bullshit." Of course, if you do work somewhere a sock like this might not fly, he could always make sure their funny message stays covered up while he's on the clock.
Shop for "This Meeting is Bullshit" Socks
Men's Dog Socks
Dashing dogs including Boston terriers, Boxers and bulldogs are dressed to the nines and showing off their historical looks on these funny dress socks with dogs for men. 
Socksmith Bigfoot Socks
Is the man you're shopping for a little untamed? Does he ever brag about his outdoor prowess, his profuse body hair, or the time he met Sasquatch in the woods? Let him know you appreciate his wildman ways with a pair of bigfoot socks for his big ol' feet.
Shop for Big Foot Men's Crew Socks
Still looking for the perfect pair of men's socks? Check out more of our sock styles for men!