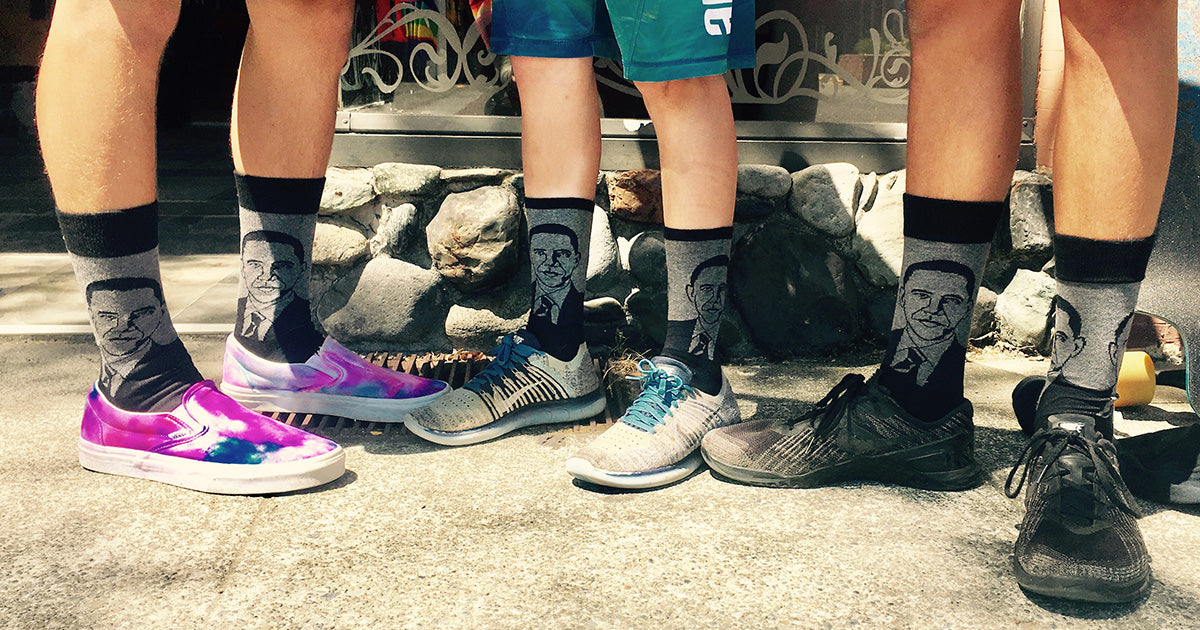 Matching is having a moment! We love coordinating outfits with our friends and family and going out into the world to spread joy. It is fun, whimsical and easy to execute even when you are on a budget.
Whether you are twinning to bond with your bestie, dressing the whole family alike for an event or holiday, or taking an adorable couple photo of you and your boo, matching outfits wouldn't be complete without matching socks. Here at Cute But Crazy Socks, we have a ton of options for doubling your fun, so read on for some awesome ideas for twinning looks.
Mommy and Me Matching Socks
We love the look of a mom (or a dad!) matching their look with a mini-me outfit on their kiddo. If you are looking for mommy-and-me matching socks or fun father and son socks, our children's collection is a great place to start. Once you find a pair your little one will like, try searching our website for a matching pair for men or women.
Many of our most popular kids' socks also come in adult sizes — for example, these funny 3d shark socks are available for kids, and in two larger sizes for men or women.
One other tip — kids over age 10 (and sometimes by age 8 or 9 if they have big feet) can fit into women's socks just fine. Look for a size that fits a women's shoe size 5 to 10.5 — it will be the equivalent of a kids' 3.5 and up!
Matching Socks for Friends
Looking to make some memories with your BFF by dressing in cute coordinated outfits?
You don't always need an exact match to dress like twinsies. Plenty of real twins get a kick out of wearing the same outfit in two different colors. Sometimes the socks we carry come in multiple colors like these cute sunflower socks. You could put together a blue outfit with the Heather Cornflower pair and your friend could wear the Heather Cream with a similar outfit in white or beige tones.
Pick the twinsies socks that make you and your friend smile the most. If the two of you share a sense of humor, a great place to start is our funny socks collection for some great funny matching socks.
Matching Socks for Couples
Show off your love connection by matching your mate in socks with a cute and romantic theme! These matching otter socks show sea otters holding hands with cute hearts in between them and are some of our most popular socks for couples.
When we sell two versions of the same sock in both men's and women's sizes, each listing will have a link to the matching pair. This makes it easy for couples with different sized feet to find cute matching couple socks.
Matching Socks For the Whole Family
There are many ways to match or coordinate your family's clothes to fit a theme. When matching socks for families, one playful way to coordinate could be to all wear pairs in the same color, but with different designs tailored to the unique interests of each person.
Coordinating color palettes has the added benefit of allowing each family member to choose a very different look but still be cohesive with the rest of the group, for example if one family member wants to wear shorts but another wants to wear a dress. Shop our all our newest socks here and try narrowing down your results to a single hue by choosing a color like red from the side bar.
You could also go with family matching socks in a single theme like "underwater" for a trip to the seaside or aquarium, and each wear socks with a different ocean creature on them! We have many collections sorted by theme, so you could treat your whole family to dog socks, book socks, garden socks or socks with any other interest you all share.
In this case, since all your family's socks will be a little bit different, they won't get mixed up in the laundry — but they will still look great grouped together, and they will let the world know what you all have in common!
Matching Wedding Socks for Groomsmen
Matching clothes are a big part of most weddings! We like to show our love for our friends and family by getting dressed up in identical bridesmaid's dresses or matching suits. Some grooms plan every detail of their groomsmen's attire with everything from coordinated formalwear, shoes and pocket squares to matching socks for the whole wedding party. If you want to have a little fun at your wedding, we have some great groomsmen sock ideas.

You could present your wedding party with funny men's dress socks to wear during your nuptials and take home afterward. Choose pairs that either match exactly or go together in more subtle ways. Each sock could be slightly different but still match your wedding colors, meaning they will all look great in photos when everyone can see the groomsmen's socks match the bridesmaids' dresses. With our huge selection of novelty socks for men, it is easy to find personalized groomsmen socks that will make every member of your party look their best on your big day.
Family Matching Socks for Christmas
Family portraits sometimes call for a unique twist, and matching outfits are a hilarious one!
The holidays are a great time to get a photo of the whole fam together and make some memories. Try wearing matching Christmas socks along with, say, matching pajama sets. You will make next year's Christmas card unforgettable!
Check out our Christmas socks collection for ideas and inspiration.