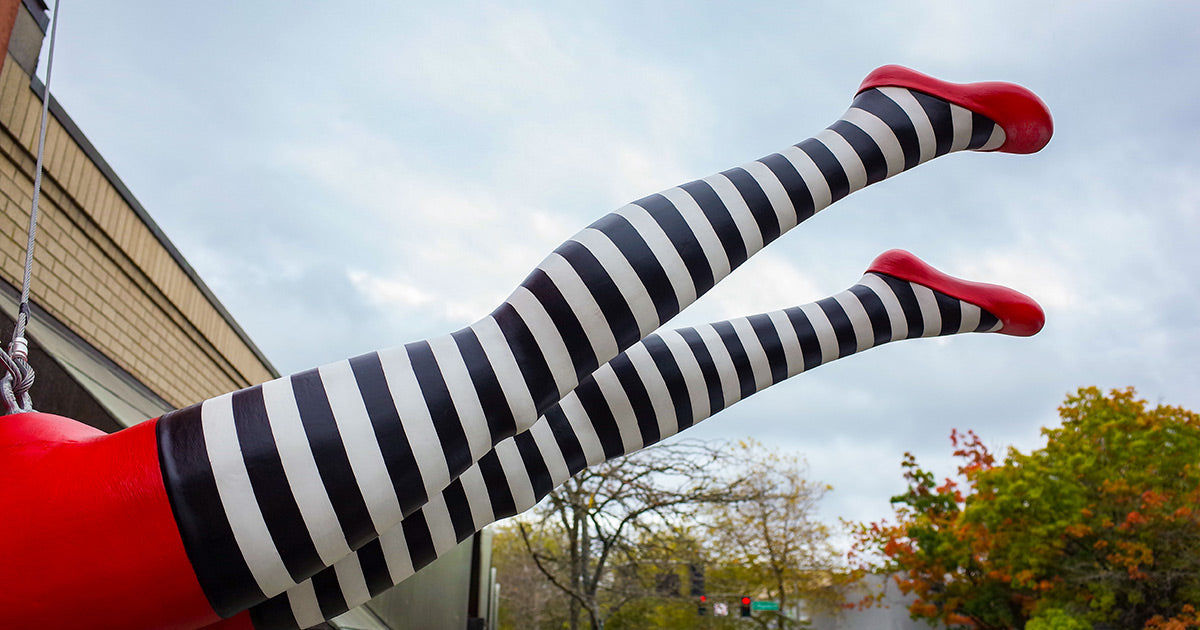 Cute But Crazy Socks is shipping socks worldwide these days, but we are still a Bellingham small business at heart! If you find yourself in the Pacific Northwest, we would love it if you stopped by our Washington state sock store in person and experienced the kaleidoscope of colors and textures, had some fun conversations with our staff and got a chance to see our huge selection of socks in person.
A Beautiful Drive From Seattle
Looking for a quick and fun day trip from Seattle? Bellingham is just 90 minutes north on 1-5, perfect for a weekend adventure. The drive will take you past mountains, rivers and through lush forests that turn red and gold in the fall. As you go north you will pass Mount Vernon, famous for its April tulip festival.
Just south of Bellingham's downtown is the Fairhaven neighborhood, another great place to stop and take a breather. Cute But Crazy Socks is located in downtown Bellingham off the Lakeway exit from I-5. North of Bellingham you will discover Lynden, Ferndale and Blaine, each town with its own unique charms. Any further than that and you will end up in Canada!
Things to See in Bellingham
As a store right across the border from Vancouver, B.C., we love all our Canadian customers. When hopping across the border to buy gas and groceries, many Vancouverites like to spend some extra time in Bellingham seeing the sights.
While you are in Bellingham, there are a few things you shouldn't miss. Whatcom Falls Park is a city park with a well-maintained trail that connects some of the prettiest waterfalls in Washington state. The Spark Museum is an interactive experience for the whole family to learn about the history of radio and electricity. Nearby Mount Baker is a destination for skiing and snowboarding. Lake Whatcom and Lake Padden are both surrounded by fun and easy nature hikes. And when you are done seeing all of that, it might just be time to shop until you drop!
Shopping in Downtown Bellingham
Bellingham is a treasure in the Pacific Northwest, and a trip here wouldn't be complete without a visit to Bellingham's downtown. You can enjoy a cold one at Boundary Bay Brewery or brunch at the Daisy Cafe and see an indie film at the Pickford Film Center. There is also plenty of gift shopping and fun apparel stores including a few funky vintage shops. You will find our sock store at the heart of it all on Cornwall Avenue, near Magnolia Street. Our nickname may be "The City of Subdued Excitement," but we think there is a lot to be legit excited about! 
Great Local Gifts in Washington State
Bellingham, or Bham as we call it, is all about buying local produce, local art and of course local gifts! We Bellinghamsters make it a point to shop locally as often as possible, which is why Cute But Crazy Socks has been a staple for gifts and holiday shopping in Bellingham since we opened in 2011.
Locals shop here for all types of socks including durable hiking socks, cute socks with animals, food and funny quotes, fuzzy socks for relaxing and ankle socks for working out. We carry sizes spanning from toddler to extra-large king size socks that fit up to a men's shoe size 15. That makes us a destination for birthday shopping, Father's Day and Mother's Day gifts, Christmas stocking stuffers and cute Valentine's Day surprises. The best part: our socks are great inexpensive gifts for any occasion!
A Bellingham Sock Brand
We actually love socks so much, we decided to design our own! Our sock brand is called ModSocks and is designed here in Bellingham. ModSocks aren't just available in Bham — they are actually sold in dozens of stores across the country including other sock stores, gift shops and even grocery stores and co-ops. Some of our top-selling products from the brand are Mushroom Knee Socks, Sasquatch Loves Beer Men's Socks and cute swear word socks with kitty cats! You may want to take home a pair as a souvenir of your trip to Bellingham. 
Shop in our store to feel their soft texture and see their brilliant colors and eye-catching designs in person. We can't wait to meet you!