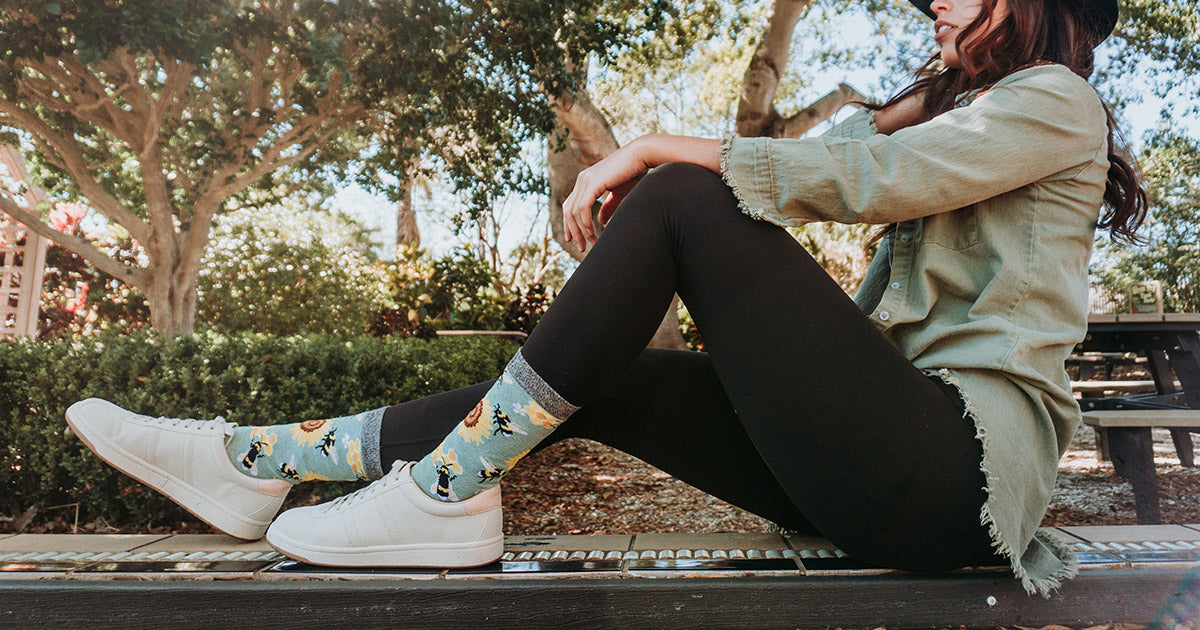 By combining function and comfort with the addition of style, the crew sock has emerged as the perfect accessory trifecta.
What are Crew Socks?
Crew length socks are debatably the most common and versatile sock length. Crew socks are worn around the mid-calf region of the lower leg, making them a happy medium between the short-and-sweet ankle sock and the skyscraping knee sock. Women's crew socks can be worn pulled snugly up the leg, cuffed neatly at the top, or scrunched for a looser fit depending on your preference.
Are Crew Socks Fashionable?
Although it's hard to argue that the classic crew length sock has ever been out of fashion function-wise, in 2022 the crew sock has rapidly become a style staple as well as an easy and inexpensive way to add a little something extra to your more basic outfits. The simple sock has made its way onto runways, social media feeds, and retail shopping destinations alike, as seen on celebrities such as Bella Hadid and Zoe Kravitz.
So what led us to this crew sock renaissance? While there are a few explanations, it can likely be traced back to the COVID-19 pandemic and lockdown. With the desire to continue to take part in trends while confined to our homes, athleisure fashion reached its peak. When the gates to the world began to reopen, many of our at-home comforts stuck around — in this case, the warm and cozy socks we wear around the house.
The rise of the crew sock could be a sign of a larger shift in the fashion world as a whole, one where comfort and functionality rise higher and higher on our priority lists.
How to Style Crew Socks with Sneakers
You don't have to be a star athlete to rock the crew socks and sneakers combo. There are many ways one can style the socks and sneakers trend to suit their individual style and tastes while also putting comfort and functionality at the forefront.
The Athleisure Trend
While you may not be a star athlete, you can certainly still look like one. Athleisure remains a top trend for 2022 and a pop of color peeking out from your favorite trainers can add a little personality to your activewear. Pair them with a fitness set or pull your socks over your leggings for a stylish addition to your everyday comfort clothes.
'90s Inspired
Taking inspiration from '90s style icon Princess Diana, wear a chunky sneaker with a fun crew sock as well as bike shorts and an oversized sweatshirt to achieve the sporty casual vibe of your dreams.
Fun and Femme
Athletic wear not really your thing? Pair the classic crew sock and white sneaker combo with a midi skirt or dress for an effortless and delicate look fit for almost any season.
Crew Socks Outfit Ideas
With the crew sock making the switch from solely "in-function" to decidedly "in-fashion" it may be time to look into how to incorporate them into your own personal style. While we've already explored how to style the crew sock with your favorite pair of sneaks, there are many other ways the crew sock can add the perfect finishing touch to your outfits.
Put Some Prep in Your Step
The crew sock's versatility makes it a welcome addition for all personal styles, but it lends itself particularly well to the preppy style. Take a page out of Blair Waldorf's book and style a pair of crew socks with platform loafers and a skirt or a fitted pair of trousers.
Easy, Breezy Socks & Sandals
Socks should not be reserved for keeping our feet warm in the winter; they can be worn during all seasons! Finish off your sun dresses and short-shorts with a bright sock and a pair of Birkenstocks or fisherman sandals for the perfect summer look.
Towering New Heights: Crew Socks & Heels
Take your colorful socks for a night out on the town by pairing them with platform heels and a mini dress or skirt for a fun retro look that will also make walking in heels a little more bearable.
So How Do You Crew?
Equipped with your newfound crew sock knowledge you are more than ready to become an official member of the cool crew! Check out our collection of women's crew socks to find the socks that help your personality and style shine even brighter. Let us know how you style your crew socks in the comments.