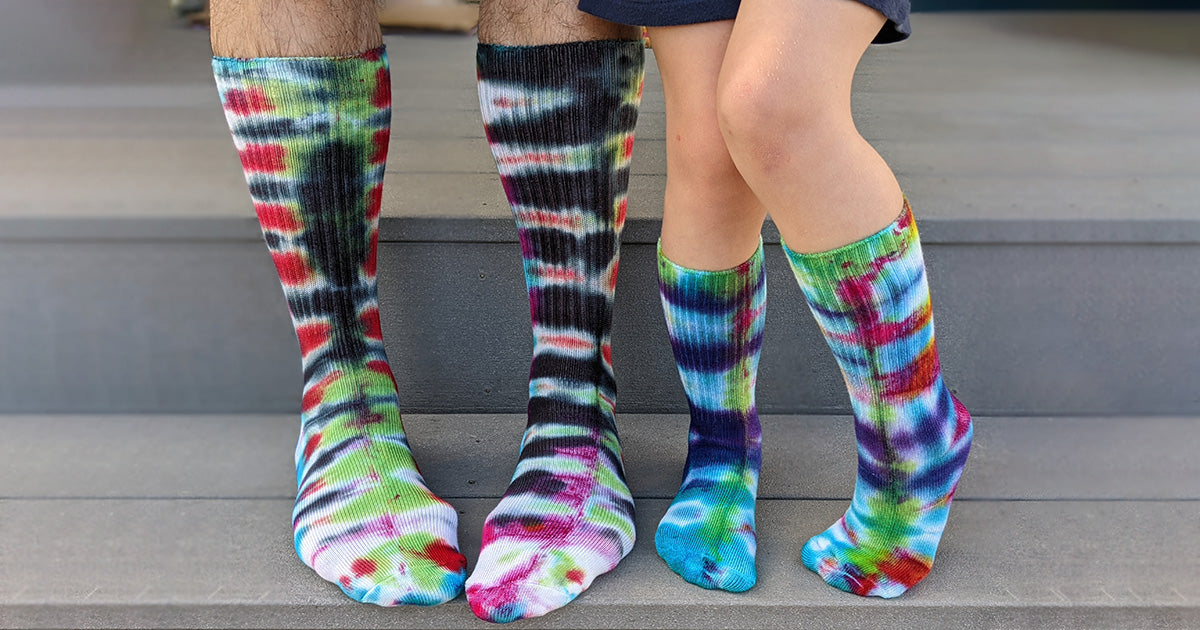 Looking for summer crafts for kids and adults alike to enjoy? Learn how to make your own tie-dyed socks with this step-by-step guide. Not only is tie-dye an easy craft idea, tie-dyed socks are also some of the most fun socks to wear and look great with all your summer outfits.
Easy DIY Tie-Dyed Socks
In July Cute But Crazy Socks hosted a popup sock tie-dyeing workshop on the sidewalk in front of our store in downtown Bellingham, Washington. Our friend and local artist Harold Niven showed us an easy way to tie-dye socks using just a few materials to create cute, crazy pieces of art to wear on our feet!
We started with soaking dry white socks in a substance called soda ash. This treatment activates the dye later on and helps it stick to the socks.
Next, we used different folding techniques to scrunch our socks up and wrapped rubber bands around them to keep the folds in place.
Finally we used squeeze bottles filled with dye to infuse our socks with every color of the rainbow! Our awesome participants proved dying socks is a great craft idea for teens, adults and kids of all ages.
Ready to make a pair of your own? Let's go!
Supplies Needed for Tie-Dyeing
These are the supplies you will need to gather for your tie-dye project:
Fiber-reactive dye is best, or you can use any dye made for fabric

Soda ash, if using (this goes with the fiber-reactive dye)

Natural fiber socks — see below

Rubber bands

Squeeze bottles for applying dye

Gloves

Plastic zipper storage bags

Plastic bags or sheets to cover your work surface
The Best Type of Socks to Tie-Dye
When choosing socks to tie-dye, look for fabric labels that have a high percentage of natural fibers. Natural fibers are any threads or fabrics made from parts of plants or animals. These include cotton, bamboo, hemp, silk, linen and wool. The dyes used in tie-dye react to these fibers and cling to them, making your finished product more colorful and vibrant.
Try to avoid tie-dyeing socks with a lot of synthetic fibers, which are those made with a chemical process, like polyester, nylon and spandex. A little of this material is just fine because it adds elastic and stretch to your socks so they will stay up, but too much and your dye might fade away in the wash.
For our tutorial we used bamboo socks that are 94% rayon from bamboo and 6% spandex.
Steps for Tie-Dyeing Socks
The first thing you should do is lay down something to cover your work surface to protect it and put on some gloves!
If you are using soda ash as a fixative for your dye, prepare the soda ash and water mixture in a large bowl or bucket and let your socks soak in it for about 15 minutes. Soda ash changes the pH level of the surface of the socks, which creates the perfect environment for the dye to stick on and deliver bright, brilliant colors!
How to Fold Socks for Tie-Dye
There are lots of ways to fold your socks to dye, but one of the best and easiest is to swirl them together into a spiral like a cinnamon bun, then secure with rubber bands. It sometimes helps to use a clothespin to keep the center of your spiral stabilized as you spin the socks around it.
For striped tie-dye socks, you can leave the socks laying long and bundle the two together with rubber bands every inch or so all the way up their length. You can even experiment with different kinds of folds or pinch off small parts of the socks and rubber band them randomly for a unique final pattern.
How to Apply Dye to Your Tie-Dye Socks
Once your socks are folded and "tied" with rubber bands, it is time for dye! You can prepare as many colors as you want and put them into squeeze-bottles for easy application. You could try mixing colors — in theory you can create any color out of the primary colors blue, red and yellow, but sometimes it is easier to just buy dye in the exact color you want.
Apply the dye very generously until your socks are well soaked. Make sure you are getting plenty of dye into the folds and creases, especially if you want fewer white areas on the finished product.
How Long to Let Tie-Dye Sit Before Washing
It is up to you how long you let the dye sit on your socks, but most dyes take about 24 hours to work their magic. To help your dye set on your tie-dye socks, it is best to put them into a plastic zipper bag to keep them moist. A warm environment also helps, and room temperature or about 70 degrees is usually just right. 
How to Rinse Out Tie-Dye
Once your dye has set, it is time to rinse out any excess dye. To rinse, remove all the rubber bands you used and run your socks under the faucet until the water is clear. You can start with cold water and once that runs clear, switch to hot water to get some more of the dye to run off.
Don't worry if it seems like a lot of your color is going down the drain. This always happens with tie-dye and it is important to rinse it out thoroughly or it could end up staining your other clothes and linens in the washing machine.
Washing Your Tie-Dyed Socks 
Next, wash the socks by themselves in a washing machine two or three times. The socks may still release small amounts of dye the next few times you wash them, so keep washing them alone or carefully wash with similar colors to avoid staining other items.
Once they are washed and ready to wear, put them on, show them off or you might even want to give them away as a DIY handmade gift! We love our tie-dye socks and had a ton of fun making them, and think you will too!