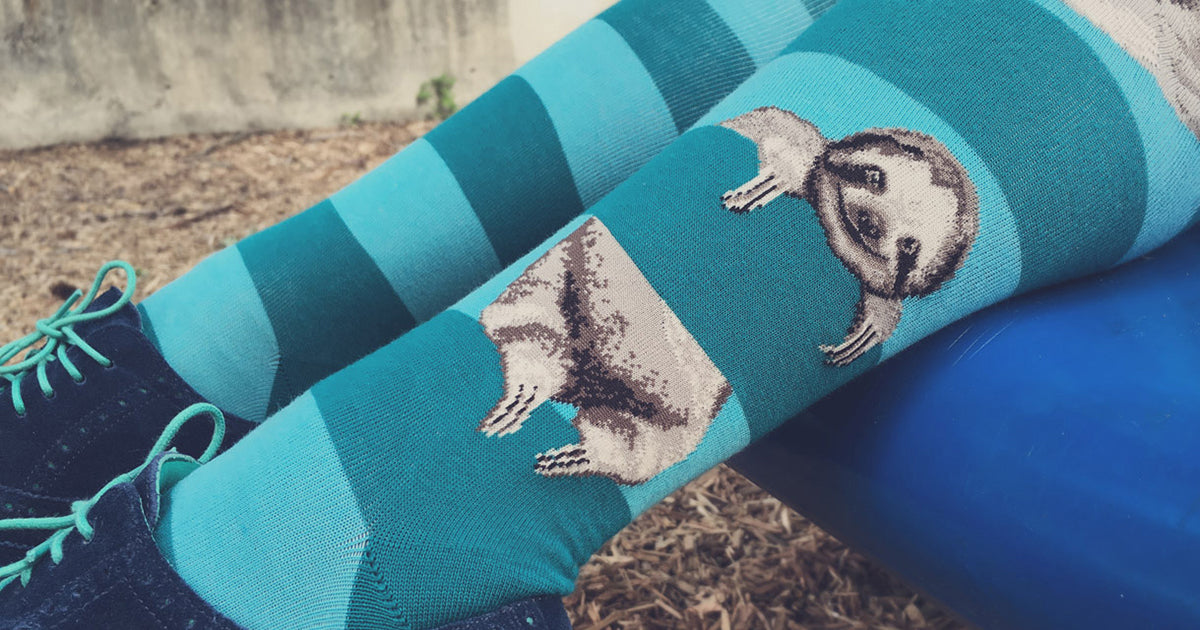 When some people think of knee socks, the first thing they picture is solid black or white socks. How boring!
We think knee socks are the way to wear those bold, fun designs that simply can't be contained on shorter novelty socks. This knee-high socks blog rounds up some of our best new knee socks plus tried-and-true favorites. To see every knee-high sock style we carry, check out the entire knee socks collection.
Sloth Knee Socks
When it seems like life is speeding past you, take a cue from a sloth and get into the slow lane. These cute knee-high socks with sloths are long-time favorites at the shop. Wear them as a reminder that you'll get there in the end, no matter how long it takes.
Knee-High Book Socks
Books are beautiful things, and every bibliophile knows you gotta stay true to your shelf. These knee-high book socks will help you express your love of all things literary with colorful books flying from knee to toe.
Tall Socks With Ferns
These fern socks for women stretch up to the knees so that you can walk across the forest floor and feel at one with the ferns and fiddleheads. Wear knee-high fern socks and go find some nature near you.
Need some new knee socks but not sure if they will fit large legs? Check out our collection of Wide Calf Socks. You will find styles from the Sock It To Me brand called Stretch-It! Socks. These will fit calves up to 21 inches, and with styles like grumpy ostriches and taco dinosaurs, you are sure to find a funky knee high that fits your size AND your style.
Cherries & Lace Knee-High Socks
These sweet cherry knee socks for women make a big impression! We love their cute vintage style with bold eyelet lace and ribbon patterning behind big, juicy-looking cherries. Socks for women with cherry patterns make for a pretty pinup look with a side of sweetness.
Constellations Knee Socks With Stars
This summer, make your motto skies out/knee highs out! These knee-high constellation socks for women show the starry skies as a knowledgable stargazer sees them, broken into constellations like the Big Dipper, Cassiopeia, Cygnus and more. Wear a map of the stars on your legs with these star-studded constellations knee socks.
Funny Knee Socks With Rainbow Barf
We love these funky knee socks for women with rainbow barf forming a colorful, foamy cascade out of a red-lipped mouth. Rainbow puke is what comes out of you when you see something so cute your body has a magical, rainbow reaction — which just might be the urge you feel when you look down at your own adorable knee socks. Let it flow in a pair of funny women's knee socks with rainbow puke on them.