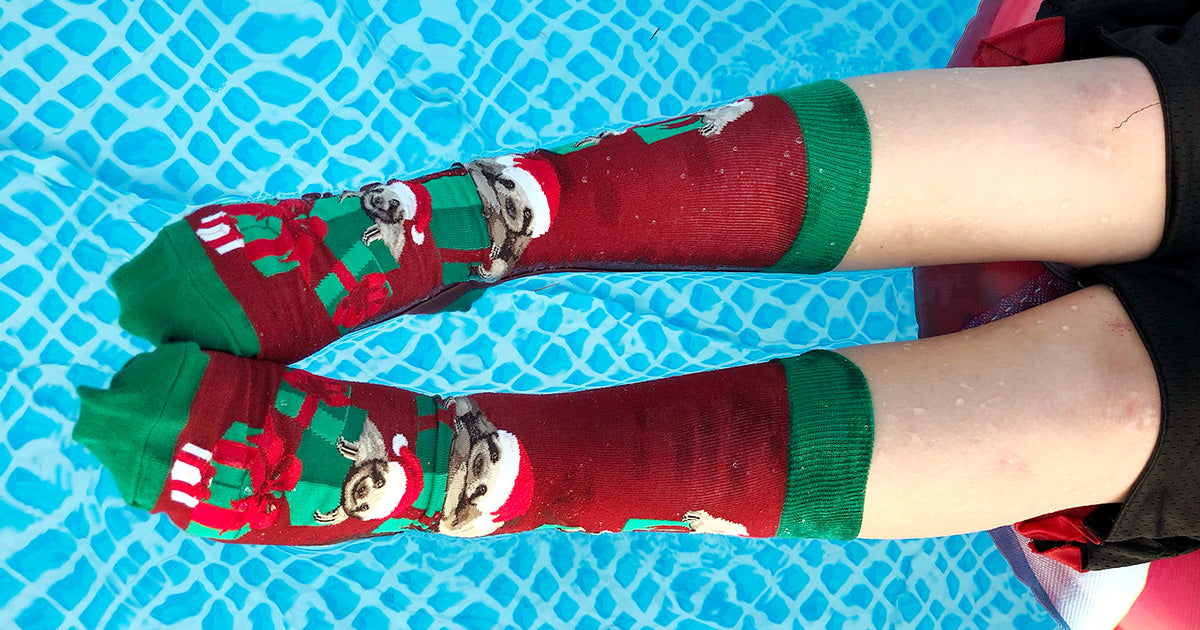 When we realized people were searching for Christmas socks in the middle of summer, we were a little confused. Then we remembered Christmas in July! It is a phrase everyone has heard, but it means something a little different to everyone. The term itself became popular in the 1940s when a movie called "Christmas in July" was released. In it, a man's friends trick him into thinking he wins a prize and a lot of money. He buys gifts for everyone he knows and proposes to his girlfriend — only to find out he wasn't really the winner after all!
These days, Christmas in July usually means throwing parties, playing Christmas movies and music, and giving gifts.
In the Southern Hemisphere where December 25th is the summertime, a July Christmas lets people celebrate during a chillier time of the year. For some of us in America, a second Christmas in the summer can be a chance to get together with family at a time when everyone can enjoy easier travel and good weather.
So if you are looking for Christmas socks this July, here are a few of our favorites! Or browse our complete Christmas socks collection and see all the fun holiday socks we have to offer.
Santa Sloth Socks
Sloths prefer a warm climate, so these Santa Sloth Socks for women (also available for men) are actually perfectly adapted to the summer months! Wear a pair of socks with sloth Santa and remember to take it slow this summer.
Bigfoot Loves Yeti Women's Socks
When mythical creatures fall in love at Christmastime, they can't help but show it! These cute Christmas socks show a Bigfoot and a yeti exchanging gifts (and kisses).
Corgi Christmas Socks
Corgis don't care what month it is — they were born to spread cheer all through year! Show you love Christmas and Christmas in July with a fun pair of Corgi Christmas socks for women or men.
Cute Christmas Kids' Socks
Sometimes putting the kiddos in cute clothes for the Christmas card photo is easier said than done! Try these funny Christmas snowman socks available for kids ages 4 through 10.
Stocking Pupper Christmas Socks
If all you ever wanted in your Christmas stocking was an adorable puppy, we have the perfect socks for you. Cute yellow Labrador dog socks for men or women with puppies peeking over the tops of stockings are a great gift for a dog lover any time of the year.
Merry Crustmas Pizza Socks
No matter the season, pizza is always a good idea. Wear a pair of these
men's Christmas pizza socks
(also available
for women
) while your enjoy a slice or two in the sun.

The Goat Who Ate Christmas Socks
We all know a goat will eat just about anything, from blackberry brambles to Christmas decorations! These funny
goat socks for women
or
men
depict a goat chowing down on a Christmas wreath and string of lights.