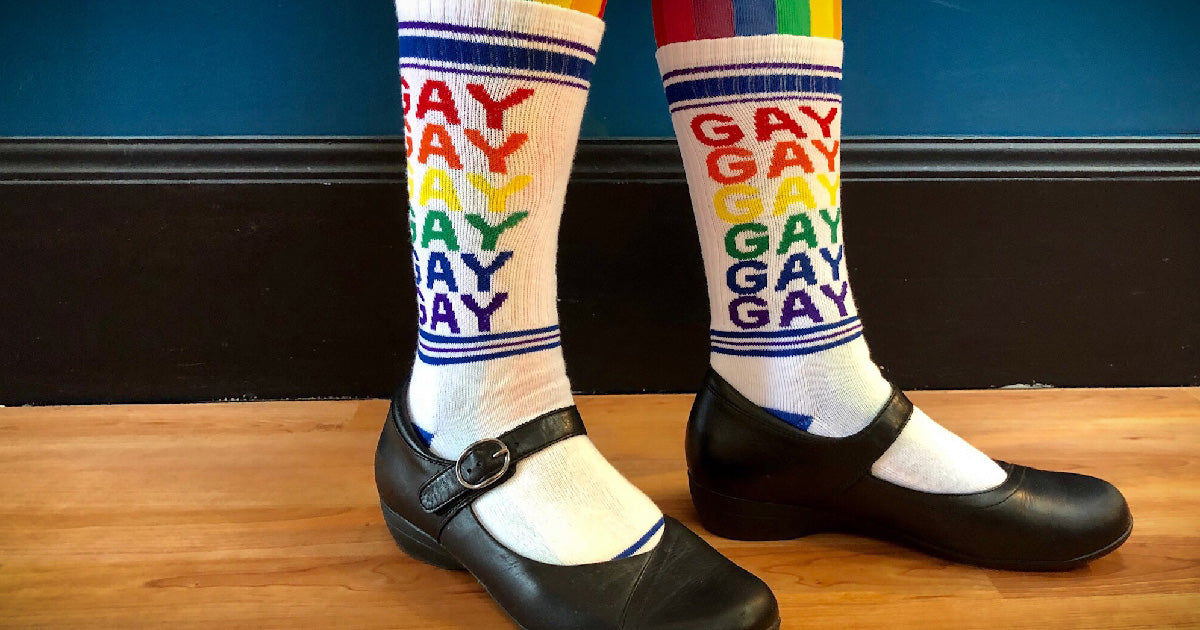 When you are a part of the queer community, Pride can be big and loud and awesome! However, you can also feel pride in those quiet moments of life like when putting on a pair of unique socks that express who you are and who you love.
When you feel like wearing a pair of statement socks that lets everyone around you know you are G-A-Y, our sock shop is here for you. If you want to wear colorful socks with rainbows that let you stand out and proud, we can show you our most popular styles. Check out these fun socks and put a little extra Pride in your stride or shop our entire Pride Socks collection!
Gay Rainbow Word Socks
When you are first coming out, every time you say "I'm gay" it gets a little easier. These cute gay rainbow socks are a nod to retro gym socks but with the word GAY repeated 6 times in rainbow letters. Wear a pair of unisex socks that say "GAY" and let them do the talking for you.
I Identify As A Badass Ankle Socks
Do you have a non-standard identity? It isn't always easy to navigate a world made for cis-het people, but these socks for badass-identified folks will help you stand out and stay strong! Wear a pair of "I Identify As A Badass" Socks and keep loving your beautiful, bad self.
Transgender Love Socks
This unique sock design combines the transgender flag colors with the word LOVE, with a heart in place of the O. These simple transgender pride socks are cute, heartfelt and great for expressing love for yourself and the trans people in your life.
Gay Apparel Unicorn Socks
These wild rainbow unicorn socks are perfect for Christmas, but can be worn all year. Named Gay Apparel after the line from the Christmas carol "Deck the Halls," these fun rainbow socks have rainbow stripes with white unicorns, trees and snowflakes that look like they came from a funky Christmas sweater! Don a pair of Gay Apparel socks, available in crew length to fit men and women as well as in knee-high length.
New York Pride Socks
If you are proud of your sexuality and your hometown at the same time, these fun unisex rainbow NEW YORK socks are here for you. We also offer California, Texas and Portland rainbow socks.
Team Pride Socks
These fun new Pride socks have classy stripes in black and bright rainbow colors and the word Pride written in the retro font of an old-school baseball logo. Join the winning team and have some good fun in
Team Pride Men's Socks
or extra-stretchy
Team Pride Knee-High Socks
.
Divine Drag Queen Socks
Divine is the filthest, most fabulous drag queen of them all! These funny Divine socks say "EAT SHIT," a nod to the most famous scene from the John Waters film Pink Flamingos.
Heather Rainbow Stripe Socks
These sultry rainbow stripe socks have muted colors so you can wear them with anything from slacks to sun dresses. We offer muted rainbow socks in crew length in men's and women's sizes, as well as knee-high length for women. With their earthy heather colors, these fun rainbow stripe socks will make you a little different from the rest, and that's something you can take Pride in!