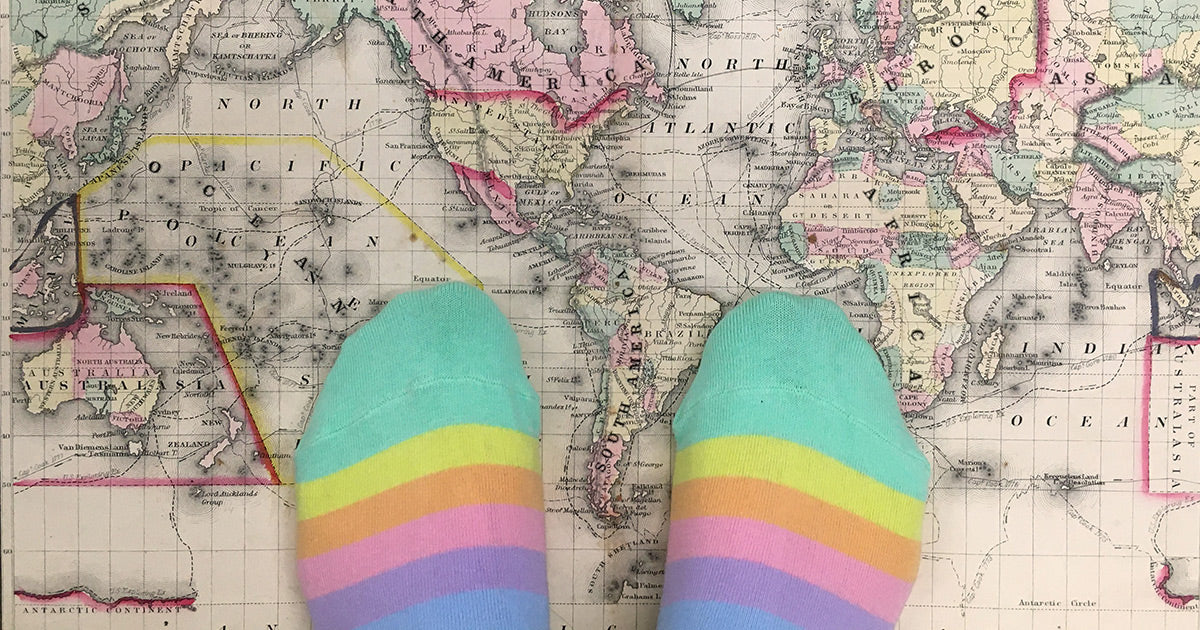 Once upon a time, the only people who could enjoy our fun socks were those who visited our store in Bellingham, Washington, USA. Then in 2013, we started a website and began shipping our socks across the U.S. and Canada.
Now, we have expanded our shipping options to include dozens of countries around the world.
Lowest Rates
We are thrilled to welcome our new international customers and spread our sock love far and wide. We have worked hard with our shipping partners to bring you the cheapest international shipping rates, so you can order high-quality patterned socks at affordable prices around the globe. Packages will ship for a flat rate of just $9 USD. We are even offering free shipping for international orders over $50 USD, with customers responsible for any duties and taxes related to importing their socks.
Fast International Shipping
Do you need a pair of funny socks for your brother's birthday or cute patterned socks for your cousin? Most packages will arrive in 7–21 business days, or choose priority shipping and see you socks in 6–10 days instead! Unforeseen postal delays can occasionally affect shipping time, so please remember these estimates are not guarantees, just helpful guides. 
We know that sometimes it can be tricky to find unusual socks in other countries. When world travelers come to our store, they often stock up on novelty socks from brands like ModSocks, Darn Tough and Socksmith to bring home as souvenirs from America. Now you can save room in your suitcase and still enjoy giving our socks as gifts to friends and family!
Countries We Ship To
Here is a list of the countries we are now able to ship to via International Post:
Australia
Austria
Belgium
Brazil
Canada
Croatia
Denmark
Estonia
Finland
France
Germany
Gibraltar
Greece
Hungary
Ireland
Israel
Japan
Latvia
Lithuania
Luxembourg
Netherlands
New Zealand
Norway
Poland
Portugal
Singapore
South Korea
Spain
Sweden
Switzerland
United Kingdom
We can't wait to show the world just how great our socks are!