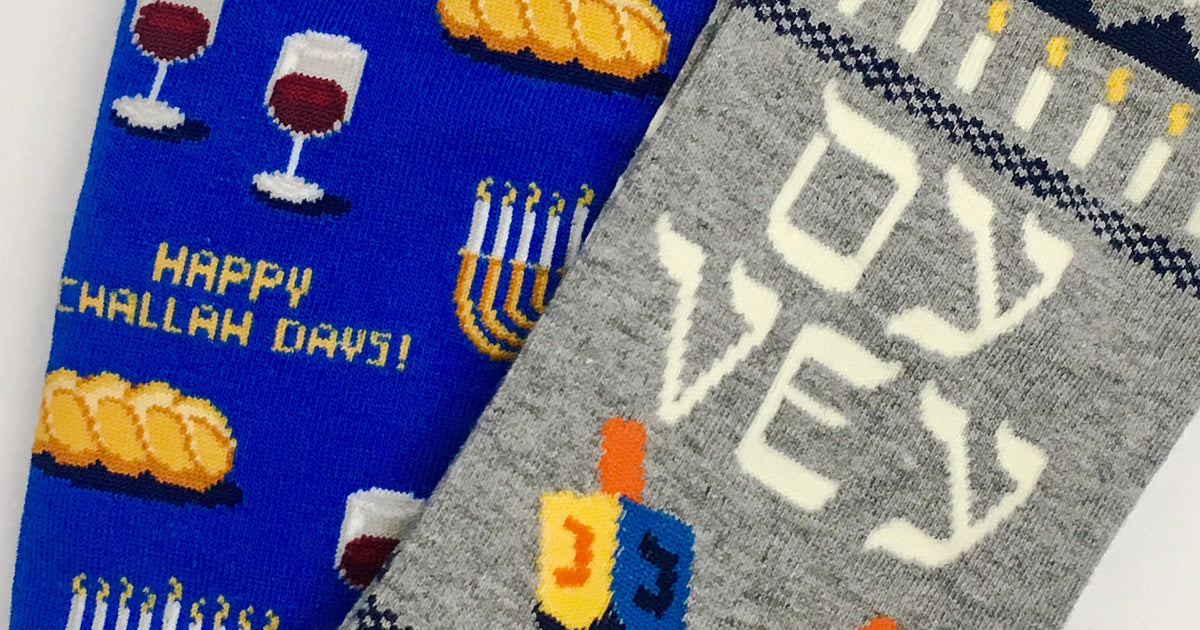 At the time of year when everything is red and green, sometimes when you are a Jew things can seem a little blue. Luckily we have these cool Hanukkah socks for men and women with fun designs like dreidels, cats, menorahs and funny sayings. We hope these cool socks will help you have a fun and happy Hanukkah!
Funny Hanukkah Socks
Wearing a pair of socks that say "Oy Vey" is the perfect response to all the mishegoss you have to put up with from your family at the holidays — just point to your ankles without saying a word! These Hanukkah socks for men and women have dreidels, candles and the words "Oy Vey," a Yiddish phrase that pretty much means, "Woe is me." Women's Oy Vey socks also come with non-skid soles with a white dreidel design for the grippy bits.
Cute Hanukkah Socks
These Hanukkah cat socks for women are covered in cute cats spinning dreidels, lighting candles and wearing little blue scarves and kippot/yarmulkes. We love their cute smiling faces and think they'd be a perfect Hanukkah gift for an animal lover.
Jewish Novelty Socks
Show the world you're nice, Jewish and have great taste in socks when you wear these funny socks that say "Nice Jewish Girl" or "Nice Jewish Boy." Each pair has an attractive design with blue stripes and a small Star of David knit with gold metallic thread. Use them to meet other Jews or just show the world your heritage and your sense of humor.
Celebrate the Jewish Festival of Lights and make your own traditions by giving some sweet Hanukkah socks as a gift or wearing them to your family gathering.