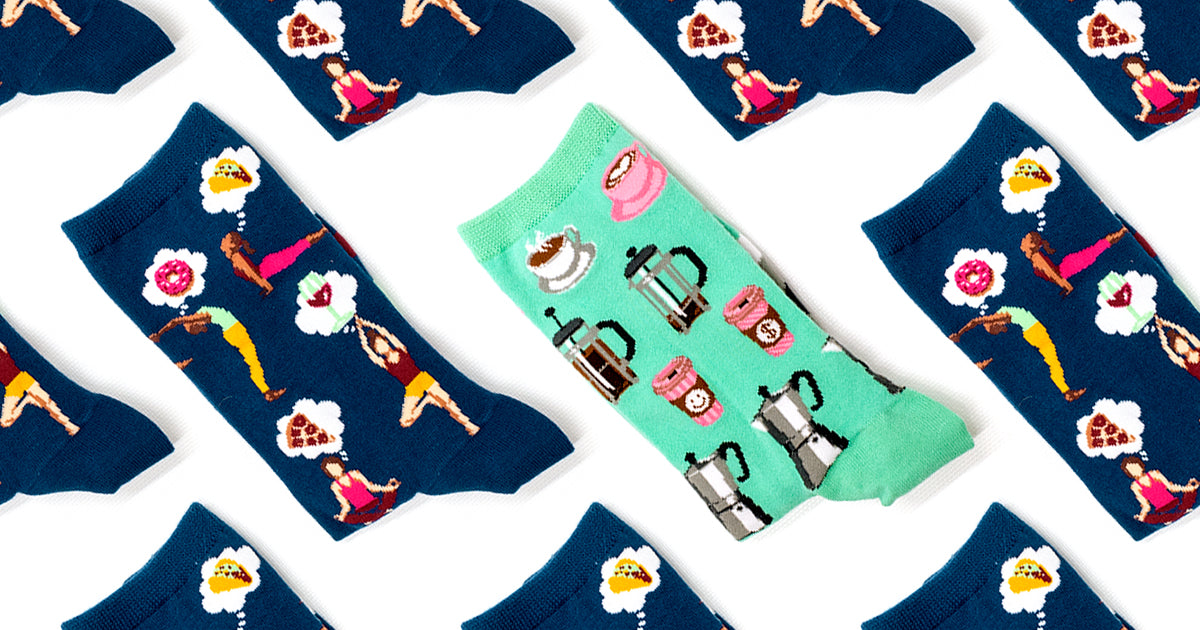 We sell socks to fit every foot and personality. This season, our in-house brand ModSocks is helping you express yourself with a fun collection of novelty socks featuring your favorite hobbies. Let our funny yoga socks, artisan coffee socks and cool retro camera socks inspire you! We really nailed the little details on these socks.

Find Your Inner Pizza
On our A Balanced Life Crew Socks (above), yoga people daydream about their favorite treats like pizza, red wine and tacos up in tiny thought bubbles. OM. . . nom nom!

Take a Picture
Check out the instant cameras on our Say Cheese Crew Socks — they are printing out a photo of a wedge of cheese! These retro camera socks are available for mentoo, and are perfect for the photographer and photography enthusiast alike!
But First, Coffee
Have you seen our Coffee Break Crew Socks? They have great coffee gadgets like French presses and moka pots, plus steamy cups of espresso and funny to-go cups with smiley faces and dollar signs on the coffee sleeves. They are also available for both men and women. What a great pick-me-up!
The Mane Attraction
A big request we get is for socks with horses. We think we have a winner with these Majestic Horses Crew Socks for women. The galloping horses on these socks are wild and free, with their manes blowing in the breeze.
Get Out & Sea Life
If nice weather brings out the ocean lover in you, we have some great news. Our Silly Sushi Women's Crew Socks and Squid & Whale Women's Crew Socks, two of our favorite knee socks, are now available in a crew length, perfect for warmer spring and summer days.
We hope you enjoy our new socks! Don't forget to check out all of our other designs here.