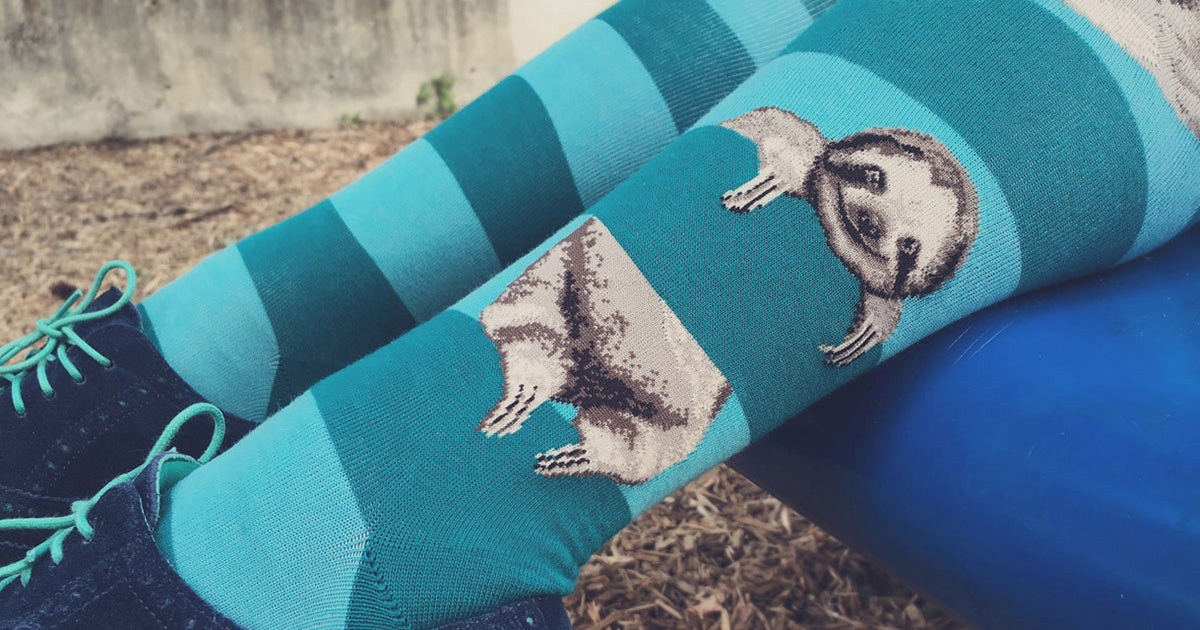 No matter who or where you are, you should be rocking
crazy socks
! At work or working out, getting things done at home (or not), our huge selection of men's and women's socks will have your feet looking and feeling their very best. Here are five essential pairs of socks everyone should own.  
Give in to the spirt of leisure and enjoy a day of rest in our sloth socks for men and women, plus cute sloth knee-high socks! Sloths are the perfect symbolic animals for a day of recharging as they sleep up to 15-20 hours a day. Even during their waking hours, sloths often remain motionless. Take it easy in a pair of these fun socks that show adorable sloths hanging from stripes in different positions! 
Work Socks
Sometimes it's tough to keep going when the daily grind has got you down. Wearing funny socks that poke fun at your job is a great way to keep your spirits up. These "Bullshit Meeting" Blue Q socks for men and women say what no one has the guts to speak out loud: "This meeting is bullshit!" Wear a pair under your work slacks and your boss will be none the wiser.
Outdoorsy folks know the most durable socks out there are Darn Tough socks, made in Vermont with a lifetime guarantee! If you're into exploring all that Mother Nature has to offer, wear a pair of wool hiking socks for women that feature the silhouettes of trees in a forest with a tiny crescent moon in the sky. The men's version of these wool socks has the addition of an outhouse flying overhead and comes in two colors: Green and Lava. 
Funny Housework Socks
If you're on a mission to complete a ton of tasks, these "Get Shit Done" socks are the ones for you. Repeat the mantra: "I am going to get shit done" and tackle your to-do list with this sassy pair, available for men and women. If you don't get to everything, no sweat, as further down on the sock it clarifies when you'll actually be finishing everything: "later."
Getting motivated to go to the gym is its own battle. Help convince yourself by choosing workout socks with bright colors and funny sayings. Gumball Poodle's collection of unisex socks feature retro sport stripes and bold words in all caps. Maybe what it takes to put a pep in your step is a pair with "BEER" written in every color of the rainbow up your calves. Or maybe you'd rather keep it real by rocking socks that speak the truth about your current mental and physical state after 40 minutes on the elliptical: "Everything Hurts and I'm Dying" socks are the perfect choice for you. If keeping your favorite fuzzy friend in mind is what gets you through spin class, you could opt for "My Cat Says You're Dumb" or "My Dog and I Talk Shit About You."