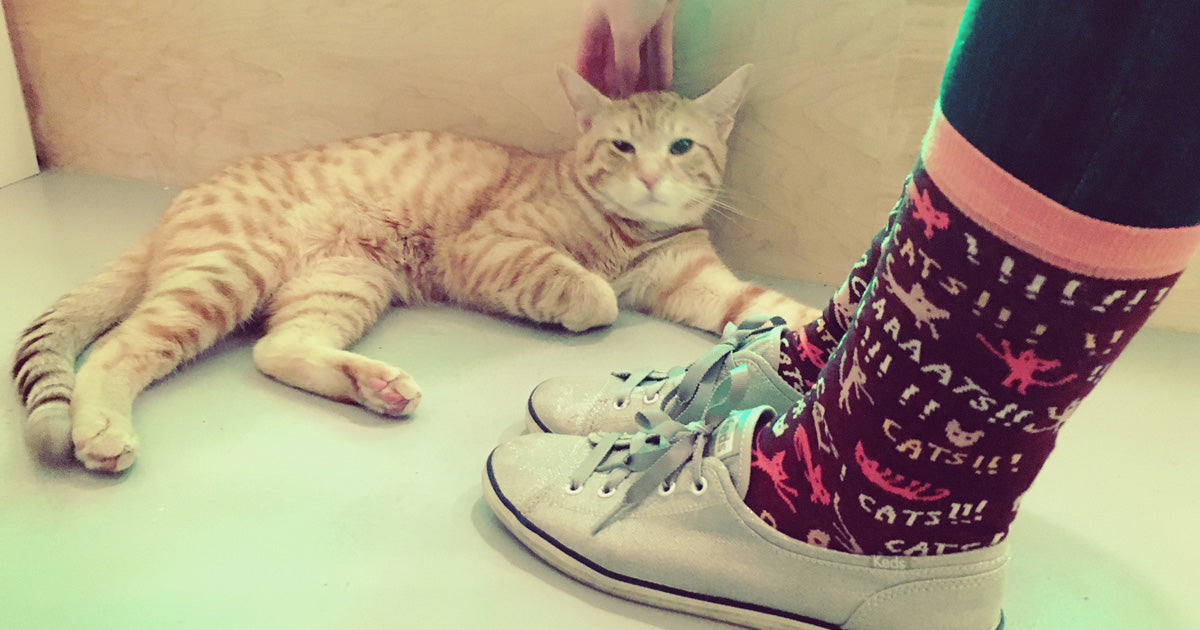 There's nothing quite like the feeling of a feline friend in your lap, but maybe fun feline socks on your feet come close! At our sock shop we have more cat print socks than any other print, so if you're a cat lover or shopping for gifts for cat lovers, check out these 10 awesome cat socks for everyone on your list!
1. Funny Cat Socks
When you find out someone has a cat, do you instantly request pictures or try and find said cat so you can pet it? Do you cast all formality to the side and demand, "SHOW ME YOUR KITTIES"? Then these unisex athletic socks are for you (or your cat crazy friend)! Made in the U.S.A., Gumball Poodle socks have funny meme-like wordy socks that fit adult sizes.
2. Cat Mom Socks
If you're shopping for personalized gifts for cat lovers, we have socks for the sassy cat moms and dads in your life (cat dads: see #3!). On this swear word sock by Blue Q, a cat mom holds her beloved fur baby next to the words "My cat is cool as fuck." As a cat lover myself, I am inclined to agree: no matter the cat, they're cool AF!
3. Cat Dad Socks
Cat dads, we know you exist and we see you. But can we also see your cat? These wacky cat socks for men feature four large blue cats, a pattern of cat's eyes around the cuff, and the words "Crazy Cat Dude" written on the side.
4. Knee-High Cat Socks
We love cats so much, we've designed a few of our own kitty-cat socks that make great gifts for your cat-obsessed friend —including this beautifully detailed cat mermaid knee-high sock for women. Adorable little purrmaids chase seahorses and jellyfish across this darling ModSocks original. I tell you right meow, if I ever discovered something so cute in real life, I'd never return to land! These funky socks are also available in crew length.
5. Cute Cat Socks
We are simply stunned by the cuteness of the vintage 90's white cat faces on these colorful ladies' cat socks from Sock It To Me. Bright outlines of purple, pink, yellow and teal make this endless pattern of kitties pop and take us back to a time of rainbow trapper keeper binders, slap bracelets, and toy erasers that erased nothing and smeared everything.
6. Cat Ankle Socks
If you are blessed to own a flat-faced feline, you know that their unique appearance only further commands the respect of their human subjects. These popular Socksmith cat socks feature a lovely Persian cat in all its smooshed-face glory!
7. Christmas Cat Socks
Socks with cats on them are popular cheap cat gifts for the feline-obsessed friends and family in your life, especially during the holidays. So fill those cat lovers with cheer and give them holiday cat socks! These festive green and red striped knee-high socks that give the appearance of a gray tabby kitten peeping out of a Christmas stocking are a great choice.
8. Black & White Cat Socks
For something more poised, this handsome portrait of a black and white tuxedo cat on a knee-high sock will help you make an elegant entrance wherever your paws may take you. Black all the way to mid-calf before revealing its striking motif, these sophisticated novelty socks are the perfect combination of practical and fun.
9. Cat Socks for Kids
Do you know a cat-loving kiddo who's got something of an attitude? We've found that crazy socks never disappoint, even when kids have their claws out! These colorfully striped cheeky cat socks for kids feature a sassy white cat with his hands on his hips and the words "CATITUDE" written above his head.
10. 3D Cat Socks
If you're looking for unique birthday gifts for cat lovers, socks are essential. But why not go the extra dimension and gift these cool 3D cat socks featuring a happy calico cat? Check out the other 3D animal socks available for all ages —including dogs, sharks, bears, pigs and alligators!
Need more? Check out our cat socks collection to see all the other great kitty socks we offer.
Are you looking for cat socks in Canada? We are just half an hour south from the border near Vancouver, B.C. and we ship to Canada as well!