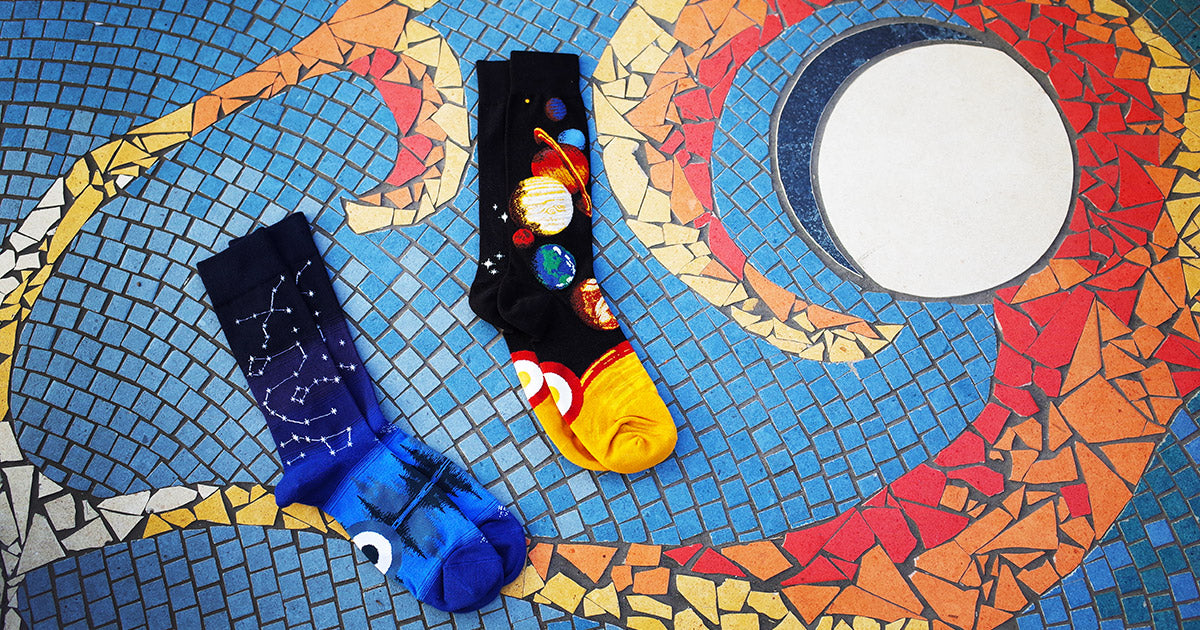 Watching Netflix shows is one of our favorite things to do, especially when we can cozy up in our favorite socks.
That's why we are excited to announce that our own brand ModSocks' original Solar System Socks and our cute Constellations Socks appear on the feet of Hilary Swank in "Away," a new Netflix series where Swank plays Emma Green, an astronaut who undertakes a dangerous mission in space.
When our brand ModSocks designed these popular space socks, our goal was to create novelty socks that would speak to anyone and everyone who loves astronomy. Our Solar System socks show all the planets, the sun and even Pluto against a black background. They are available in a knee high as worn by Swank's character, and also as a men's crew sock.
ModSocks' Solar System socks as worn by Hilary Swank in the Netflix series "Away."
Not only do the socks look great, they are also highly accurate. Every detail was carefully designed, all the way down to Saturn's rings and Jupiter's spot. The sun on the toes is one of the coolest parts of the sock because it can hide in your shoes until you are ready to show it off!
As a business based in Bellingham, Washington, we have a special place in our hearts for Hilary Swank, who is also a Bellingham native. We don't know if she was aware her socks were designed in her hometown, but we are happy they helped her connect with her role on a deeper level.
ModSocks' Constellations socks as worn by Hilary Swank in the Netflix series "Away."
Another pair of space socks that Swank wore onscreen are ModSocks' Constellations Socks, available in men's crew, women's crew, and knee high. The blue night sky socks show real constellations including the Big Dipper, Cygnus, Cassiopeia and others.
These fun star socks have beautiful details like a tree-lined reflective lake on the foot that mirrors a shooting star from the sky. They are perfect for evening stargazing walks and will have you dreaming about distant star systems and planets any time you put them on!
Swank told a reporter that fun socks were a big part of getting into character. She chose to wear them after meeting Mike Massimino, a former NASA astronaut and Netflix consultant for "Away."
"I think in the past, the idea of playing an astronaut was very specific and there was a stereotype of what we imagined, but Mike was so human," she said in an article on CollectSpace.com. "For example, he had on these space socks. I loved that an astronaut was wearing space socks and they were funny. His socks really went with his personality. So I went and bought socks and that became part of my character."
So even though her Netflix character Emma Green spends the series in space, Swank made sure her personality was down-to-earth, and fun socks were a great way to do that!
CrazySocks.com offers socks to fit every foot and personality and has an entire collection of space socks to explore. For even more great socks from ModSocks, browse the brand's collection here.