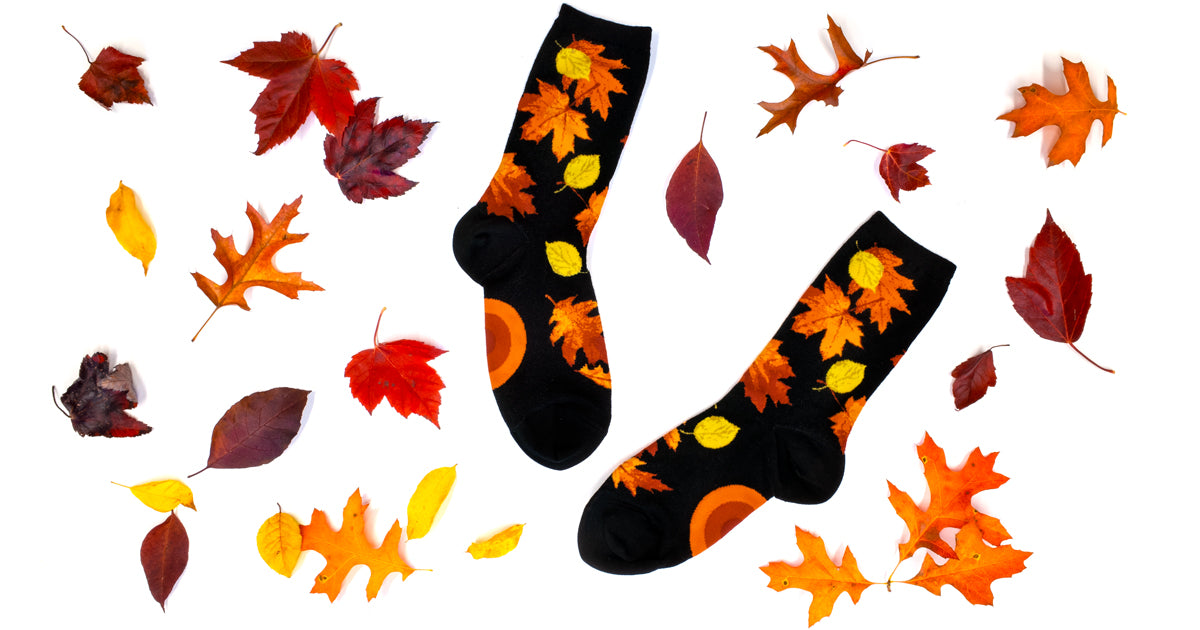 It's fall, y'all. At our in-house brand ModSocks, we are all about those crisp breezes, autumn colors, counting down to Halloween and pulling in a great sock harvest for our amazing customers. Feast your eyes on our favorite fall socks, and enjoy all the things that make this season special!
Fall Leaves Socks
One of the best fall feelings is crunching your way through a pile of crisp autumn leaves. We have tried to capture that experience with these gorgeous fall foliage socks, available for both men and women. You'll love their subtle shades of gold, red and orange and the way the leaves appear to be blowing in the wind. Wear a pair on a nature walk to keep your feet warm in the changing weather.
Books Socks
Feel like curling up with a book? This year our bestselling Bibliophile Knee Socks and Bibliophile Men's Socks went viral, so we decided to make a shorter crew version for women. We think these book socks take all the charm of the originals and transform them into something small, cute and perfect to wear with pants or jeans. You'll love the little design touches like lattes, a pair of reading glasses, stacked antique books and a few books that seem to be magically flying through the air!
Hot Chili Pepper Socks
These hot pepper socks get five stars for appearance, feel and spiciness! There aren't many meals that can't be improved by a splash of hot sauce, a dash of chili powder or a little diced habanero or jalapeño. There aren't many outfits that can't be improved with a pair of these fresh chili pepper socks for men or women.
New Halloween Socks
Should Halloween be cute or creepy? We like a little bit of both, so we designed an adorable pair of trick-or-treating ghost cat socks for women and a truly spooky pair of men's socks with screeching ravens, skulls and antique books that we can only assume are filled with horror stories and dark incantations!
Kite Experiment Knee Socks
Thunder and lightning can be frightening, but it can can also lead to sparks of genius! One famous example is Benjamin Franklin and his fabled kite-flying experiment. We love these electrifying fall knee socks with lightning strikes, paper kites and gleaming metal keys, because they bring a little excitement to rainy PNW days.
Soup Socks With Veggies
Nothing warms the body and soul on a chilly fall day like a warm bowl of hearty homemade soup. We cooked up these soup socks with onions, carrots, potatoes and celery, plus some mushrooms and herbs so you could add a little flavor to your fall footwear! Wear Soup's On Women's Crew Socks and savor the season.
Browse all of our original designs here, or see the latest socks added to our website. We can't wait to help you find The Socks You've Been Missing this season!