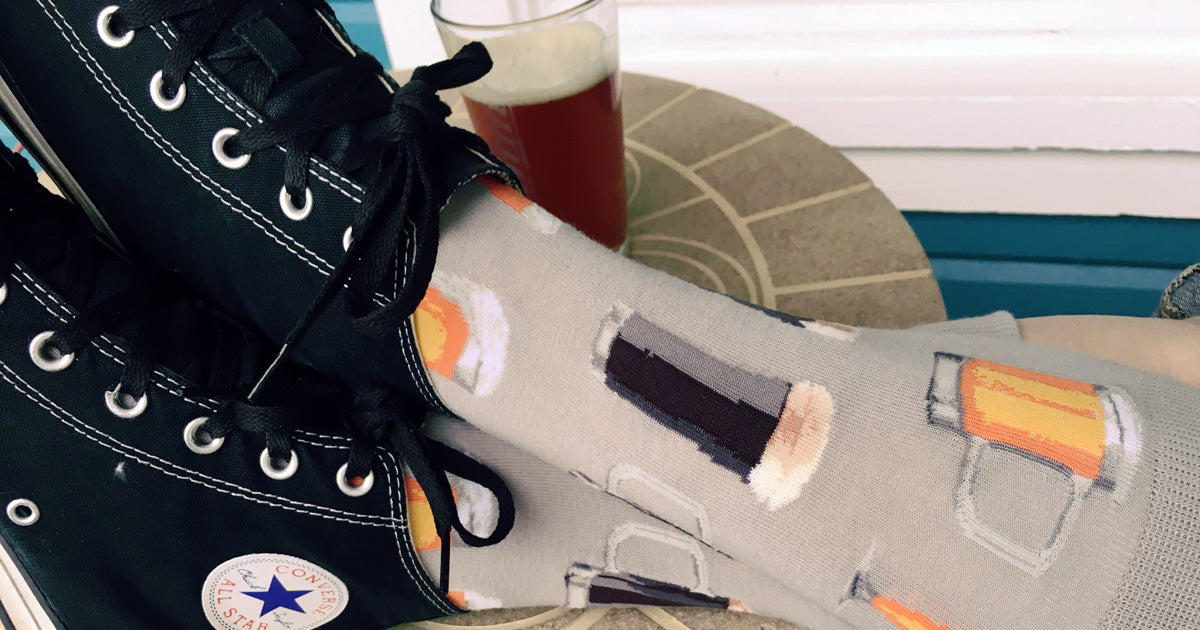 Beer, glorious beer!
We celebrate great beer all year, but with the fall season and Oktoberfest approaching, this is the perfect time for us to highlight some of our bestselling beer socks for men and women as well as some new beer socks.
Whichever style of beer you enjoy, we hope this blog helps you find a new pair to wear for Oktoberfest and the rest of the beer year. If you are still thirsty, shop our entire collection of beer socks.
Craft Beer Socks 
For the beer connoisseur, a basic blonde brew is only the beginning. These craft beer socks for men and women showcase light and dark beers in all sorts of traditional glasses, goblets, mugs and steins. Wear craft beer socks and show that you know the difference between and ESB and an IPA, a stout and a Scotch ale.
Sasquatch Drinking Beer Socks
Bigfoot never passes up a good beer, which is why these funny men's socks show a Sasquatch holding a beer while walking through the woods. Maybe he is the reason you always seem to run out of beer on camping trips with your friends. Buy Bigfoot beer socks and make sure to bring some extras next time! 

Corona Beer Socks
A cold bottle of Corona is the beer of choice for sipping on a beach south of the border. It's also the most popular imported beer in America! Rep your favorite cerveza in these excellent Corona beer socks, and don't forget the wedge of lime!

Funny Beer Socks
"Beer: now there's a temporary solution!" — Homer Simpson
These funny athletic socks have a great Simpsons quote on the bottoms of the feet and a big pint of beer up top. Sock Guy beer socks are great for biking, running and hiking because their high-performance construction breathes and wicks away sweat.

Oktoberfest Socks
These German beer socks have all your favorite Oktoberfest goodies, like big soft pretzels, tasty bratwurst and big steins of beer! Men's socks with beer and German food are the perfect accessory for your next fall drinking festival.
Browse more beer socks on our Beer Socks Collection, or if you're more of a wine drinker, we have a collection just for you! Or expand your drink menu by browsing all of our alcohol-themed socks here.