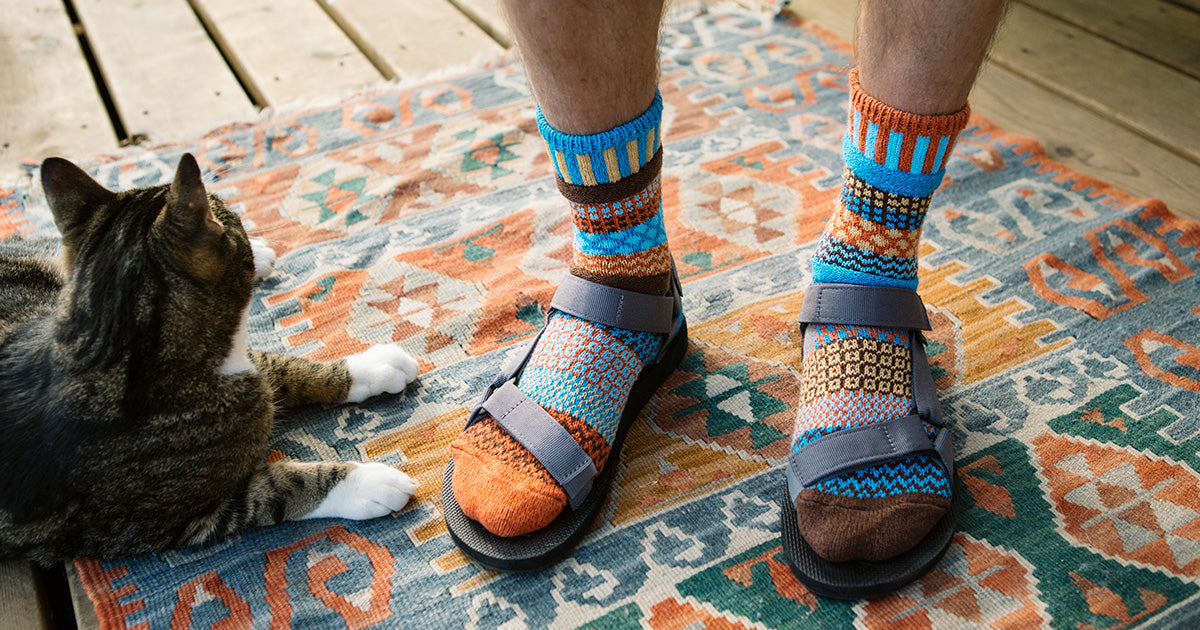 On behalf of men everywhere with big feet, we believe big socks shouldn't have to be boring! That's why these extra large socks fit up to men's U.S. shoe size 15 with lots of funny designs, cool patterns and a comfortable feel for guys whose feet don't fit the standard sock size (shoe sizes 8 to 13).
If you are a big and tall guy who has long and/or wide feet, then these extra-long men's socks were made for you! Browse below to see some of our top styles of big socks, or visit our
extra large collection
to view everything we carry that will fit your feet.
Men's Novelty Socks Size 13-15
When it's crazy sock day at work and your feet won't fit in the fun socks everyone else is wearing, you might feel like a Sasquatch without a forest. Never fear — Socksmith brand makes some fun and funny men's socks for large feet like extra-large Bigfoot socks for men or cool raptor dinosaur socks that fit up to a men's shoe size 15.
Big and Tall Athletic Socks  
If you're a big-footed guy who loves to run, bike or hike, or you just spend a lot of time on your feet throughout the day, Darn Tough socks are a great choice. Darn Tough's XL socks will fit up to a men's shoe size 14.5 and come with great features like a lifetime guarantee and naturally anti-microbial merino wool, which keeps you feet odor-free longer than other fabrics.
These socks come in many different lengths from low-cut ankle socks to men's over-the-calf socks. Try casual striped socks, cushioned-sole hiking socks for men or big-and-tall ankle socks with a mesh top for extra breathability. Darn Tough even makes some great solid-color dress socks for men that come in extended sizes, so you won't end up barefoot on your next big day.
Colorful Extra Large Socks
For an environmentally conscious guy, Solmate Socks make a great cozy, colorful gift. Made with recycled cotton yarn, these fun mismatched socks come in dozens of colors and four sizes, the largest of which fits men's shoe sizes 11 to 14. Some of the socks resemble elements like fire, earth and water. Other Solmate Socks are knit in bold black & white or the bright colors of a garden. If you're sick of dull socks, Solmate Socks in extra large are a great way to inject some color and style into your sock drawer.