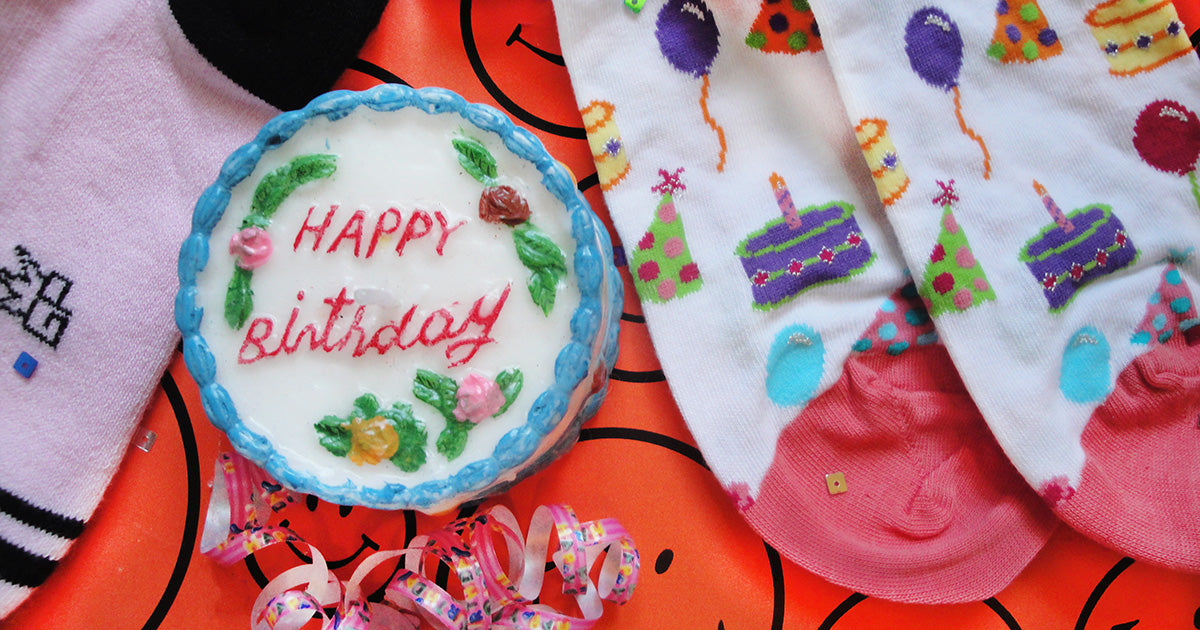 Struggling to find the perfect gift for that special someone's birthday? Look no further than our wacky and wonderful socks to get the party started; whether you go for something sentimental or funny, the gift of socks is sure to give your recipient a birthday they'll never forget!
Happy Birthday Socks
The dinosaurs on this pair of birthday party socks for women are ready to celebrate! The triceratops are wearing birthday hats and party horns, the pterodactyls are flying overhead with colorful banners, and the brontosauruses have balloons tied around their necks to celebrate your special day. These fun socks are covered in colorful dinosaurs and have the words "Party Animal" on the toe of each foot. 
Birthday Cake Socks
These happy birthday socks for women feature all the necessities for the perfect birthday party: slices of birthday cake, balloons and polka-dot party hats! Wear a pair of birthday cake socks on your special day for a touch of festive fun or gift them to a friend to help them get in the celebrating mood! 
Cute Birthday Socks
Teddy bear socks for women are the perfect birthday pair for someone looking for a touch of adorable in their celebration. These cute socks feature teddies holding heart-shaped balloons and juggling colorful balls in ruffled collars and party hats. Cue the confetti! 
Toast Them With Alcohol Socks
Drinking socks are an amazing way to toast to someone's birthday and will last long after the last cup of cheer. Classic cocktail socks for women and men are a marvelous option. Classic drinks abound in front of an Art-Deco inspired background on these speakeasy cocktail socks. Craft beer socks for men and women are covered in pale and dark ales and make a thoughtful present to the brewery-lover.
Funny Birthday Socks
If you're eager to crack smiles when you present your gift, check out our funny socks for men and women. Blue Q offers several men's socks about aging, including "Grumpy Old Man" checkerboard socks and "Yeah, I'm Old, Fuck You" men's bonsai socks — either would make the perfect gift for your favorite over-the-hill curmudgeon. "Adult in Training" socks for men and unisex "I'm Baby" socks from Gumball Poodle are great choices to give to a burgeoning young adult. Forget birthday cards with over-the-hill jokes; these socks speak volumes on their own! 
Match Their Personality!
Want to opt for something even more personalized? We carry crazy socks to suit every hobby and interest that are as much fun to give as they are to receive. Search our website for whatever they love and find the perfect pair, or browse our many themed sock collections!