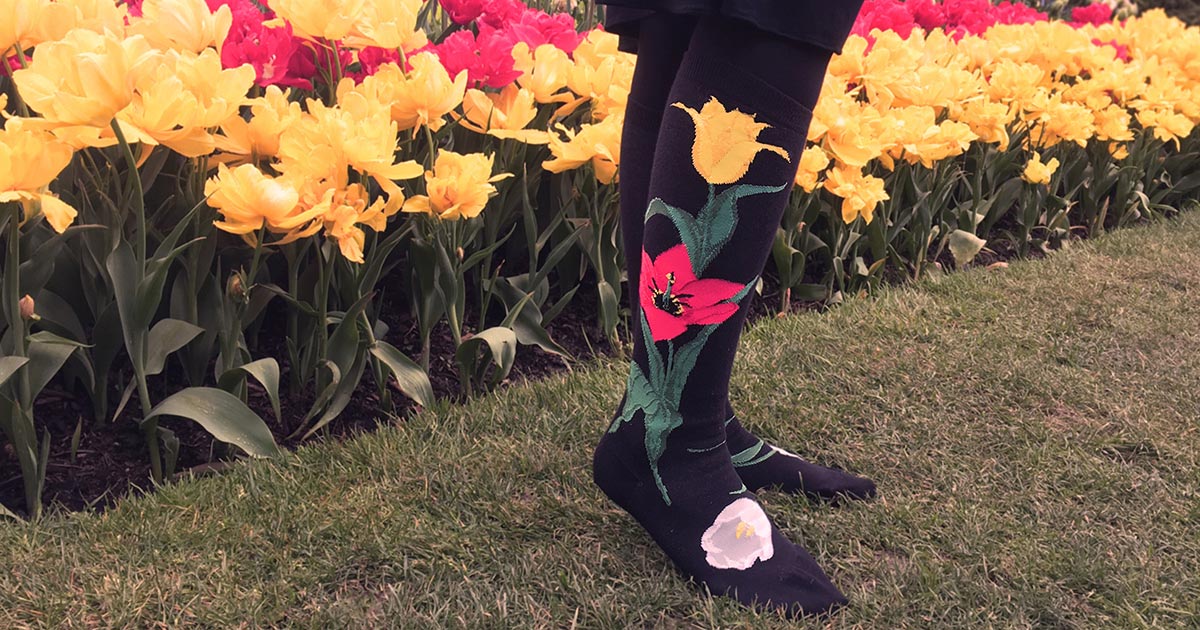 It's spring, and the new socks are sprouting! This season, our in-house sock design team ModSocks made some very cute socks with flowers, vegetables, and other things that grow in the ground. Put some spring in your step with any of these new socks for gardners! 
Tulip Knee Socks 
One of our favorite spring flowers has to be tulips. OurTulip Time Knee Socks (above) have red, white and yellow tulips on a black background. They were made for traipsing through a tulip field (don't even bother tiptoeing!).
Bee Peace Sign Socks
Spring is a gardener's favorite time of year, and one of the best parts is when the bees come back! We are excited to announce our Give Bees a Chance Crew Socks, beautiful bee socks with a great cause behind them. These adorable socks have bees and daisy flowers arranged into peace signs. Best of all is that ModSocks has pledged all profits from this sock to Bee Girl, a nonprofit focused on bee conservation.
Pretty Garden Socks 
Another great garden lover's style is ModSocks' new Garden Goals Women's Crew Socks. With a red watering can pouring down over a bounty of blooming flowers, these socks are perfect for anyone with a green thumb.

Gardening Socks for Men
For guy gardeners, we now have our popular Red Beets andFerns & Fiddleheads socks available for men in a crew length. They look like something you'd pick up fresh from the farmer's market.
Triple Rainbow! 
Finally, it wouldn't be springtime in the garden without a little sun, a lot of rain and a few beautiful rainbows! We wanted to make a rainbow sock we could wear every day, and we couldn't be happier with our new muted rainbow striped socks, available in three different styles! They come in men's crew, women's crew and knee high lengths. With their muted color palette, these rainbow socks are a must-have for matching.
We hope you enjoy our new socks! Don't forget to check out all of ModSocks' other amazing sock designs here.