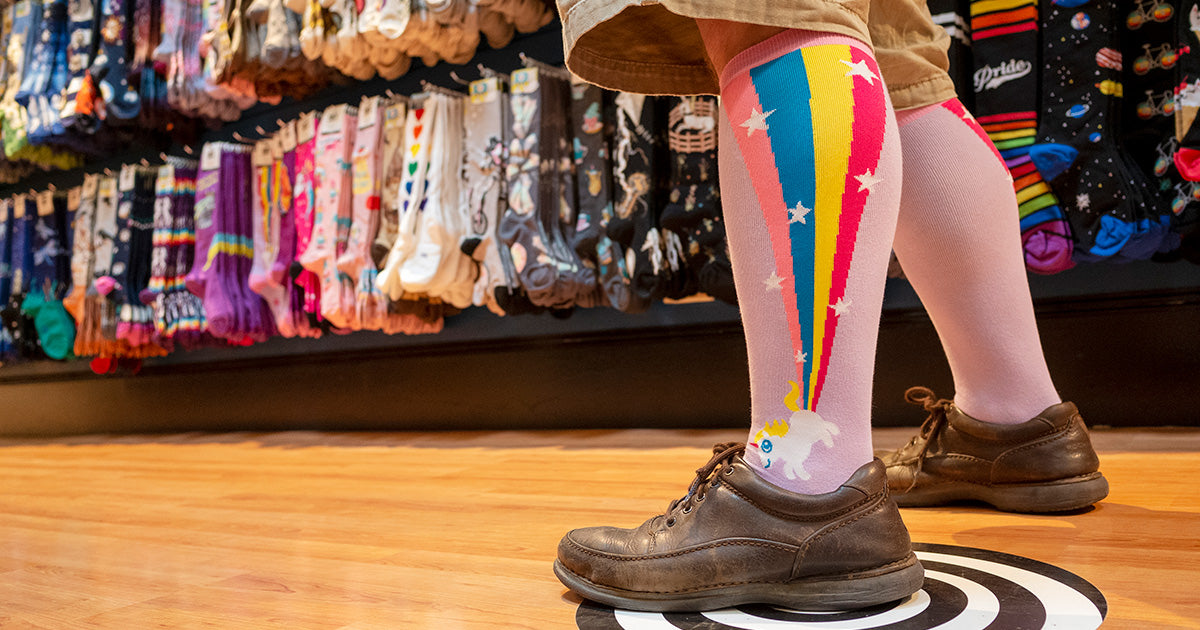 Do men wear knee socks?
You may be asking yourself, do men wear knee socks? The answer is yes, definitely! Men wear all of the types of socks we offer at Cute But Crazy Socks, but some styles are just more popular than others. Mid-calf crew socks are still our #1 seller for men, but what if you are a fella looking for a little extra length? Read on to find out if knee socks are right for you! No matter how you identify, you may find our tips below helpful for sizing knee socks on larger calves and/or bigger feet.
Are knee socks feminine?
Even though some women like to wear knee socks, they aren't gendered feminine or masculine — they are just socks. Men have been wearing long socks and tights for hundreds of years, so if you like the look and feel of longer socks, go ahead and wear them! Whatever your gender, there are so many reasons to choose knee socks.
In the old days before modern elastic technology, men would wear their long socks with sock suspenders, also known as sock garters, to keep them in place. Now, we have incredibly stretchy knee socks that don't fall down thanks to materials like spandex AKA elastane, which is sometimes referred to by the brand name Lycra.
When should you wear knee socks?
Many men confidently rock the knee-high sock look in all kinds of situations. Men's knee-high socks can be worn with casual clothes like shorts and skate shoes, but they can also be worn with business attire and more formal menswear like suits. Wondering what kind of socks to wear with a kilt? Men wear knee-high socks with both traditional kilts and more casual Utilikilts.
In some outfits, knee-high socks are more formal than shorter socks. For example, when you are wearing a suit and want to avoid the faux pas of showing skin between your shoes and suit pants while sitting down or crossing your legs, choose knee-highs for the extra sense of security. Formal situations also call for more formal men's dress shoes like Oxfords, which pair perfectly with longer socks.
What about over-the-calf socks? Are they the same as knee socks? Pretty much, yes. Some brands use the words knee-high and over-the-calf interchangeably, while for others "knee-high socks" come up slightly higher than a sock labeled "over-the-calf."
What is the purpose of knee socks?
Knee socks can do a lot of things. They provide extra protection and padding on your shins, which is great if you play a sport like soccer or football.
Knee-high socks with a compression fit can increase the blood flow to your feet and legs, which improves performance and may even decrease recovery time.
A knee sock can add extra warmth and protection on cold days — if you're a guy with cold feet, they are a no-brainer.
Last, knee socks can look really cool! Whether you choose simple stripes and solids or fun designs with animals, food, hobbies and more, knee socks are a fashion statement that is also super functional.
How to Wear Knee Socks for Men
If you are a guy who usually sports shorter socks, you might be wondering how to wear knee socks.
In this photo, Mars is wearing a pair of Corgi Balloon Stretch-It Knee Socks. These socks can fit a men's shoe size 7 to 13, and a calf up to 21 inches in circumference. Mars wears size 10.5 shoes and his calves are 18 inches around, so these socks fit great! 
There are a few things we know about making sure a pair of knee socks is a good fit for a guy. Knee socks for men often need more stretch to accommodate a larger foot and calf. They also need to be comfortable.
To be sure a knee sock will fit your feet, check the sizing of the foot first. Some of our knee socks are made to fit larger feet, but some others will only fit up to a men's show size 9 or women's shoe size 10.5.
Next, measure your calf with a tape measure at the widest point. If you don't have a tape measure you can wrap around your leg, try using a rigid tape measure and a piece of string instead. Now you know your calf size and can be sure your socks will fit comfortably!
Now it is time to choose the perfect pair of knee-high socks. Shop our collection of knee socks for men and see all the styles we have to offer.
When they arrive, put on a pair and enjoy the feeling of being a knee sock wearer!