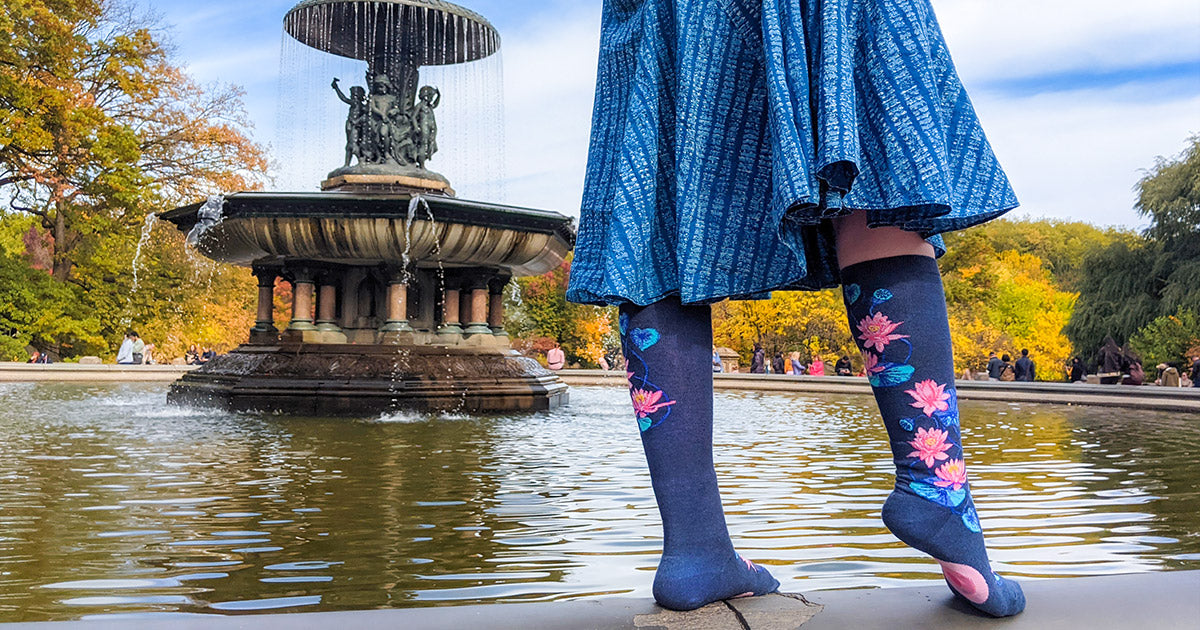 Autumn in New York — that was the plan.
The tickets were booked, the hotel room was reserved, and I was getting ready to spend a week in Manhattan. I would arrive the last week of October, spend Halloween in the city and fly back to Bellingham the next day. It would be my first time in the Big Apple and I wanted to do, see, eat and experience as much as I could. That much was obvious.
Less obvious, though, was what I would wear. With limited space in my suitcases and weather predictions ranging from freezing cold to a more optimistic mid-60s, I wasn't sure how much space to dedicate to heavy coats, sweaters and jackets. Especially since I already had a ridiculous amount of space taken up by socks.
Knee-high socks are my favorite length, and Cute But Crazy Socks has always had an impressive selection. I decided to pack around two dozen, with both my tried-and true favorites along with a few of our newest styles of women's knee-high socks, plus one special pair that I knew would pair perfectly with my Halloween costume.
I should mention that this trip was paid for by Cute But Crazy Socks, an exciting excursion to celebrate my ten years of employment that would include both leisure and market research. I planned to take some iconic sock photos around the city during my trip and then write this blog, so I hope you enjoy and can find some knee-sock outfit inspiration!
Pairing Knee-High Socks
When packing my bags, I purposely planned out my outfits around my socks. Pairing knee-high socks with outfits requires some consideration for matching and finding the best way to show off the socks. I planned to pack mostly skirts and dresses, a few sweaters, a coat or two and for the coldest days and tights to layer with my socks for extra warmth.
Some of my long socks outfits included these knee socks with mermaid cats worn with a teal sweater and a skirt with a beige and teal pattern that IMO resembles raindrops; and a pair of knee-high floral socks with a dark denim skirt, which I wore the day we took an enlightening 4-hour tour of Central Park with an amazing tour guide named Garrett, who gave us a history lesson and showed us some of the best photo-taking spots in the city.
I think the dark blue lotus socks look great with lots of other shades of blue, so if you like wearing knee socks with jeans they would be a great pick. Wearing longer socks under pants may mean people can't see very much of the design, but at the same time this can keep you warmer in the wintertime and also protects you from accidentally showing off your ankles if your socks slip down during the day.
Wearing Knee Socks with Pants
I wore black knee socks covered in daisy flowers with a pair of cropped black slacks and a short floral dress on the day I met the Sock Man! Unfortunately they didn't really end up in any of my photos from that day, but they were still a great choice to wear to the sock mecca of NYC.
The Sock Man is also known as Marty Rosen, and he owns a sock store by the same name in the East Village. It was on my to-do list because Marty is a sock legend and his shop is probably one of the oldest sock stores in existence. It was a treat to see his huge selection and talk about socks together. I bought a bunch of pairs of socks to remember my trip by including some fun NYC and East Village socks. If you want your own, you will just have to go talk to Marty!
Knee Socks With Sneakers
One question I get asked a lot is which shoes to wear with knee socks. The answer is, any shoes that fit you! Knee socks look especially nice with loafers, Mary Jane shoes, boots and other dressy shoes, but can also be part of more casual looks with sneakers and jeans or maybe even sandals in the summertime if you are especially brave.
On this trip I knew I would be doing a ton of walking, so comfortable shoes like sneakers were a must. I packed my best walking shoes, a pair of red sneakers. I also brought my favorite red hat, so even if my shoes didn't match any part of my outfit on any given day, they would still look intentional when people saw my red hat.
Some people might shy away from wearing knee socks with sneakers, but I think they look great together. Knee socks are associated with childhood and school uniforms for many people, and sneakers share that youthful vibe. Right now white sneakers are in style, and they can be worn with any combination of plain or funky knee socks and different types outfits from pencil skirts and blouses to other fall wardrobe staples like sweater dresses.
Wearing Knee-High Socks Over Tights
Our hotel was near the flower district, so every morning I had a lot of fun wearing my floral socks, like these knee socks with a pattern of pussy willow branches, while walking around the block and seeing the beautiful florists' displays. On this day I started out with my socks layered over tights because I thought it was going to be one of those chilly late-October days that NYC is known for.
As it turned out, this day and our trip overall wasn't nearly as cold as I worried it might be. In fact, some days even reached the balmy upper 60s and at least one day we saw the Central Park thermometer hit 71. It was both extremely pleasant and slightly worrying when you stopped to consider global warming. Anyway, it meant that even though I set out on a couple of different days with my knee socks layered over a pair of tights for warmth, by midday I was changing out of the unnecessary tights in museum bathrooms and stuffing them in my bag.
I still think wearing knee-high socks over tights looks cute, though! Black tights are classic but a herringbone or fishnet style, or a bright pop of colorful opaque or semi-sheer tights can also accentuate your outfit and keep you extra warm in the wintertime. Socks and tights don't always have to match the rest of your clothes, and sometimes they make even more of a statement when they contrast.
My Favorite Knee Socks Outfit 
On Halloween, our last full day in the city, I wore my costume as we walked across the Brooklyn Bridge. On my legs I wore a pair of spiderweb tights and these spooky knee socks by ModSocks, and of course my red sneakers.
I didn't realize how perfectly my spiderweb theme would go with the wires and cables that crisscross the upper parts of bridge, not to mention the big round things that looked like spiderwebs themselves. I later learned that those round things are circular fences to prevent people climbing and walking on the cables, which makes sense — maybe it was because of my costume, but I almost had the urge to climb up them myself!
I have to say the best part of Halloween in New York is that every store you go in, you are offered free candy! Kids trick-or-treat at restaurants and bodegas, so we ended up getting Twix bars at Russ and Daughters' and Dum Dums at the pizza place near our hotel. I was even given a fun size Almond Joy by an elderly couple I sat by on the bus, and they also complimented my costume. Of all the random encounters with kind strangers I had throughout the week, this was probably my favorite.
The last night of our trip, we attended the Greenwich Village Halloween Parade. It rained and was slightly chilly, but my tights and knee socks combo kept me snug as a bug while I watched the amazing and creative floats, bands and people in incredible costumes go past.
Flying back home the next day, all I could think was what an amazing week I had, and how I wouldn't change a thing — especially not my knee socks!
If you are ready to embark on your own knee-high sock journey, check out our knee-high sock collection.