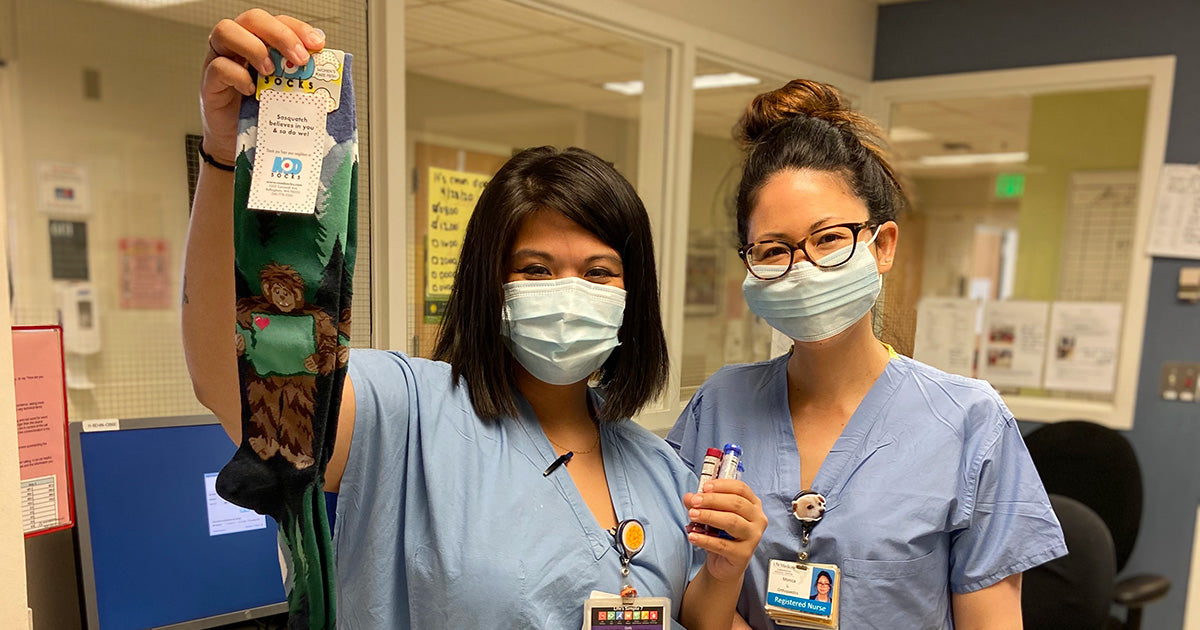 Sometimes it's the small things that make us smile, and sometimes it's the really big things, like the incredible work of our state's medical staff during this pandemic. . . and Bigfoot! This month our in-house sock brand ModSocks donated more than 200 pairs of socks to nurses and doctors from Seattle area hospitals including Harborview Medical Center and the Swedish Cancer Institute, all of them featuring our big buddy Sasquatch. We hope they bring some smiles in the middle of a serious situation.
Our Fulfillment Specialist Carrie Crockett packs up and ships our sock donations.
Many of our Washington doctors and nurses have been lightening the mood by wearing fun socks (sometimes tucking their scrubs into the tops of them) and sharing their photos online. We chose to send them our Sasquatch Loves Washington Knee Socks and Sasquatch Believes in UFO Men's Socks.
Two Harborview healthcare workers show off their Sasquatch UFO socks.
These socks have a special place in our heart because they represent the Pacific Northwest with one of our most famous legends. Now for us, they will also represent the legendary hard work of our medical professionals. To those on the frontlines of the pandemic, thank you for all that you do to keep our communities healthy. We believe in you, and so does Sasquatch!
Harborview Medical Center Infection Control unit staff enjoy their new socks.