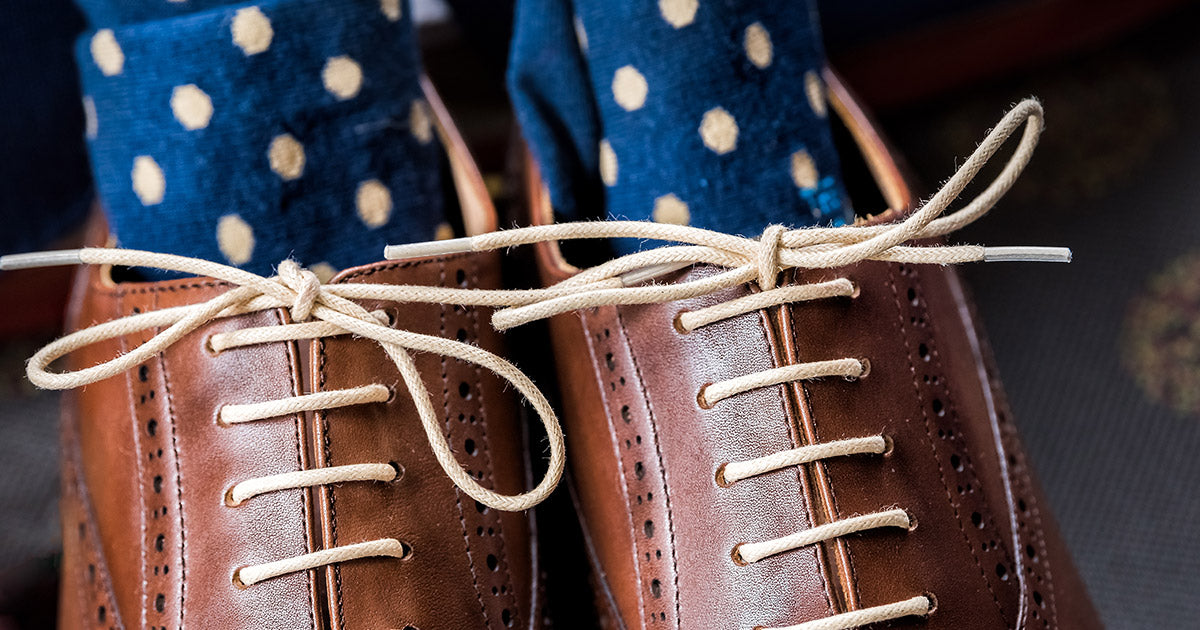 The well-dressed man knows that a great outfit is all about the little details. And when it comes to professional men's fashion, few items are more important than dress socks.
Men's dress socks are a key part of any formal or business casual look, and can make all the difference in how you appear to the people around you. However, you may not be quite sure how to put your absolute best foot forward and when to be more relaxed with your sock choices.
Luckily, as a crazy sock store, we have plenty of experience in helping our customers select the perfect pair of socks for any occasion under the sun, including important formal events such as their own wedding day!
Together we will explore everything you need to know about men's dress socks including what they are, when and where they should be worn, which clothes go best with them and how to choose the perfect pair for every event in your life, from weddings to boardroom meetings!
What Are Men's Dress Socks?
There are quite a few differences between dress socks and regular socks, making them a unique and specific style of men's sock. Unlike thicker hiking and ribbed athletic socks, which are designed to provide protection, cushioning, and grip during more physical activities, dress socks are primarily designed for style. While these types of socks can still provide comfort, they should not be used for more rigorous activities that require extra cushioning or support.
With dress socks, the emphasis is on polish and sophistication, meaning that a dress sock's profile is designed for sleekness rather than comfort, causing them to be thinner than most socks. In simple terms, dress socks are meant to make you look good!
How Long Should Men's Dress Socks Be?
The age-old question of men's fashion: how long should your dress socks be? You can have the perfect suit and shoes, but if you don't get the length of your dress socks just right, then it could all be for naught. It's a dilemma that has stumped even the most fashionable of gents, but fear not! Read on to hear the best lengths for men's dress socks, as well as some to steer clear from.
The length of your dress socks is so important because it can have a big impact on your overall look — having the wrong length can ruin your style! A well-fitting dress sock is the key to looking sharp and professional. As a general rule, a classic look requires a longer sock. This provides a more cohesive appearance and ensures that you don't end up with a flash of skin showing from beneath your trousers, whether you're standing or seated.
Mid-Calf Socks
Crew socks, also known as mid-calf socks, provide an optimal balance between form and function, ensuring that the leg is completely covered whenever you're seated. This way you can cross your legs at your leisure during meetings around the boardroom table without having to worry about a flash of skin or leg hair peeking out. Crew-length socks are also ideal for wearing with shorter dress pants such as cropped trousers or chinos.
Over-the-Calf Socks
Although over-the-calf socks may seem like a bit of an old-fashioned choice, they aren't just your grandpa's dress socks! They can still be a great option for men looking to add subtle sophistication to their formal attire.
These socks provide more coverage than crew/mid-calf-length socks, which can be important when wearing shorter dress pants. If you're especially concerned about skin peeking out from your cropped dress pants, it might be a good idea to go with a longer pair of socks. Not only do these socks look great, but due to their extra coverage, they are also generally warmer and more comfortable for events held outside during the colder months.
Men's Dress Socks: Avoid These Mistakes!
The right pair of dress socks can take your look from drab to dapper in no time. Unfortunately, many men often make mistakes when it comes to picking out the perfect pair of dress socks from our larger selection of men's socks. From colors that don't match their wardrobes to styles that don't suit their needs, there are some common pitfalls that should be avoided if you want to get the most out of your sock game.
Are Ankle Socks Okay to Wear With Dress Shoes? No!
Ankle socks may be a tempting option for men who want to feel the breeze on their legs, but when it comes to special occasions, these socks fall short.
Most guys already know that ankle socks, no-show socks, and other socks that expose the leg are not appropriate for business or formal dress. But why? Not only do these short styles of socks look unrefined and lack the comfort and protection of dress socks, the main reason is that in formal dress, showing off your bare leg between your shoes and trousers is considered gauche. 
Depending on the dress shoe you opt for, ankle socks will likely be too short to provide a barrier between your shoe and your foot, potentially causing blisters or other skin irritation. Furthermore, their lack of length could cause them to bunch up while on your feet all day, creating an unsightly appearance and giving your legs an overly casual look that is not suitable for formal occasions.
Ultimately, if you are looking for a great guy's dress sock, ankle socks simply won't cut it!
Thick Socks Don't Make Good Dress Socks
When it comes to dress socks, thick and heavy styles are a definite no-gos.
Hiking socks are often made with thicker fabrics and ribbing around the legs. They may include extra cushioning, which can cause them to look bulky and unfashionable stuffed into men's formal shoes. That's not to say that men's wool dress socks can't be a great option! Just opt for a pair without any cushioning that are thin enough to lay flat on the leg.
The weight of the heavier fabric can cause them to bunch up around the ankles, detracting from any sleek or stylish look and making you appear sloppy and not put-together. Furthermore, most dress shoes are not designed to accommodate bulkier socks, so wearing them can cause your feet to feel stuffy and uncomfortable in your shoes.
Is It Okay to Wear Dress Shoes Without Socks?
For formal looks, socks are a must. Not only do they provide an extra layer of cushioning and support for your feet while you're on the go, but they also help keep your shoes clean. Going sockless with dress shoes can cause sweat and moisture to accumulate in the shoe lining, which can then lead to unpleasant odors, discoloration, and damage to the leather or material of the shoe. Additionally, going sockless at more formal events will make you appear unpolished.
Are Plain White Socks Dressy Enough?
White socks may be the go-to when it comes to everyday wear, but for dressier occasions they just won't cut it. White socks are a bit too casual for more formal events. If you want to maintain a smart appearance that exudes confidence and style, it's best to go for quality dress socks in eye-catching colors and patterns that coordinate with the rest of your ensemble.
Uncoordinated Dress Socks are a Fashion Disaster
When it comes to dress socks, color coordination is key. For example, if you're wearing navy suit pants and brown shoes, then go for navy or brown dress socks. You could even go for a simple pattern that incorporates one or both of those key colors. Your socks should complement your outfit, not distract from it. Wearing mismatched colors can easily make you appear sloppy and unpolished.
Don't Let Your Dress Socks Slouch, Roll, or Cuff
You're not a kid anymore, you're a grown-ass man! And so there's no excuse for letting ill-fitting, slouchy socks detract from your sophisticated style. When dressing up for special occasions, the small details can make a big difference. This is especially true when it comes to guy's dress socks. Slouching, rolling, and cuffing are all serious fashion faux pas–your socks are meant to look seamless!
Athletic Socks Aren't Appropriate for Formal Occasions
Running socks, gym socks and other athletic socks may be comfortable and versatile, but they are not the right choice for formal occasions. These socks are often made from fabrics like nylon and acrylic that are great for durability and moisture wicking, but don't have the supple texture and sophisticated appearance of dress socks made from more refined fibers.
Best Materials for Men's Dress Socks
Just because you're all dressed up in finery doesn't mean your feet have to be uncomfortable! In the hunt for finding the most comfortable dress socks, materials matter. After all, no one wants to be stuck in a pair of scratchy socks that make your feet feel like you're walking on sandpaper! From natural fibers like cotton and wool to more modern semi-synthetic fabrics such as bamboo, there are a ton of options when it comes to choosing the best material for your dress socks. If you want your feet feeling cozy while still looking classy, read on for a breakdown of the best men's dress sock materials available.
For the Cotton Connoisseur: Cotton Dress Socks
Cotton is the undisputed leader of the sock material game, and dress socks are no exception. There's a good reason as to why most socks include high levels of cotton; not only is it comfortable and breathable, but it's also one of the most resilient fabrics out there.
Cotton's ability to stretch and recover its original shape allows cotton dress socks to maintain their integrity for long periods of time. You won't have to worry about your socks wearing out prematurely even after weeks of wearing them to the office. As long as you take good care of your socks by running them through the wash inside-out and folding them (as opposed to balling them) they should last you up to a year.
Additionally, due to the abundance of cotton sock options on the market, you will have much more freedom of choice when it comes to design. Whether you're looking for something simple and understated or a fun novelty dress sock to add a pop of personality to your wardrobe, cotton's got you covered!
Choose Comfort and Style With Merino Wool Dress Socks
For men wanting to look sharp without having to forgo their feet feeling as comfortable as possible, merino wool is the go-to fabric for dress socks. Not only is it lightweight and breathable, but it also has natural moisture-wicking properties that keep feet dry and odor-free throughout the day.
Merino wool's natural oils also make it incredibly soft and gentle on sensitive skin. Merino wool socks are certainly on the pricier end when it comes to dress socks, but they have the durability to go the distance. Our collection of Darn Tough merino wool socks come with a lifetime guarantee, meaning you can send them back to Darn Tough as soon as they start to fade or tear, so investing in a few pairs of high-quality wool socks can definitely be worthwhile.
Just be careful to avoid any merino wool socks with extra cushioning in order to maintain a clean, seamless look.
A Smooth, Dapper Look With Bamboo Dress Socks
Bamboo is fast becoming a popular option for men's dress socks. The semi-synthetic fibers derived from the bamboo plant offer superior softness and comfort, while its breathability makes it ideal to wear in warmer climates.
Similar to the merino wool sock, bamboo also has moisture-wicking abilities helping to keep feet dry and comfortable throughout the day, and at a much lower price point.
Available in a range of colors and designs, from simple stripes to colorful tropical fish, bamboo dress socks can be a stylish and fun addition to any guy's wardrobe. And seriously, if you've never experienced the next-level softness of the bamboo sock firsthand, we urge you to give them a try.
Why Are Dress Socks So Thin?
Ever wondered why dress socks are thinner than other socks? It's almost as if they were designed to disappear! Well, the truth is that dress socks are indeed thinner than most other types of socks — but there's a very good reason for this. In order to achieve a clean and sophisticated look appropriate for professional settings, it is important that your socks do not appear bulky or prone to scrunching up. This is why most dress socks are made of a fine knit fabric; they can provide the most comfort while still remaining hidden. Thin dress socks help to create a sleek silhouette and eliminate bulkiness from appearing around the ankles.
Additionally, thinner socks also offer better breathability and moisture-wicking properties, as well as temperature regulation capabilities to keep your feet cool in warm climates. For example, if you're preparing for a summer wedding or outdoor meeting, the best dress socks for hot weather will be the ones that provide you with the highest levels of moisture-wicking, such as socks made from bamboo.
Dress socks are meant to be worn with dress shoes, so they are designed to be thin and discreet due to the way most dress shoes fit. Having bulky socks can make your dress shoes uncomfortably tight and ruin the overall look of your ensemble.
Overall, men's dress socks are designed to provide the most comfortable fit while still remaining discreetly hidden beneath your outfit.
What Shoes to Wear with Dress Socks
To put it simply, guys should wear dress socks whenever they are wearing dress shoes. Whether you're wearing loafers or oxfords, monk straps or wingtips, having the right pair of dress socks to complement your shoe choice will make all the difference. If you're not quite sure where to start, here's a list of common styles to help you find the best socks to wear with dress shoes!
Oxford Dress Shoes
This lace-up shoe is a timeless classic, perfect for the office or more formal occasions. Oxford dress shoes come in many different variations and colors, but what truly makes them stand out is what you choose to pair with them. The best socks to wear with Oxford dress shoes are high quality dress socks that compliment the color of your shoes. For example, a dark brown or black shoe would look best with a dark brown or black dress sock or even a color such as deep red or purple. If your oxfords are lighter, your sock color should also go lighter, with another possibility for adding a pop of color such as a soft blue. Just be sure to avoid plain white socks. The simple style of the Oxford can allow for more creativity when it comes to sock color and pattern, so don't be afraid to step outside of the box!
Derby Dress Shoes
Here's a great option for those who want to make a statement with their footwear. Unlike the more classic Oxford, derby shoes are usually distinguished by their open lacing system and round toe cap. These shoes tend to lean slightly more casual, with a variety of colors and patterns available. When choosing socks to wear with the derby, be sure to enhance the overall look rather than detract from it. A good way to do this is by opting for bright and bold novelty socks that complement the more casual look of the shoe while still looking appropriate for formal occasions.
Monk Strap Dress Shoes
Perfect for more formal occasions, this style of shoe featuring a buckle-and-strap closure is a great alternative to traditional lace-up dress shoes. To complete the look, choose a complementary color to the color of the shoe, pairing dark socks with dark shoes and light socks with light shoes or a subtle pattern like pinstripes. Avoid flashy colors or patterns that could take away from the sleekness of the monk strap shoe.
Loafer Dress Shoes
Loafers are a stylish and modern shoe that can be both casual and formal. The unique design of the shoe makes it the perfect mix of style and comfort, and you never have to worry about your laces coming undone! While many men may opt for the sockless look with this style of shoe, loafers look great when paired with dress socks. You always want your socks to be noticeable without being overly loud or distracting from the rest of your outfit. A dress sock with some texture or pattern to it, like stripes, dots, argyle, plaids, and other fun shapes would pair well with the modern loafer shoe and help set you apart from the crowd. Just be careful not to go for a pattern that's too large or colorful if you intend to wear them to a more formal setting.
Chelsea Boots
For a more casual take on dress shoes, men can opt for Chelsea boots. Chelsea boots are very versatile, as they can be worn as part of both a formal and casual outfit, making them perfect for a business casual dress code. The classic ankle-high silhouette is made most commonly from leather and has an elastic side panel for easy slip-on and off.
As for what socks to wear with Chelsea boots, you want something that adds a touch of flair. Since you've opted to go more casual with your footwear, your socks don't have to be overly formal either! Whether it's subtle stripes or bold geometric designs, we recommend having some fun with your dress sock choice. Just be sure to wear cropped or cuffed pants in order to show them off.
Chukka Boots
This comfy boot style is a great way to add personality to your business casual look. With their low profile, classic styling, and multitude of colors and materials available, men can express themselves fully with this type of footwear. For business casual settings, we would recommend avoiding black due to it being the most formal color for a shoe. Opt for a chukka boot that is brown, gray, or even a deep red or blue for a pop of color!
Again, when it comes to pairing your chukka boots with the right dress socks, the key is to match the color palette. For a more professional look, darker tones work best — think navy blues or charcoal grays. If you went for a more adventurous color of shoe, it's a good idea to go for a neutral sock choice to avoid color clashing with your footwear or appearing too casual. If you went for a simple brown or gray men's dress boot, why not try some bolder colors and patterns like burgundy, olive green, or a fun animal print?
When Should Men Wear Dress Socks?
When men are getting dressed up for a night out, they often forget the most important finishing detail: dress socks! Dress socks may seem like an afterthought, but they can be just as important in making or breaking your look. The right dress socks will help you stand out and make a statement, while the wrong ones could leave you looking anything but dapper.
Whether you're attending a formal wedding or just going to work, there is an appropriate dress sock for every event. From classic stripes and solids to more playful novelty designs, the right pair of dress socks will make sure you fit in (or stand out!) in any setting. Let's explore some of the most common occasions where dress socks are often worn.
Put Your Best Foot Forward: Dress Socks for Formal Events
When dressing for more formal occasions, men should take extra care in what type of dress socks they wear. After all, no one wants to be remembered as a sock style catastrophe!
For the special and important formal events in life such as weddings, funerals, and job interviews, it is best to stick with solid colors, subtle stripes or subdued geometrics that match your suit and shoes. Avoid novelty designs like cartoon characters or bright patterns.
If you do choose to go for slightly more fun socks ffor a formal event, make sure they do not overpower your outfit. Tastefulness is key. And remember: when in doubt, you can go with classic black dress socks for nearly any formal occasion!
Sharp as a Tack: How to Wear Dress Socks to the Office
Men that with jobs that require them to dress up in suits and dress shoes every day such as accountants, lawyers and businessmen make up the vast majority of dress sock wearers, and it's important for them to understand what socks are suitable for office environments.
When it comes to what kind of dress socks to wear for an office job, look no further than the classic stripes and solids. Not only are these the safest choice in terms of what is deemed appropriate for a business setting, they also come in a variety of colors which make them versatile enough to match any outfit.
If you have to put together a suit ensemble every Monday through Friday, it'll be easiest to stick to the basics. When picking color, make sure the hue won't clash with what you're wearing; otherwise all eyes will be on your feet instead of what you bring to the table!
Dress Up Your Day: How to Wear Casual Dress Socks
At more casual events such as art gallery openings, lunch with friends, or a casual wedding, it's perfectly acceptable to step up your fashion game by wearing dress socks in brighter colors and patterns. In fact, we encourage it!
With novelty dress socks, the sky is truly the limit. From whimsical animal prints to geometric designs and everything in between, there's truly a sock for every personality. If you don't want to be too loud with your fashion choices, you can always opt for subtle yet still stylish options such as argyle or smaller prints like polka dots. But if you're feeling extra daring, why not show off your personality with socks of your favorite foods or even socks with funny quotes?
Whatever you do, have fun with your picks — just remember to keep it tasteful while making sure your socks still coordinate with the rest of your outfit.
When done correctly, sock selection can add a final touch of sophistication to complete any man's formal or business casual wardrobe.
Men's Socks for Business Casual Dress Code
If your office dress code is a little more casual, you can afford to be more relaxed with your sock choice as well! Contrary to popular belief, not all dress socks are plain and boring; there are plenty of great novelty dress socks for guys that can help you show off your killer personality in the workplace. Read on to learn how to pair your novelty dress socks with footwear fit for less formal settings.
Wearing Dress Socks and Sneakers
When dressing for a business casual dress code, men should strive to strike the correct balance between professionalism and comfort. Men's sneakers can be a great addition to your look as long as you're careful to stick with sneakers featuring a classic, simple fit and solid colors such as black, navy, brown, or white.
You don't want to look like you're wearing your gym shoes to the office! Even though your shoe choice is less formal, you should still be sure to pair your sneakers with dress socks. Ankle socks or socks that are too thick would make your sneakers look sloppy and much too casual for the office, rather than the sleek and modern look you were going for.
Stick with dress socks that match the color of your sneakers and pants, and if you're feeling adventurous, try wearing patterned socks in complementary colors. Be careful not to go too overboard with fun sock designs when wearing sneakers, or you'll take the "business" right out of business casual!
Matching Suit With Sock Colors
For men's dress socks, color is key. We've already explored the importance of matching your dress sock to your dress shoe, but it is equally essential to coordinate your dress socks with the rest of your outfit. In this section, we'll cover how to match men's dress socks to your suit in both formal and business casual settings to ensure that you're looking stylish in every situation.
How to Match Your Suit to Your Socks for Formal Occasions
Dressing up for a formal event or special occasion can be daunting, especially when it comes to all the little details that can go into it. Getting the right look and style requires careful thought and consideration. The key to achieving the perfect look is in knowing how to properly match your dress socks to both your suit color and any other little accessories you may include in your formal ensemble, such as a tie or pocket square.
When choosing men's socks for a wedding or other formal events, avoid any loud patterns or novelty socks as these would likely look out of place at a more formal event. The easiest way is to match the color of your dress socks with either your suit color or your dress shoes. For example, if you are wearing a navy suit with brown shoes, you can choose navy socks to make sure everything matches perfectly. If you want to add a bit of flair, you could find a pair of socks that feature a pattern such as stripes or plaid that includes both navy and brown to tie in all color elements of your ensemble.
Another way to match your socks to your formal attire is to match them to other, smaller elements of your outfit such as your tie or pocket square color. If both your suit and shoe color are neutral, such as various shades of brown or gray, pick any color to be your extra pop! For example, pair a fun, red pair of dress socks with a red pocket square or tie of a similar hue to give your formal outfit a touch of personality without causing your outfit to clash.
As a general rule, make sure that the color of your dress socks show up in at least one other aspect of your formal ensembles, whether it be in the suit color or pocket square color. This will give the appearance that you put a lot of thought and effort into your formal look, without actually having to spend a millennia putting together an outfit!
How to Match Your Socks for a Business Casual Dress Code
While the general rules of color matching for men's fashion remain the same for a business casual dress code or a more casual event, rules are made to be broken! And when you don't have to worry as much about appearing clean, sleek, and put-together as you would at a hyper formal event, it can be the perfect opportunity to have a little more fun with your sock color choices!
If you choose to wear a fun men's sock to the office or to a smaller event that features a crazy and colorful pattern, it can be pretty daunting to figure out how to match your outfit to a sock that has so many different colors! A good rule of thumb for matching novelty socks to the rest of your outfit is to match the background color to the color of your shoes or pants.
Another option is to match your pants or shoe color to just one of the colors featured on your novelty socks. This will definitely give you a much more daring look, especially if the color you choose to match is a bolder color such as a bright blue or green, but will still look cohesive and thought-out.
If you want to get the most out of your formal and business casual wardrobe, make sure you make the time to select dress socks which are complementary to both your suit and shoes in order to achieve the perfect finishing touch!
So there you have it, gentlemen. You can now step out in style with socks that match your personality as well as the occasion. Be sure to show off those dress socks at upcoming weddings, work events or even just a night out on the town! Whether you're looking for classic stripes or fun novelty socks, make sure to choose socks that are appropriate for each situation. With these tips and tricks up your tailored sleeve, you can be confident that your feet will look as good as the rest of you.